One odd fact that I came across while reading up on food holidays was that National Cranberry Month is in October, but National Cranberry Day is today, November 23rd. I suppose the month of October celebrates when the fruit comes to harvest, but this day, and this day alone sanctifies all that mouth puckering, fruit popping goodness of cranberries.
I so think cranberries get a bad rap, and have really been shoved to the back of the superfood lineup what with the pomegranate, acai and other fabulous nutritional (and likely fickle) findings as of late. Cranberries are amazing little powerhouses that become so abundant this time of year that my market sells them off for less than $2 a pound. Being that this fruit freezes better than anything I've seen- well over six months is not at all unusual and 9-12 months is considered standard- it isn't a stretch for me to stock my freezer all through the winter, and still be enjoying these bursting little orbs in the spring and summer. A nice roasted pork loin covered with cranberry and apples in the Fall is just as good as one grilled in the heat of summer and topped with chilled cranberry compote. Vanilla yogurt tastes divine with a scoop of cranberries stirred inside, and ice cream has the perfect palette to the tart and jeweled colors of the fruit. Just because the classic turkey and cranberry feast is almost upon us is no reason to abandon the cranberries once Thanksgiving is over.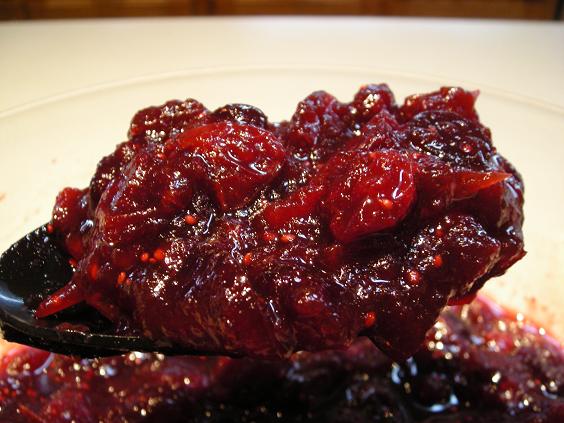 For just a tad bit of history on our humble little star today- Cranberries are part of the evergreen family and grow on low creeping shrubs in moist acidic bogs in parts of the Northern Hemisphere. They are pollinated by the domestic honey bee and also go by the name mossberry and fenberry. Contrary to popular belief, and not in any deference to those Ocean Spray commercials, but cranberry bogs are not kept flooded during the growing season; they are only flooded at harvest time to facilitate removal of the fruit, and often during the winter to protect the vines, yes, even in chilly climates like Minnesota and Wisonsin where cranberries are a major crop. Nearly 95% of the crop is processed into juices, sauce and other packaged items; only 5% make it to US markets as fresh fruit. Cranberries have moderate levels of vitamin C, fiber and the essential minerals like manganese, as well as a balanced profile of other essential micronutrients. They also inhibit the growth of bacteria in the urinary tract, making them an excellent defense against infections. The tannins have anti-clogging properties and can help ward off dental plaque and gingivitis; they also help strengthen the immune and cardiovascular system and fight arterial plaque.
To make that fabulous looking cranberry compote, mix together one package of fresh cranberries (they can be added to cooking direct from the frozen state), one cup of dried cranberries, 1 1/2 cups of brown sugar, 1 cup of water, a teaspoon each of cinnamon and nutmeg and (optional) 1 tablespoon of balsamic vinegar. Bring to a boil and allow to simmer until thickened, about 20 minutes. I have subbed in honey for some of the sweetener with excellent results. The vinegar gives it a nice depth and added tartness- like you need it- and you can cut back on the sugar for more tart. Brown sugar gives the compote a deeper and richer flavor than white. Sub in white if you want but start with less and add in more if you prefer a sweeter flavor. I think a balance of sweet and tart is best for cranberries, after all, that's what they're all about.
And sharing the day with the glorious cranberry is Espresso- It's National Espresso Day. We did a cappucino day at the beginning of the month, so I'm just going to step away from the keyboard and let this recipe shine.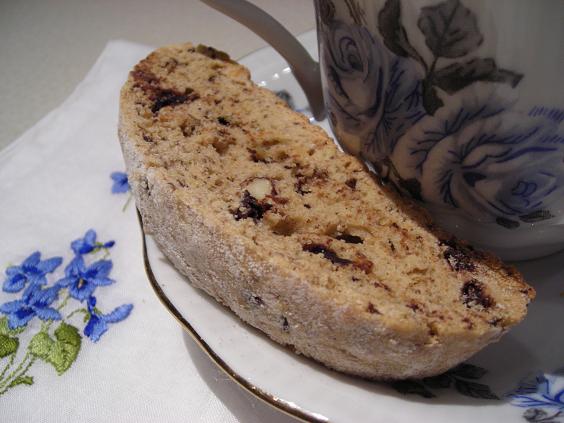 Espresso Biscotti
1/4 cup unsalted butter
3/4 cup white sugar
3 eggs
1 teaspoon vanilla extract
3 1/4 cups pastry flour
1 teaspoon ground cinnamon
1 teaspoon baking powder
1 teaspoon instant espresso powder
2 teaspoons grated orange zest
1/2 cup chocolate chips
1/2 cup dried apricots
1/2 cup dried cranberries
1/2 cup slivered almonds
1 egg white, lightly beaten
Preheat oven to 350 degrees F. Grease a cookie sheet or line it with parchment paper.
Cream together butter and sugar in a bowl until light and fluffy. Beat in eggs and vanilla. Sift together the flour, cinnamon, and baking powder in a separate bowl. Mix dry ingredients into the egg mixture. Stir in the espresso powder, orange zest, chocolate chips, dried apricots, dried cranberries and almonds.
Shape dough into two equal logs approximately 12 inches long by 2 inches diameter. Place logs on baking sheet, and flatten out to about 1 inch thickness. Brush the log with egg wash. Bake in the preheated oven until edges are golden and the center is firm, about 35 to 40 minutes. Remove from oven to cool on the pans. When loaves are cool enough to handle, use a serrated knife to slice the loaves diagonally into 1/2 inch thick slices. Return the slices to the baking sheet.
Reduce oven temperature to 325 degrees F (165 degrees C). Bake until they start turning light brown, 15 to 20 minutes. Cool completely, and store in an airtight container at room temperature.
KATE'S NOTES: I did not use either the orange zest or the dried fruit in this recipe; it's a personal thing for me, and I imagine if it's your thing it will be delicious. It just isn't mine.
I added chopped dark chocolate to these. I don't like to put whole chips in biscotti as they tend to snap out when you slice them so I took my chef's knife to the chocolate to break it up. Big mistake- dark chocolate has far less moisture than any other chocolate, and that coupled with the dry November air meant there were little shards of chocolate ALL over my kitchen. And me. Chocolate that defied being cleaned up and simply fluttered every place I tried to wipe, sweep or brush. And if you use a wet rag, it just smears. Suffice to say I was cleaning up chocolate the entire time the cookies baked for the first step. The. Entire. Time. And I found it in lots of odd places for the rest of the afternoon. But oh, these cookies were delicious. SO well worth it!