The cuisine of India is one of my favorites, almost hands down. I love the vibrant flavors and colors, the spice and aroma and the endless variations. I love the lentils, the vegetables, the breads and condiments. All of it.
I'm not alone in my love for this aromatic and delicious foods, and recently a group of my closest friends and I decided to get together one evening for Curry Night. We'd spent a talkative morning over coffee chatting endlessly about food  and hit upon the topic of Indian food, each sighing in joy, rolling our eyes and declaring it's lofty place in our lives. Paired with an intense desire to get our husbands in the same room together, we planned, plotted and perfected our recipes, and on an unseasonably warm January night, we carried fragrant dishes to Amanda and Brian's beautiful brownstone apartment in St Paul and gathered, loudly, to enjoy this amazing food, and some well deserved face time. The holidays, with their obligations and frenetic pace had kept us apart far too long and we needed a night together of food, wine, chatter and fun. The entire evening was a wonderful and delicious, with much needed laughter and camaraderie.
Dhal Makhani is one of my most favorite lentil dishes to order when I go out for Indian food, but I'd never attempted it at home, mostly due to the absence of an easy place to buy the requisite black beluga lentils required. But when a shipment from Marx Foods landed on my doorstep, with 8 2-lb containers holding a rainbow of colored lentils, all I needed was a good recipe. And an excuse.
Thankfully, I found both.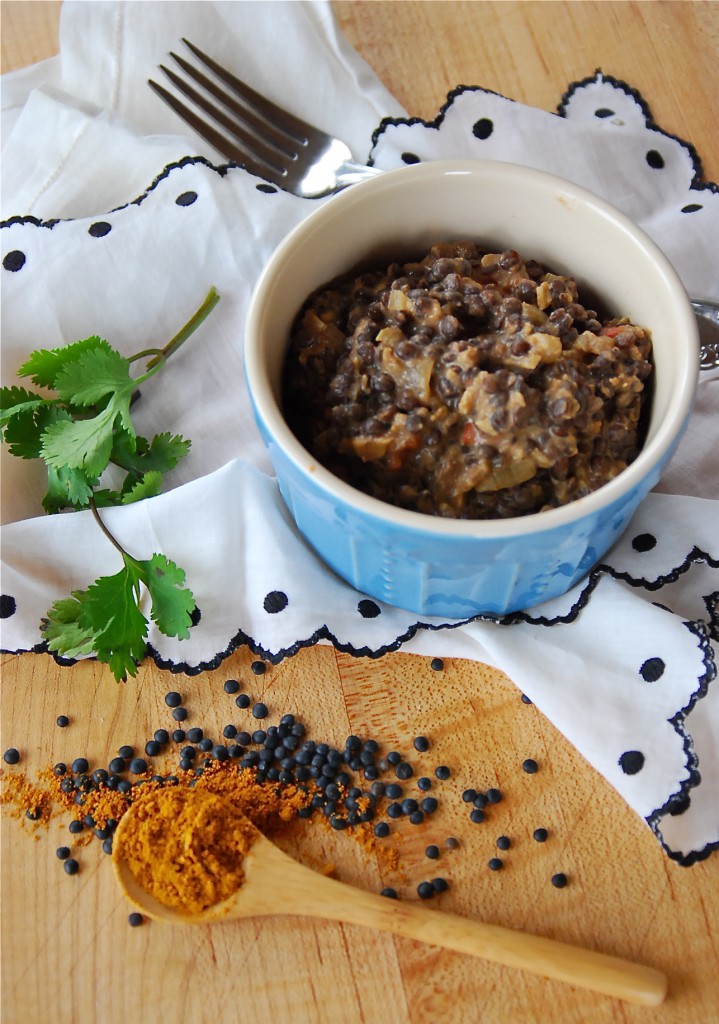 Lentils, as a food, don't win many beauty contests. What they are beyond their rather homely end result is a quick-cooking, nutritional little powerhouse. This dish was deliciously fragrant and hearty; black lentils hold their shape beautifully after cooking, and with the right amount of garlic, ginger and onion, along with the heady blend of spices that make up many Indian dishes, this recipe was glamorous with flavor and it smelled simply amazing. A thin drizzle of cream gives it a wonderful rich taste, and it evolves over time and a day in your fridge to gain in taste what it lacks in eye appeal.
This recipe can easily be made vegan by eliminating the heavy cream, substituting an alternate of choice. It has no meat in it at all.
Dhal Makhani

1 cup black lentils, washed and picked over
2 large onions, minced
2 green chilies, sliced (remove seeds and inner membrane for less heat, if desired. I used jalapenos)
2 large tomatoes, peeled and chopped into cubes
2″ piece of ginger, chopped
1 T. garlic, minced
2 t. ground coriander
1 t. ground cumin
1/2 t. red chili powder
1/4 c. heavy cream
2 T. cooking oil of choice (i use grapeseed)
2 T. ghee
1 t. cumin seeds

In a small bowl, mix ground coriander, ground cumin and chili powder together. Set aside.

Place rinsed lentils in a medium pot and cover with 3 cups of cold water. Cover and bring to a boil. Reduce heat to simmering, and cook until lentils are tender, about 25-40 minutes. You can leave just a bit of bite to them, as they will cook more in the finished product.

Meanwhile, in a large, deep skillet, heat oil and add onions. Stir to coat and cook, stirring occasionally, until onions are beginning to brown. Add green chiles, ginger, garlic and the ground spice mix and stir to coat completely. Continue to cook and stir until the vegetables are tender and deeply browned, about 20-25 minutes. Keep heat regulated to avoid burning them, and stir often.

When the lentils are tender, transfer them to the skillet, reserving some of the cooking water. Stir the lentils to mix with the vegetables, and add the cooking water, 1/3 cup at a time until a smooth gravy forms. Bring to a simmer, and cook for about 15 minutes, stirring occasionally. Taste and season with salt. Cook for a few more minutes and taste for salt. Turn off heat and wait for the simmering to stop. Drizzle the heavy cream over the top and stir to incorporate.

For an authentic finish, heat ghee (or clarified butter) in a small skillet until very hot. Add the cumin seeds and quickly cover the pan. Shake the pan while the seeds pop, and when they stop, scrape the butter and seeds on to the Dhal Makhani and stir together. This mixture is very hot and will sputter so be careful.