Earlier this Spring, we took the leap and purchased a CSA share in the Bossy Acres farm. Bossy Acres, run by the team of Karla Pankow and Elizabeth Millard, grow organically on a farm in Northfield, and specialize in unique, heirloom varieties. Being a family of three, we decided to get the Mini share that would deliver every other week, plus an add-on share for fresh farm eggs and fresh roasted coffee.
Hands down, it was the best decision we made this year. In previous years, I would visit the Farmers Markets up to three times a week to keep a good stock of fresh vegetables on hand. In deciding on our CSA delivery, I figured that I would still be able to browse the markets on our off week from deliveries, but the wealth of vegetables showing up in our boxes keeps us chugging along in between delivery weeks, and only on a few occasions have I needed a quick visit to our local market to fill in around the edges. Our garden has also been producing well, and we've enjoyed broccoli, chard and a bounty of tomatoes from our own backyard, and the garden at our lake home.
In one delivery from Bossy Acres, complete with a copious harvest from the lake, I faced a counter full of cherry tomatoes that I desperately needed to do something with before they all started collapsing.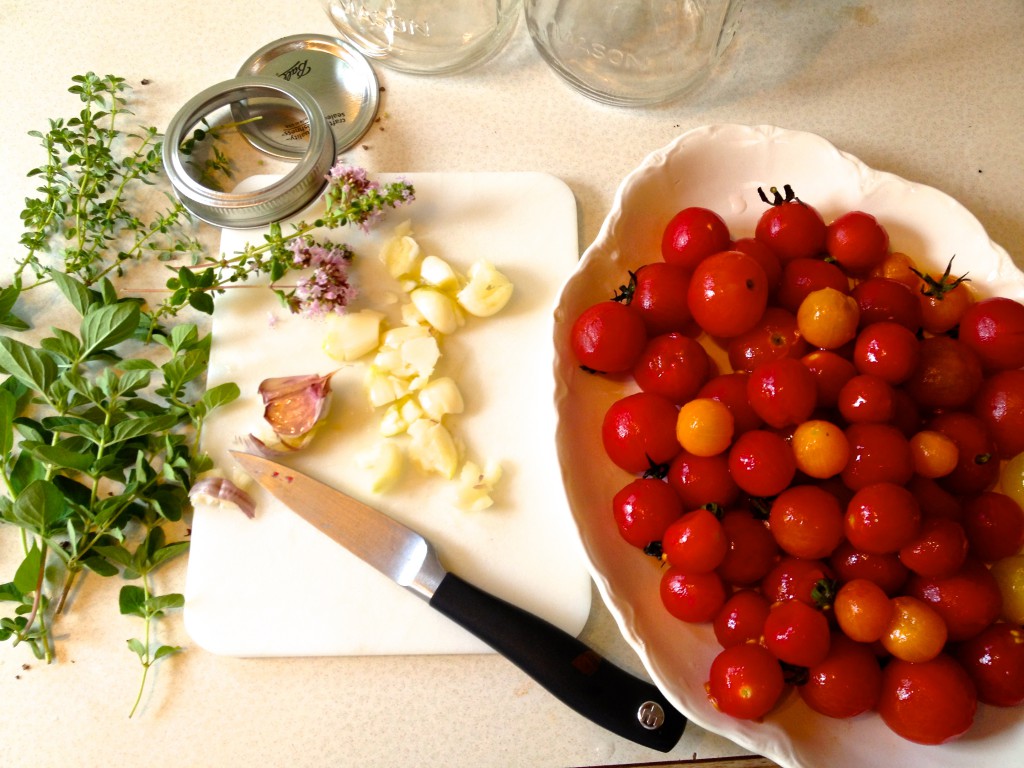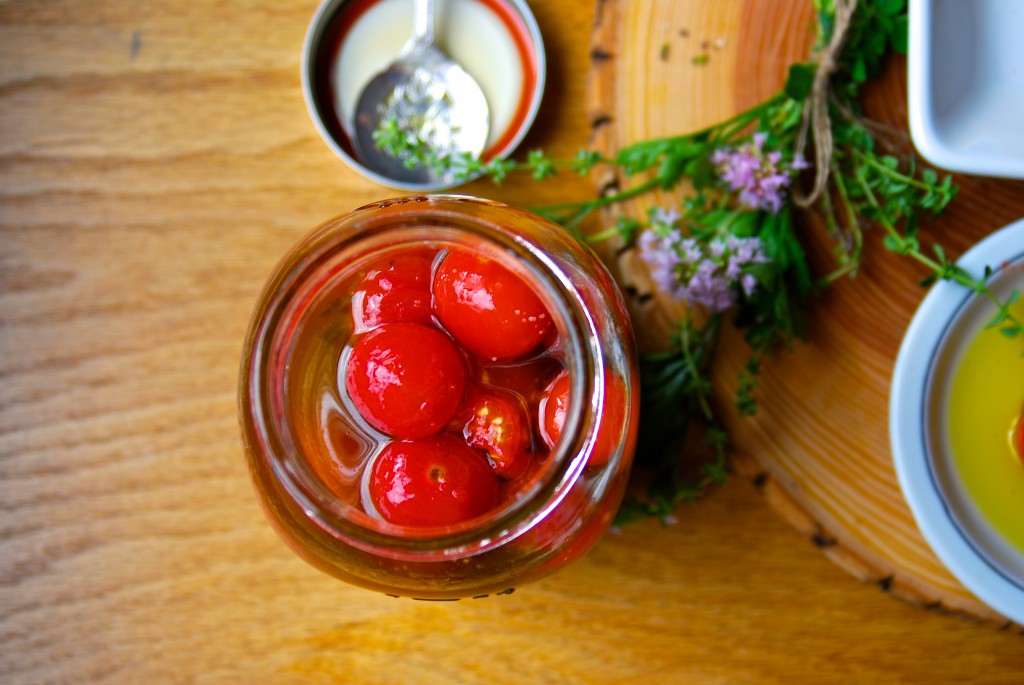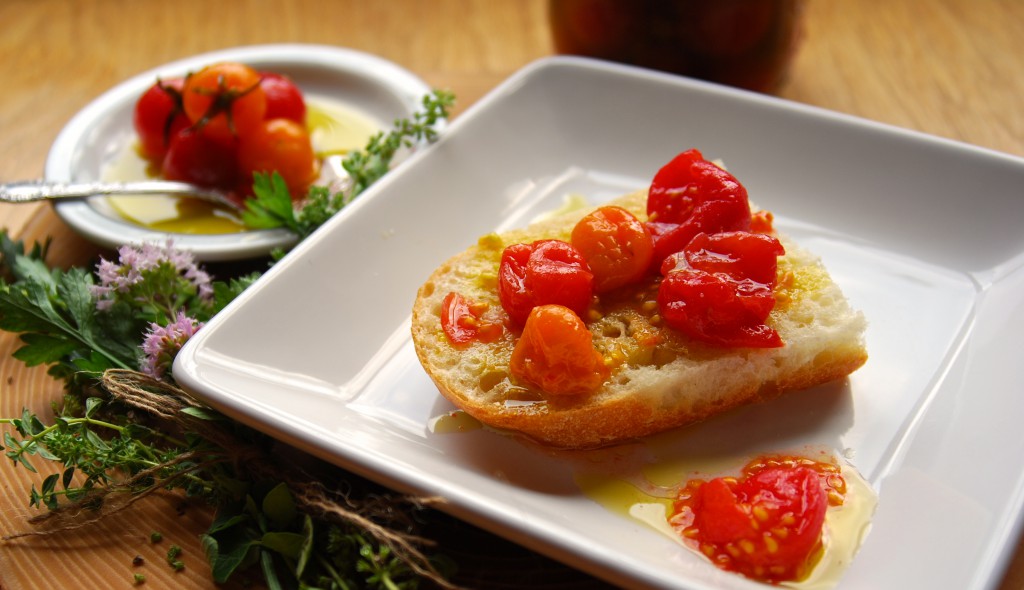 These simple marinated cherry tomatoes were a perfect option to take care of the bounty. One quart jar later, they were ready for a few days soaking in the refrigerator, redolent with fresh thyme, oregano and crushed cloves of aromatic garlic. The hardest part of the entire procedure was peeling the little things. The olive oil marinade even made enough to have some left over to fill an extra bottle for use on salads or drizzled over good bread.
A good marinated tomato has endless uses. I love using them on pizza, or you can toss them on your greens, too. Mashed and blended with vinegar, they make a simple vinaigrette, or like pictured here, scooped out and placed on bread, with some of the oil scattered over the top. Once the jar has had time to meld all the flavors together, what happens after that is only limited by your imagination and appetite.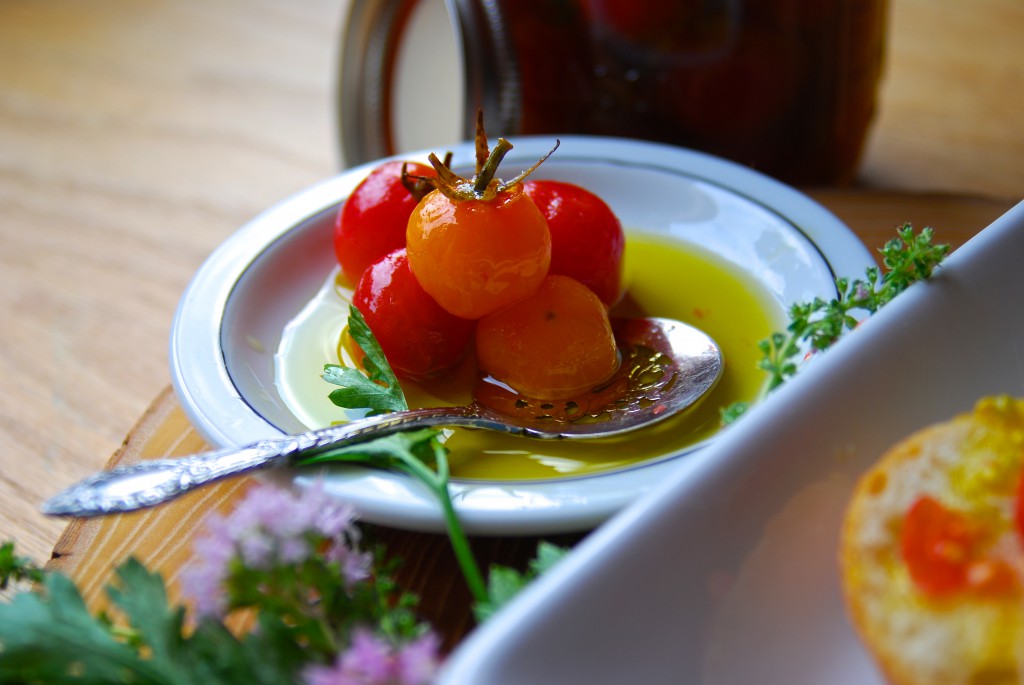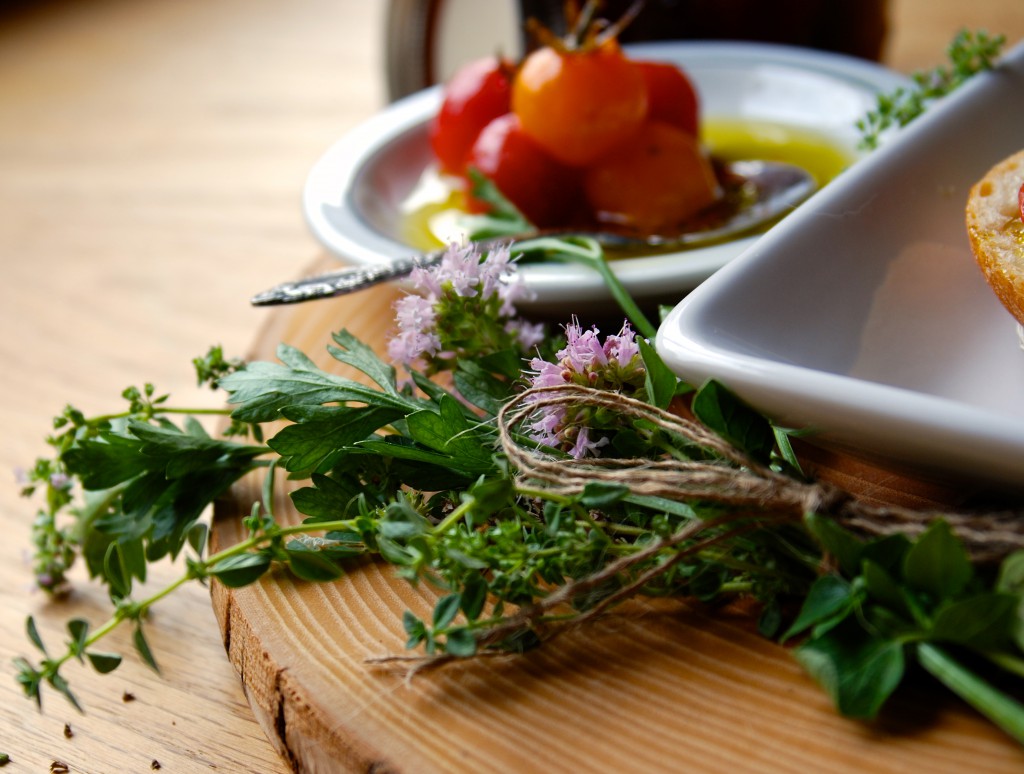 For your bounty of garden tomatoes, pack up a jar or two of these beauties. You will love them.
Herb Marinated Cherry Tomatoes

2 c. high quality olive oil
5 cloves garlic, crushed
1 t. crushed red pepper
2 sprigs each fresh thyme and oregano
1 t. mixed peppercorns
1 t. flaked sea salt (I used Maldon smoked)
2 pints Cherry Tomatoes

The Cherry tomatoes need to be peeled, and this was the most tedious part of the whole procedure. Score an X on the bottom of the fruit with a sharp knife and bring a pot of water to a boil. Place a large bowl of ice water nearby. Working in batches, drop the scored tomatoes in the boiling water for 15 seconds. With a slotted spoon, remove from the pot and immediately drop in the ice water. Once cooled, simply peel off the skins. Place the tomatoes in a quart canning jar with a few sprigs of fresh herbs. I liked using the flowering tops of the herbs in the jar.

In a small saucepan, warm the oil, garlic, red pepper, peppercorns and salt gently, stirring to dissolve the salt. Do not bring to a boil. Add the fresh herbs and remove from the heat. Allow to cool completely, then strain out the solids, pouring the oil over the tomatoes in the jar. Any remaining oil can be poured in to a carafe for other uses in the kitchen. Cover the jar and give a gentle shake, then allow to sit at room temperature for 2 hours. Refrigerate for up to two weeks. I doubt they'll last that long.

You will see the oil solidify in the refrigerator. This is normal. Allow the jar to sit at room temperature for a short time before serving to bring the oil back to liquid.