Here's the thing about the works going on in my kitchen; they aren't perfect or always balanced although I do strive for the most nutritional value I can find. We don't dine exquisitely, sampling wonderful fare every night. I don't pore through cookbook after cookbook stuffing pages with notes, markings, tabs and ratings. Sometimes I don't cook at all. Sometimes we graze. Sometimes I just look at my husband and ask him to go get us a pizza. Sometimes he does.
This is a Calzone stuffed with veggies and cheese and made with scratch dough. Mike did not bring this home.
I make burgers from scratch, and lots of soup. We do make our own pizza including dough for the crust, so those pizza seeking forays I send Mike on are fairly uncommon. We eat a lot of chicken, and we eat fish and pork. Beef is rare in our house but on occasion I will splurge on a good steak dinner for The Carnivore and I. I stock a good pantry with lots of canned goods like beans, tomatoes, tuna, salmon, rice and grains and other items that can help me to put a good meal together if I get stuck. I get stuck a lot. My husband loves vegetables and doesn't care for much meat. My Teen loves meat. Every day. He eats vegetables but only grudgingly. Making these two happy isn't always the easiest feat. But I do the majority of the cooking so I make what I want. If they don't want to eat it, it's not my problem. I'm no one's short order cook. It works for us. I understand that it doesn't work that way for everyone. But please don't ask me what to do about your picky eater because I probably will tell you and you probably won't like it.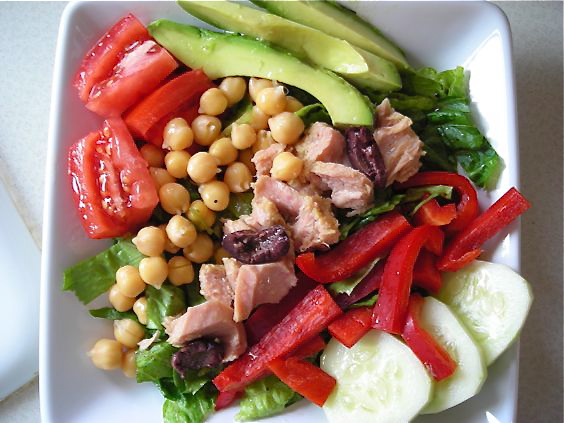 That's a Mediterranean Tuna Antipasto Salad. It was stellar.
Keeping a well-stocked kitchen, including pantry and freezer is vital to making dinnertime less of a hassle. Outside of a good stocked pantry, I keep my chest freezer full. I buy frozen vegetables like peas, green beans and corn (the only ones I think taste good from their frozen state). I keep lots of bread in the freezer, and hamburger buns, always stocking up when it's on sale. I keep packages of frozen tilapia on hand. The brand I buy has individually wrapped filets in it that thaw quickly, making it a good option for last minute ideas. Like yesterday. At 4:00pm I had no clue what I was making for dinner. But by 5:30, we were eating Fish Tacos with rice and a Chipotle Corn Relish. And it all came out of the pantry or the freezer. On the plus side, I used up a few leftover items in the refrigerator from previous meals so there was utilization there as well. I'm not the type of cook that makes up two meals and freezes the second one, although sometimes I have. It's nice when I do. I wish I was prone to do more of that.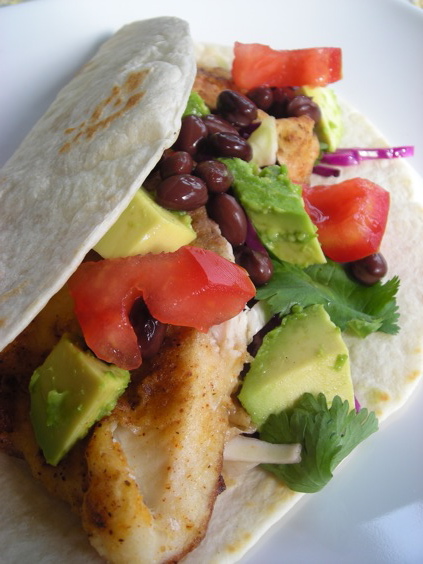 This is version 1.0 of the Fish Taco. This is not last night's Fish Taco,
I don't write menu plans each week, opting instead to make a large list of foods that I wish to cook. These are ideas that are not regular occurrences in our kitchen, options that may require some ingredient to be on hand in order to make the dish. Like our favorite Healthy Sloppy Joes. Or Thai Thighs. Or Griffin's favorite Indian Chicken, or the Jambalaya he loves. This list is where I try out new recipes and ideas. Some of them work. Some do not. If they're wonderful and I think others would enjoy them too, then I will blog about them. I don't blog about everything we eat or cook because that would be ridiculous. We have lots of repeats in our meals, and there are always food items on hand to make these repeats. The list is a guideline, and I shop from this list so I know what I can make based on what's available.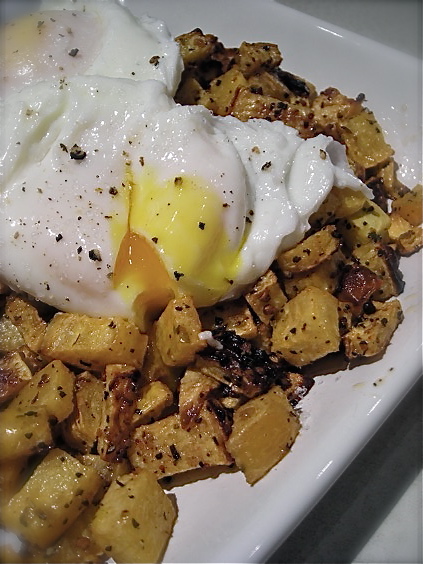 That's Roasted Rutabaga topped with Poached Eggs. Simple. Divine. Perfect.
And grocery shopping; we have a budget that we try to stick with. Sometimes we do, sometimes we don't. We don't eat out much due to financial constraints. When we do eat out, I like it to be at places that make food I can't make at home so often our choices for dining out run to ethnic restaurants. We don't do fast food although Griffin will eat it. When I grocery shop I use a list 90% of the time and I stick to it, avoiding any aisles that I don't need to wander down. I rarely buy on impulse although I will purchase items on sale if I find them and then I try to utilize them if they aren't on my meal list. I look at grocery ads but I don't use coupons because I rarely find any that are for foods we eat. If I see a good sale at the grocer, I will stock up. I will make a special trip for it too if it's worth it. Boneless chicken breasts on sale 2-for-1 is worth a trip. Kleenex on sale is not.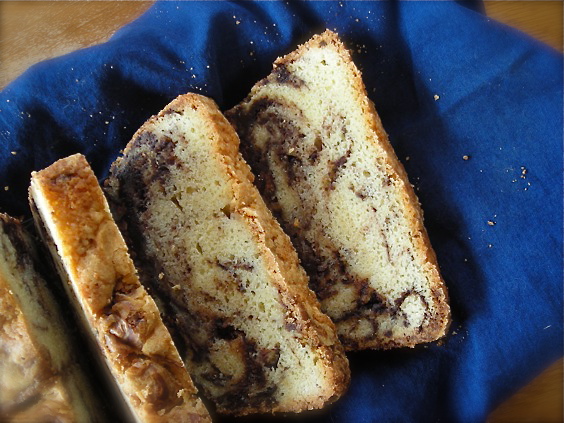 Nutella Pound Cake anyone?
I bake too, although not as much as I wish because I think my thighs are already a bit too chunky. But I make muffins, scones, quick breads, cakes, cookies and all other manner of yummy sweet treats. Many of these are for special occasions, like the cakes. My favorite items to bake are the muffins and quick breads. Griffin is good at making cookies and enjoys it a lot.
And speaking of that boy, he's really stepped up his game in the kitchen and lately has made us some incredible meals. His confidence is much, much better and his skill is increasing exponentially. I love it when he cooks. Love. It.
I have a cupboard of cookbooks and I love them all but I don't utilize them as much as I should. I have some go-to books for everything and my most favorite one is the Cooks Illustrated Best New Recipe. It's a freaking monster of a book but it's loaded with CI's anal and detail oriented works and I know that the recipes are fool-proof and perfect. I have books I use for adding healthier recipes to our diet; I have ones that steer me towards comfort foods that I crave on occasion and cookbooks that I turn to for fancier inspiration. I have a few reference books to help me with questions, like the Food Lovers Companion. I have a few books that help me figure out substitutions if I somehow run out of an ingredient. I have some ethnic cookbooks that make me sigh with delight. A great deal of the inspiration I find for our meals comes from my food magazines – I get Eating Well, Bon Appetit and Saveur – and of course, the amazing and varied talent of my fellow food blogging friends.
Like these ladies. Just a handful of the local crew- fom left to right: Kelli, Amanda, Shaina, Stephanie, me and Crystal.
The wealth of information about food and cooking is staggering out there, and there's something for everyone. It's both overwhelming, frustrating (because there is a lot of BAD stuff out there too, and plenty of misinformation) and yet it's also wonderful, varied, engaging and encouraging. This post is just about what I do, and as I said, it doesn't work for everyone but this is what works for us. Our kitchen is truly the hum that resonates throughout our entire home, and also out into the world via this blog.
And just for kicks, I'm passing along one of my favorite and quick pantry recipes for 3-Bean Chili.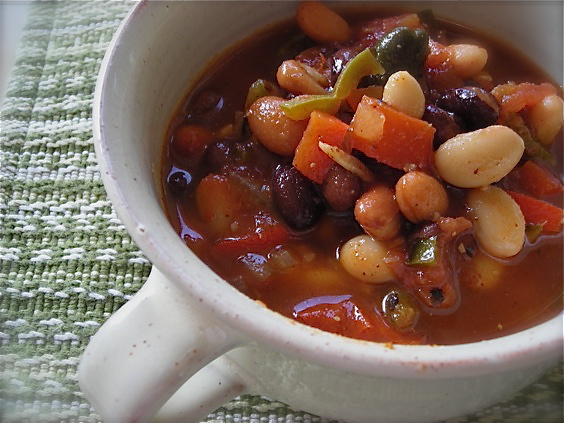 I love this steaming and soothing pot of chili and it comes together so fast (well, if you have the items on hand) and yet it tastes like it simmered all day. Full of fresh peppers, along with three kinds of canned beans and a big can of tomatoes, it's so satisfying and good for you. Skip the bacon if it isn't your thing. We never use it in this recipe but I imagine it adds amazing flavor.
Quick Three Bean Chili
From Food and Wine magazine, April 2008
2 tablespoons vegetable oil
3 slices of bacon, cut crosswise into 1/4-inch strips
1 onion, cut into 1/4-inch dice
2 jalapeños, seeded and cut into 1/4-inch dice
2 garlic cloves, minced
1/4 cup chili powder
One 15-ounce can Great Northern beans, drained and rinsed
One 15-ounce can pinto beans, drained and rinsed
One 15-ounce can black beans, drained and rinsed
One 28-ounce can diced tomatoes
2 cups chicken stock or low-sodium broth
Kosher salt and freshly ground pepper
Chopped cilantro and sour cream, for serving
In a medium soup pot, heat the oil until hot. Add the bacon, onion, jalapeños and garlic and cook over moderately high heat until the onion is softened and the bacon fat has been rendered, about 5 minutes. Add the chili powder and cook over moderate heat until fragrant, about 1 minute. Stir in the beans, tomatoes and stock and bring to a simmer. Simmer the chili over moderately low heat until thickened, about 15 minutes. Season with salt and pepper and serve with cilantro and sour cream.Kate's Notes: I used a can of chili beans- pinto beans in chili spices, unrinsed! – in place of regular pinto beans; I had it on hand and it worked beautifully. I also reduced the chili powder to 2 tablespoons due to the presence of the chili spices in the beans.