It's frigid outside, again, although nowhere near as cold as it was a week ago. In the pool room of the Y, the sun is making the water sparkle, when it's able to peek out from the whirling dervishes of snow kicked up by the intense Northerly winds. The snow devils block the two story high windows, but even on this deeply cold day, the warmth in the pool is welcome. I slip in to the water and feel the shock of the cold over my entire body, shivering a little as I push off from the wall.
I'm sore this morning, as our Body Pump class has started a new release, changing the sequences and challenging our muscles all over again. This happens every six weeks, and I equally anticipate it, and dread it. And I love it. And hate it. Change is hard, and this physical change that I've been putting myself through for the last 14 months has forced me out of my comfort zone more times than I ever expected. Some mornings, just stretching, and rolling out of bed elicits groans and tender first steps. Going up and down stairs can hurt for the first treads after a good leg workout, and those first strokes in the pool, like today, felt tough, but freeing. Swimming takes the hurt out of muscles torn and battered, challenged through lifting, forced into re-building and growth. But the first 100 yards or so can almost bring tears to my eyes as the soreness abates, the tendons and ligaments stretch and recover. I swim to make it better, then, the next day I lift the bar, clip on the plates and tear myself up all over again.
I've always been active, but in previous years, most of that activity was in warmer months, saving my nordic ski habit for Winter. As much as I love the skinny skis, it wasn't enough, and I knew I needed more; more weight training as I age to help ward off osteoporosis and keep good skeletal health. More cardio to keep my lungs healthy, in a family with history of asthma. And more movement to keep me from languishing through a Winter, sinking in to a soft chair, one eye on the calendar, waiting for Spring, for my bike to come down from the rafters in the garage so I can spin the tires once more. Starting was difficult, keeping at it to make it a habit was even more difficult, but one day I awoke and felt excitement at the thought of another Body Pump class, in realizing it was a swim day and anticipating how good I would feel when it was all over. The rewards were reinforced even further when clothing began to loosen, my shoulders strengthened and those bike rides didn't feel so strenuous any longer. In 14 months, I haven't lost a single pound, but everything looks different, and pants that were snug before I started can now be pulled over my hips without even being unbuttoned.
I love this article … stop a moment and go read it, as I think you'll find it fascinating, too. I was a skeptic, and at one point would have scoffed at the information, but now, I'm a believer, and a convert and gladly head to the YMCA six days a week for one more Body Pump class, or to slip through the water, admiring the sparkling sunbeams on the pool floor as I swim. All the aches, the hurt and fatigue, the sore muscles and mind-numbing but uplifting after-burn combines to motivate me every day, to be better, and stronger.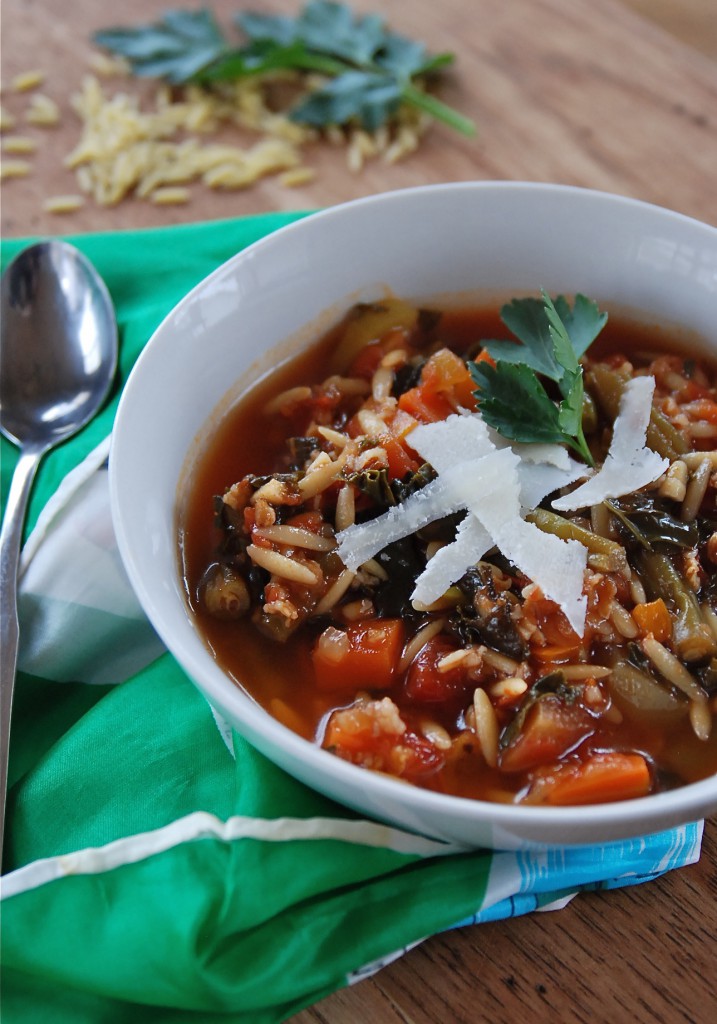 Soups and hearty warm stews are a constant these days. Nowhere in your kitchen repertoire can you find a dish that is so versatile and so accepting of the varied means to an end. Minestrone is designed to take in the leftovers lurking in the fridge, the odds and ends of vegetables that don't have a place otherwise, to steep together, to create something that fills you up after a cold day has taken the last of your coping skills away, or a good workout has drained your energy. I love that a good soup or stew tastes better in subsequent days, that the flavors meld and deepen, almost, like continual exercise does with our bodies, becoming something else altogether.
Perfect Minestrone

1 large onion, diced
3 carrots, peeled and diced
3 celery stalks, with leaves, diced
4 cloves garlic, minced (adjust to taste, I am a garlic lover)
2 small zucchini, peeled and diced
1/2# fresh green beans, cut to 1/2″ pieces
1 bunch fresh kale, rough stems removed and chopped (sub chard, collards, or spinach)
1 32-oz container Pomi* Tomatoes (use equivalent of your choice)
1/4 c. quinoa (optional, but I like the heft and nutrition it adds)
1/4 c. fresh chopped parsley and oregano (basil and thyme are also good)
Parm-Reggiano shavings

In a large stockpot, heat a small amount of oil and add the onions. Cook over medium heat, stirring occasionally, for about 5 minutes, or until the onions are opaque. Add the carrots, celery and green beans and cook, stirring, until the vegetables begin to brown a little, maybe 10-15 minutes. Moderate the heat to prevent them from scorching.

Add the garlic and a pinch of kosher salt. Stir to incorporate and cook for a few minutes until it's wonderfully fragrant. Add the  zucchini and the tomatoes and a quart of broth or water. Bring to a simmer and cook until the vegetables are tender enough to pierce with a fork, but not completely soft.

Add the kale, the pasta and the quinoa, if using. Depending on what pasta shape you use, cook until the pasta is al dente. Taste the soup and season with salt and pepper. Make sure the pasta is cooked, but also remember that it will continue to absorb liquid as the soup sits.

Ladle soup into bowls and top with a sprinkling of the fresh herbs and some shavings of cheese. Serve with a good bread, if desired.

*- Pomi Tomatoes are a packaged brand of tomatoes available in most grocers. The container is aseptic, with no BPA and the taste is phenomenal, fresh and clean. It's one of my favorite brands of canned tomatoes on the market.

NOTE: The original version of this recipe called for pasta, as most Minestrone soups do. I subbed in quinoa for a GF option but you can use any small pasta shape of your choice if you wish. The photo shows Orzo pasta.
KATE'S NOTES: A good Minestrone is designed to use up vegetable odds and ends. While these make for a delicious soup, use whatever you have available to make your Minestrone unique, and to use up what's in your refrigerator.