Beyond the deep green of spinach, and now kale, I hadn't yet moved towards other deep green leafy vegetables, such as collards, mustard greens, or chard of any variety. But I'm working slowly to incorporate more of this incredibly nutritional vegetable in to my diet though. It's a work in progress, for sure. So, in consideration that I didn't just wake up one morning in a "Hallelujah!!" moment and love spinach to death, or eat one bite of kale and declare myself transformed, trying out Chard, and finding that I liked it on the first attempt was somewhat surprising.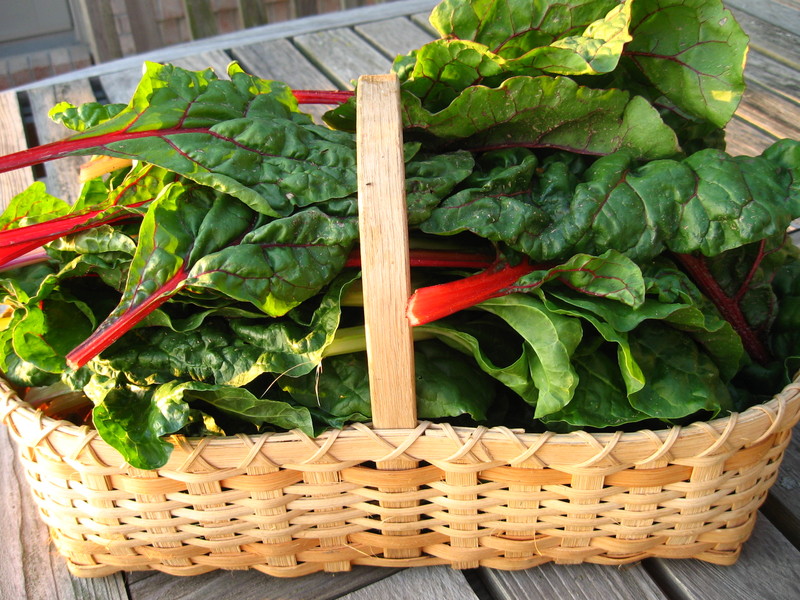 ( photo courtesy of Going Local )
I'm exploring a lot more offerings on the tables at the Farmers Market these days. And really, I'm loving the results. Approaching my favorite organic farmer one afternoon, I spied a small bunch of delicate baby red chard sitting on his table, with it's lush deep red veins and crisp, exceptionally dark leaves and something in my mind went "Get that now!" and so I held out a few dollars and walked away with this thick bunch of greens thinking "I have no clue what to do with this."
But thankfully, that's never stopped me before. And we learn a lot through often just following our will in to adventure; listening to the voice that tells us to turn left at the crossroads, even when you have no idea where 'Left' goes. I trust my gut instinct. And this bundle of red chard was that gut instinct telling me to branch out. So I sauteed the chard one morning, and topped it with a poached egg. I'd been making this breakfast for a while now, only with leafy braised kale and loving how energizing and delicious it was. It seemed the next logical step was to try it with chard.
And I was devouring – devouring –  the last bite when I realized that I should have maybe tried to take a picture of it. So trust me, ok? It was divine.
The next week when I went back, there sat my favorite farmer, again with bunches of Red Chard on his table, although much larger and leafier than before. I told him how delicious that tiny bunch had been and his eyes lit up. You see, my very first experience with chard years ago, and subsequent experiences since then were not favorable. Maybe I wasn't ready at that point to be going 'Left' in my exploration of leafy greens, of appreciating the merits of good health that they offered.  It hadn't left a very good impression, but that little bunch of organic chard, at this point in my life where I am firmly rooted in learning, exploring and embracing a plant-based eating plan, well that impulse purchase had Wow-ed me, and I happily handed over a few more dollars and stuffed another huge bunch in my sack. When I made it again, it was lunch for Mike and I.
And I remembered to take a picture.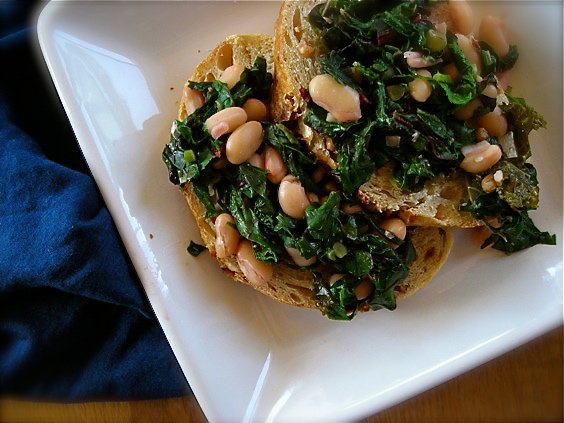 But like spinach, and beet greens, a whole enormous pile of leafy chard can be reduced to a little pile of barely anything by a few quick turns in a hot skillet. And with one lunch, plus me stealthily hiding the leftovers so only I could benefit from them, that delicious $2 bunch of red chard was gone in a matter of moments. But it left such a nice taste and experience in my mouth that I eagerly anticipated a return to said farmer, and maybe TWO bunches of it this time. Alas, by the time I got back to that market, his slot remained unhappily empty. Given that it was the day after July 4th, I'll grant him his absence. But by golly, if next week rolls around and he isn't in his usual place, his hat pushed back and a truck full of truly wonderful produce behind him, don't be surprised if you hear that I've broken down crying.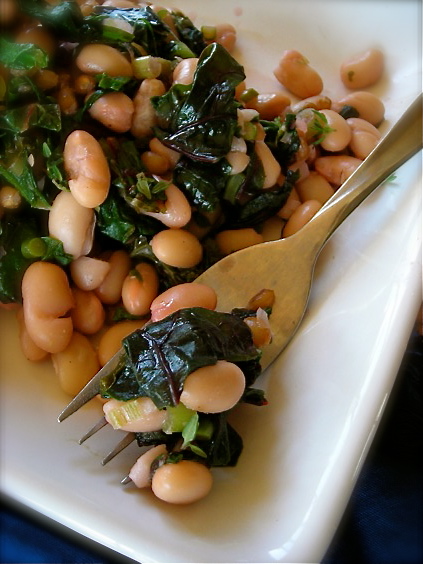 Because that's how quickly, and deeply I've fallen for this rich and lush green. It's dark and brooding, silky, tender and tastes like I'm in the middle of a deep forest drawing in the air, and the green. Can a vegetable taste like a color? Does color even have a taste? To me it does, and this chard tastes like it looks. Deep green, and rich with flavor and I'm sold, 100%.
Have you tried Chard? What do you like to do with it?
Chard and White Beans with Fresh Herbs

2 small shallots, finely minced
2-3 garlic cloves, minced (use minced garlic scapes if you have them, about 2 T. worth)
2 big bunches red chard, stems removed and rough chopped
1 15-oz can Great Northern Beans, drained and rinsed
1-2 T. each finely minced parsley and thyme
1/2 c. cooked wheatberries (optional- I had these on hand and they were delightful in this dish)

In a large skillet, saute shallot and garlic until tender. Add the chard in handfuls, stirring to saute. Cook chard for about 5 minutes, or until tender. Stir in white beans and herbs. Season with salt and pepper and cook for a few minutes to blend flavors. Add a few tablespoons of water if dry.

Recipe from Whole Foods, with heavy modifications