Remember when I mentioned last week that I was participating in a virtual breakfast through The Motherhood with some other wonderful bloggers? The chat occurred this past Wednesday, when I was right about to be plunged over the cliff into complete sickness. I managed to deal with the chat perfectly, then set my computer aside and just about collapsed. The rest of that day I was immobile from fever, wandering in and out of sleep, twisting in fevered dreams.
Oy…..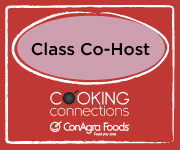 But I survived. The chat was quite fun. It was video and text chatting, with two nutritionists from Kellogg's, so you can bet it was pretty heavily geared towards eating cereal. I personally prefer something a lot more substantial for my first meal of the day. Still, cereal is a pretty standard breakfast for many, especially children. One aspect of the chat was to discuss the most recent dietary guidelines set forth by the Dep't of Health and Human Services and the USDA. The Dietary Guidelines list four nutrients that American children and adults are not getting enough of: dietary fiber, calcium, vitamin D and potassium, and apparently breakfast cereals are noted specifically in these guidelines for helping people meet their B12, folic acid, iron and Vitamin D requirements. They even spoke about the fact that Fruit Loops and Apple Jacks both have 3 grams of fiber per serving. With information from health studies that points to fiber intake being a shield against the risk of death from cardiovascular disease, infectious and respiratory illness and, for men, certain cancers. Hmmm. At this point, I wanted to ask what the sugar content of these supposedly fiber-rich cereals were but decided to just quietly pass through that part of the discussion. I was a bit surprised to hear some of this information, and along with my caution about sugar levels in breakfast cereal, the main reason I won't eat many of them at all, I'm still firm on my belief that there are much better breakfasts to start your day with.
Thankfully, my co-hosts agreed. They were filled to overflowing with amazing and delicious breakfast options; waffles and pancakes topped with greek yogurt, and copious amounts of fresh fruit, smoothies with berries and ground flaxseed, parfaits made with yogurt, cereal and nuts. Kids don't automatically know what constitutes 'breakfast food' too, and when my son was younger I told him that I didn't care what he ate for breakfast; I just wanted him to eat something before school each day. So he would often eat leftovers from dinner, cold pizza or sometimes mac and cheese. On occasion he would eat soup, or make a half a sandwich with turkey or roast beef. The most important thing to me was that he was eating something. After that, it was up to him.
I've become much more aware in the last few years of how a good healthy breakfast can make such a huge difference in the rest of your day. And I love exploring the multitudes of options that I can eat each morning, sometimes finding myself getting rather excited about what my morning meal will be! And it's always good to get excited about your food.
If you're interested in the newest Dietary Guidelines, the entire document can be downloaded from this link:
http://www.cnpp.usda.gov/DGAs2010-PolicyDocument.htm
If you want a full summary of our virtual breakfast, you can find that information here:
http://www.themotherhood.com/talk/show/id/62187
DISCLAIMER:
I was financially compensated for participating in this chat. All opinions are my own
.