More sugar. Must be winter's end…..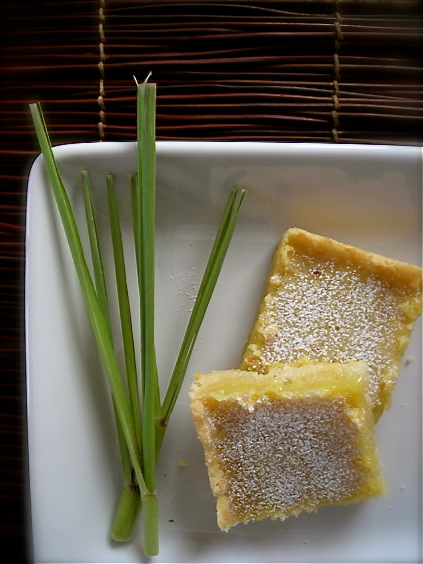 I've been lamenting a lack of fresh foods lately. The transition season is approaching rapidly; that between the depths of winter when root vegetables and long slow aromatic braises seem to be the elixir we all need to the first snap of green vegetables that promise warmer days and less outerwear. March comes along and it's like we all draw a long slow breath, eagerly awaiting the day where the very air shifts and the warmth blows in and we forget about 85″ of snow, the endless drifts, the nerve-wracking commutes. Our winter has been memorable, and it's a noticeable grimace when flakes continue to fall and the slack jaws at the produce counter scan the same old, same old and try to drum up a different beat for those carrots, the sweet potatoes and rutabagas.
For me, some respite came with one definitive twist of a channel knife, cutting through the thick zest of a fat lemon and releasing the minuscule spray, that spritz of aromatic citrus that at once says to my weary winter white brain 'Sunshine!' 'Warmth!' Because we all know that those golden orbs carry the very essence of the sun within their tart flesh; with a firm grip they release their juice, carrying an altogether different sensation to our nose. The white of winter, the stinging scent of a fresh snowfall and a glacial chill in the air is quite distinctive, and it settles into us with a thud as those flakes fall, fall and fall, but among that endless snow, the never-ending white, I twisted up a bowl of lemons, ground the zest off their hides and, in addition to all that sunshine filling my kitchen (if I closed my eyes I could see white sand, a hammock and the blue of the Caribbean) I crushed up three stalks of lemongrass, with it's sharp citrus-y aroma and racy bite and turned it all into the most amazing and tantalizing Lemon Bar I've ever had the pleasure of biting in to. Spring is a tease in March; we have days of sunshine, fickle sun, torrents of rain and then a bone-chilling wind descends to remind us that we're not quite out of the woods yet, so finding this Lemongrass Bar recipe in the current Bon Appetit, with it's crumbly tender Coconut Shortbread crust was a perfect tonic for the weary landscape of white that turns gray and gritty as we slip through the doorway to another season.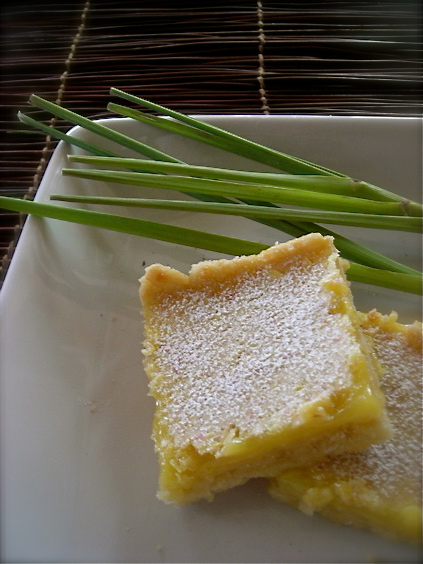 And yes, sugar. Sweet sugar and the tang of lemon, but cut with the flavor of lemongrass, a perennial grass native to the Philippines. Widely used in Asian cuisine is soups, teas and curries, it's suitable for all meats, and can be made into lemongrass oil which is used as a pesticide and preservative, and is known to have anti-fungal properties. I've used lemongrass in savory recipes and love the simple flavor it adds, but the addition of it to these Lemon Bars was genius; the tender white bulb is ground fine with your sugar, then blended with eggs and a little flour to create a luscious filling. The bonus to these bars? Coconut in the crust.
Recently I was given several bags of sweetened shredded coconut that I tossed in the freezer to await inspiration. I do love coconut, but find the sweetened version too overwhelming to add to my oatmeal or muffins as I prefer, but in this recipe, cooked into a tender buttery shortbread crust, it was perfect. With the addition of the lemongrass in the filling, adding an extra level of flavor but without the cloying teeth-clenching sweetness of your standard Lemon Bar, these offered up a nice dose of Springtime to push all thoughts of late Winter faster to it's timely demise.
Lemongrass Bars with
Coconut Shortbread Crust

Crust:
1-1/2 c. AP flour
1 c. sweetened shredded coconut
1/2 c. powdered sugar
1/2 c. (1 stick) unsalted butter, slightly chilled and cut into chunks

Filling:
1-1/4 c. sugar
3 lemongrass stalks, bottom 4 inches only, tough outer layer removed & finely chopped
6 T. fresh squeezed lemon juice
2 t. fresh grated lemon zest
3 large eggs
1/4 c. AP flour

Heat oven to 350° and spray a 13×9 cake pan with cooking spray.

For the crust, whisk flour, coconut and powdered sugar together, add butter and cut butter into mixture until it resembles fine crumbs. Use a pastry cutter, two forks or knives or your bare hands. Press dough onto bottom, and 1/2″ up sides of prepared pan. Bake crust until golden (edges will darken more) about 20-25 minutes.

For filling: Place sugar and lemongrass in food processor and blend until finely ground, about a minute. Add lemon juice and zest, pulse 3-5 times. Add eggs and pulse to blend. Add in flour, and a pinch of salt. Blend until smooth.

Pour filling over hot crust. Reduce oven to 325° and bake until filling is firm, 20-25 minutes. Cool bars completely in pan then cut to desired shape. Dust with powdered sugar, if desired, before serving.

Recipe: Bon Appetit magazine (with small modifications)