January is drawing to a close and we've only just now received the first good snowfall to completely cover the landscape. And with only one brief cold snap, where temperatures dropped below zero for a day or two, it really just hasn't felt much like winter at all. Still, the calendar doesn't lie, the light still falls off before the dinner hour -although it gets later and later every day!!- and the hum of an oven, concealing something aromatic and delicious is still welcomed in any Minnesota home.
Lemon is everywhere right now. Those bright yellow orbs are certainly popular in the wintertime, bursting forth with that incredible fresh scent. Lemon is like sunshine, and not just from the sunny yellow color; that spritz of luscious lemony aroma that bursts from the rind when you cut into it is a wonderful tonic to the drab and gray of a winter day. I even feel sunnier eating lemon, like the light rays are just pouring through me.  And citrus fruits are coming to the cold, lifeless mid-section of the country in all forms; gigantic globes of grapefruit, sunny tangerines, adorable little kumquats and key limes plus endless lemons.
I love to bake with lemon anything, and I particularly love the fresh zest paired with blueberries. But I have to admit that a lemon pound cake can make my knees weak. There is something about that tart bite, and the dense moist crumb that gets me, that makes it irresistible. But I'm not such a huge fan of the calories in pound cake, so finding a recipe that makes a lighter and less caloric version made me eager to try it out. But I had to ask myself…. would this even be worth it? We've all had those experiences of finding a less decadent way of baking a prized cake that simply falls flat. I couldn't stand to be faced with a lemon cake that left me wanting more.
Needless to say, I was not at all disappointed.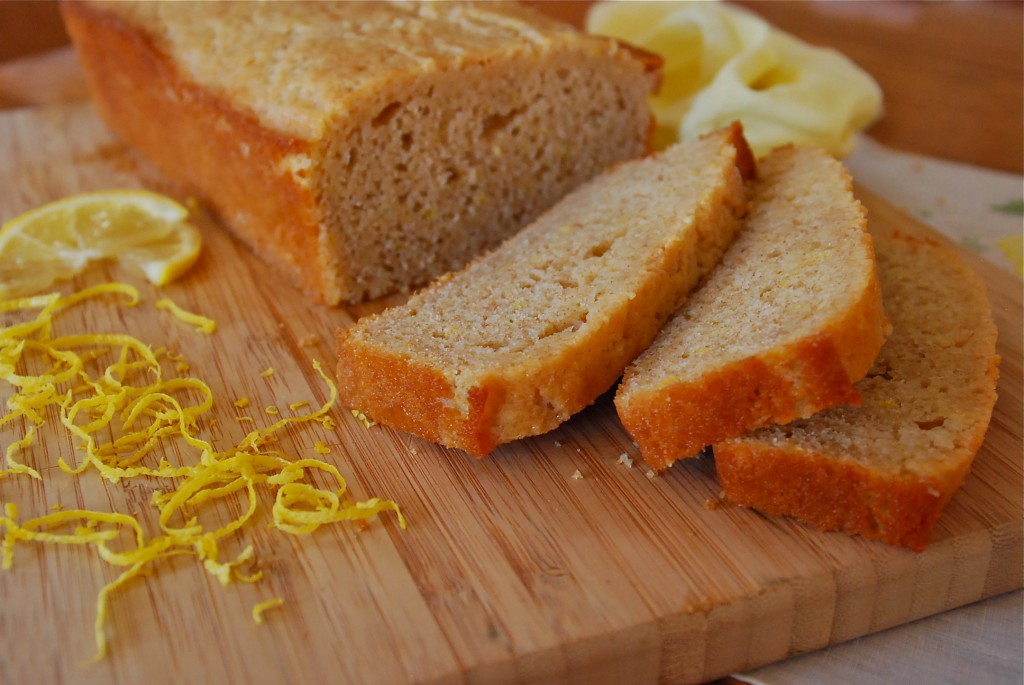 If you didn't know that this cake wasn't made with a ton of butter and sugar, you might not realize it at all. It still has that gloriously dense texture that's rich and satisfying. It still shouts "LEMON!!" with every bite. It satisfies and satiates and makes for a luxurious treat that doesn't leave you feeling too guilty. There's a 'just tart enough' glaze brushed over the top of it to add even more of that lovely mouth-puckering taste, making the top of the cake nice and soft too, something I love about a good teacake.
The bright and sunny winter day even made the photos look like they were bathed in lemony light.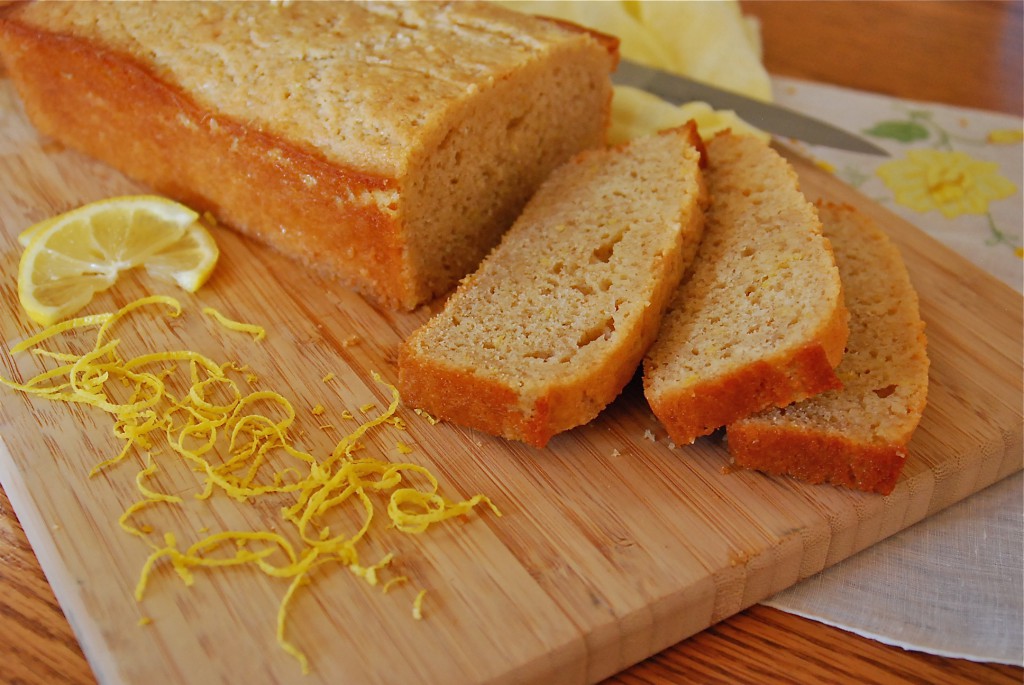 Lemon Pound Cake

1 cup whole-wheat pastry flour or white whole-wheat flour
3/4 cup all-purpose flour
2 teaspoons baking powder
1/4 teaspoon salt
3 large lemons, divided
1 1/4 cups sugar, divided
3 ounces reduced-fat cream cheese (Neufchâtel), at room temperature
2 tablespoons butter, at room temperature
3 large egg whites, at room temperature (see Tips)
1 large egg, at room temperature
1/2 cup reduced-fat milk
Preheat oven to 350°F. Coat a 9-by-5-inch (or similar-size) loaf pan with cooking spray; dust with flour and tap out any excess.Sift whole-wheat flour, all-purpose flour, baking powder and salt together into a medium bowl.

Finely grate 2 tablespoons zest from 2 of the lemons; set the lemons aside. Beat 3/4 cup sugar, cream cheese, butter and the zest in a large bowl with an electric mixer on medium-high speed until light and fluffy, about 2 minutes. Beat in egg whites, one at a time, beating well after each addition. Add the egg and beat well. Reduce speed to medium and beat in milk; the mixture will look curdled.

Reduce the mixer speed to low and add the flour mixture in 2 batches, beating just until combined and scraping down the sides of the bowl as necessary. Transfer the batter to the prepared pan and smooth the top with a rubber spatula.

Bake the cake until a wooden skewer inserted in the center comes out clean, 45 to 50 minutes. Cool in the pan on a wire rack for 15 minutes. Run a knife around the sides and turn the cake out onto the rack.

While the cake is cooling, squeeze 5 tablespoons juice from the zested lemons. Trim the ends off the remaining whole lemon and very thinly slice; discard any seeds. Heat the lemon juice and remaining 1/2 cup sugar in a small nonstick skillet over medium heat, stirring until the sugar is dissolved. Add the lemon slices and cook, stirring frequently, until softened, about 5 minutes. Reduce heat to maintain a simmer. Use a fork to transfer the lemon slices to a bowl. Continue simmering the syrup until slightly thickened and beginning to turn golden yellow, 2 to 4 minutes

Set the rack over a rimmed baking sheet. Poke holes all over the top of the warm cake with a wooden skewer, 1 1/2 to 2 inches deep. Spoon the glaze over the cake, poking more holes if the glaze does not sink in. Arrange the lemon slices on top. Let the cake cool completely before slicing.
Recipe Notes: I made my cake with the glaze, and not the candied lemon slices. I tried, but they fell apart in the syrup and looked strange so I didn't put them on the cake. The glaze was good, but I think the cake doesn't really need it either.
Recipe from Eating Well magazine, posted in original form
.