So this is how I am, hmm? Wax philosophic about blogging for three years and then vamoose for parts unknown? Some 'reach out and touch someone' blogger I am. In my absence I have been astonished, overwhelmed and sometimes moved to tears by your comments and I hope I adequately thanked you individually for your support, your love and your unimaginable kindness. You, dear readers, are the 'raison d'etre' that keeps me chug-chug- chugging along.
But I'll tell you, I needed escape in a big way. I went to our lake home, a mere hour's drive from where I reside in real time but eons of light years away in terms of the ultimate escape, proving that you don't need to go far to leave it all behind.  Remember Mike's broken back? The huge perspective shift? It's been six weeks and he's doing pretty well, but the constant vigil that I have laid down in order to help him has drained away a large portion of the 'Me' that makes me who I am. And in the empathy that I feel for him, I sense every wince of pain, every ache and twinge and see the frustration in his eyes in dealing with his limitations and it wears on me. It's love, plain and simple; nothing he hasn't done for me in spades, but still,  I needed to recharge my batteries.
After a few days of feeding all of our souls (again) with this beautiful face,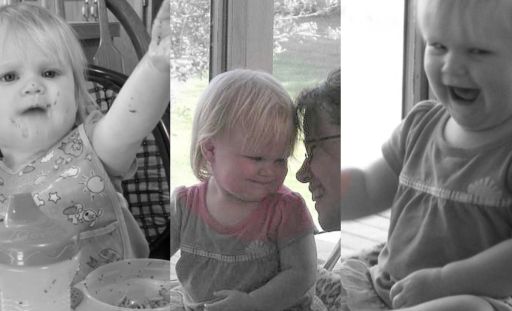 I took my leave…..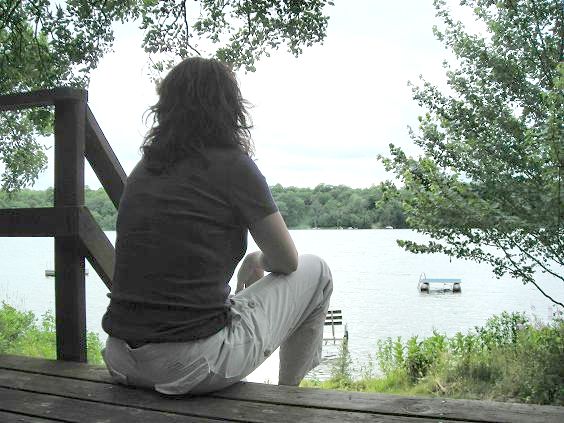 And Loveless Lake, in Western Wisconsin was just the place I needed. It's been at the heart of my life with Mike in so many ways; we shared our first kiss there, I fell in love with him (and his family) there and we announced to everyone that we were getting married on the beloved screen porch to shouts of riotous cheer. It's in my blood, my very bones. And this summer, with Mike's back injury and the often rotten weather, I just haven't been there as much as I need to- and I need to;  my heart has missed its solace, the sunsets and the ripple of the water, lulling the harshness of life out of me and replacing it with a steadier pulse. A glass of wine is often more indulgent on the deck at sunset, and coffee just never tastes so good as it does on the screen porch as the new day unfolds over the backyard and the first ripples touch the glass surface of the water. The smell of the lake, the call of the Oriole in the evergreens…..I need it like oxygen. And food.
And I need time away to just cook a few simple and favorite things- food for me, for my restoration. It always changes when I go, depending on the time of year and my current tastes. I craved fresh fruit and more greens- rabbit that I am- but I also wanted meats, like a good steak and some bacon. And I shamelessly wanted to be selfish. The steak, generously rubbed with a spicy jalapeno and garlic rub, was sputtering and so delightfully charred and burnished as it came off the grill that I couldn't manage a photo before my knife and fork tackled it forcefully. It was  more rare than I ever imagine myself eating, still I contemplatively devoured each bite, delighting in the flavor, and the solitude as a gentle rain shower left it's fragrance outside the open patio door. My bacon served it's purpose across many meals, most notably atop a crispy slice of ciabatta, toasted on the grill and smeared with natural grainy peanut butter for a delicious and decadent breakfast treat.
What else did I do? Well, I watched the resident eagle fish for it's breakfast; the great blue heron survey the water as the eager English Spaniel several doors down kept vigil over it from the dock. I spied hummingbirds on the lakeshore plantings. I stared at the leaping flames of an aromatic fire for a very very long time with nary a muscle twitch, nodding off in my chair outside and awoke, most likely just a few minutes later to a heavy splash in the water behind me, the flames still crackling, barely a few feet from where I was dozing.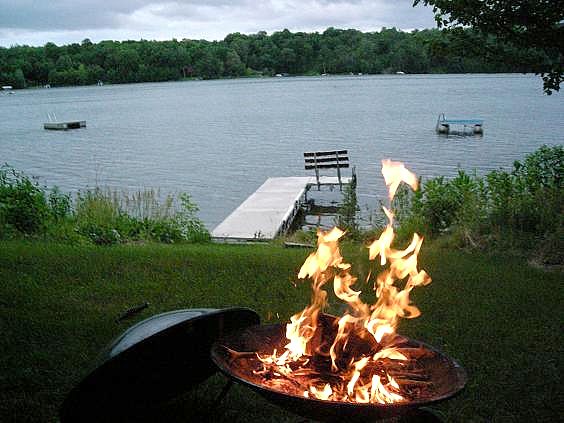 Seriously!? I fell asleep outside by the campfire. Honestly, if I could have I would wrap up in blankets and sleep under the stars. I indulged too, in that simplest of campfire offerings.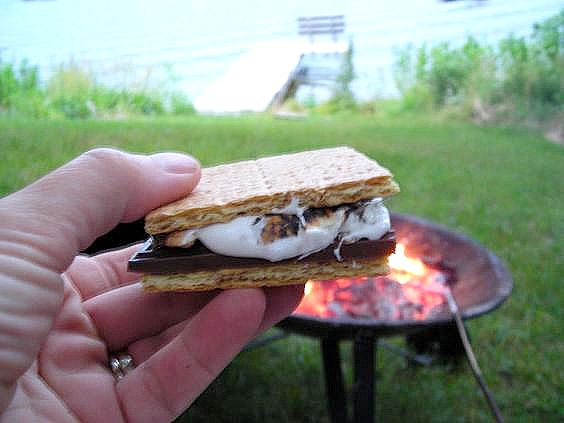 I listened to the chipmunks chatter and chase each other around the yard, and I walked. I walked in casual pace along a gravel road, the peace of a Tuesday morning held tight around me, touched by cool breezes in the refreshing morning air. I listened to the wind, sipped another cup of coffee and napped if I felt like it. I absorbed 'Treasure Island', losing myself in Jim Hawkins' narrative, cursing the fickle Long John Silver, cheering the bravery.  By all accounts, I disappeared; and I've never wanted it so much. Some people crave chocolate, or ice cream; I wanted uninterrupted time to just be me.
But I'm trying to refocus now on another round of blogging; I'm scheming, making plans and thinking about summer's bounty. After a delightful holiday weekend, most likely back at Loveless, life will resume some semblance of normal, hopefully, and the blog will be back on it's sumptuous feet. Thanks for your patience.