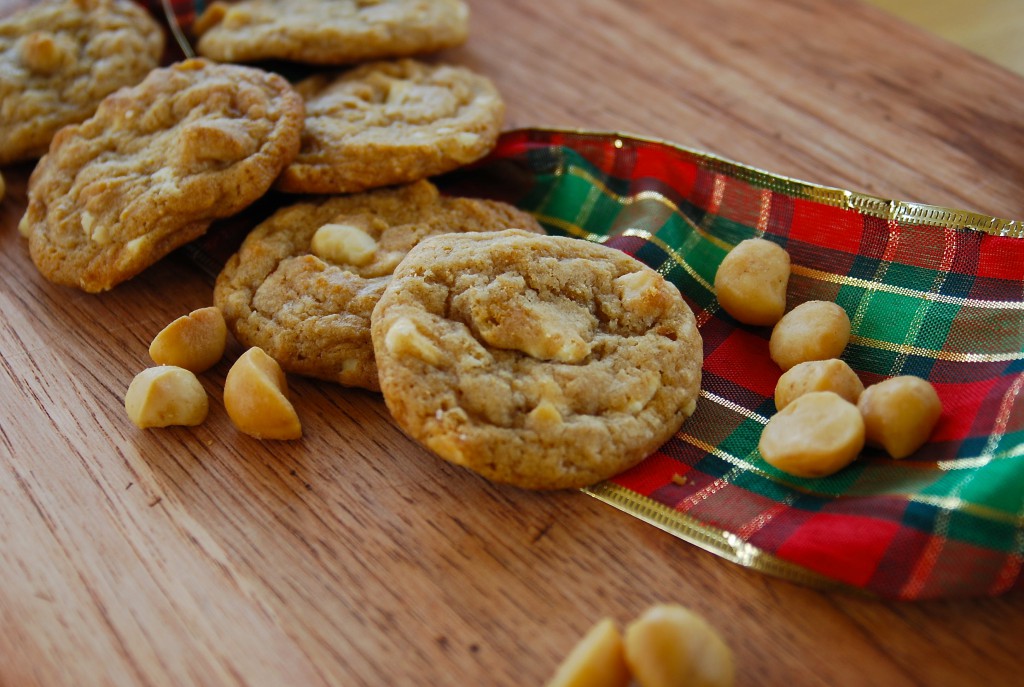 Thanksgiving is done, the month is nearly over and December looms on the horizon. Holiday plans are in full swing, decorations are coming out of storage and right on schedule, the air turned cold and brisk. There's not much snow yet. Only enough to change the landscape from late Fall to Winter, but enough to get everyone's thoughts on the next big holiday activity; baking. While I do a fair amount of baking year round, during the holiday season, I make more cookies than any other time of the year.
These cookies are a classic combination; soft and luscious white chocolate with buttery, rich macadamia nuts. A terrific cookie for holiday baking, or any time of the year, really. Something about white chocolate, to me anyway, speaks of winter. Maybe it's the resemblance to soft snow, the pristine look of it, the clean taste. Not all white chocolate is the same though; in the current edition of Saveur magazine, they did a huge taste test on white chocolates and came up with some of the best available. Thankfully, Ghiradelli white chocolate made the cut, as it's the one that's most readily available to me.


Every Christmas season for the past few years I've been blessed with a gift box from
Oh! Nuts!
for baking, or just decadent snacking. Oh! Nuts! has a full selection of premium dried fruits, chocolates, candy and high quality nuts for home cooks, as well as exquisite gift baskets for everyday or special occasions. Of all their products I have tasted over the years, I've never had anything less than stellar quality. I'm not one to purchase macadamia nuts all that often; once in a while I indulge in a small bag for 'mouth therapy', as they are one of the finest nuts ever that have crossed my tongue, but their price is often prohibitive, and a gift of them is wonderful. Macadamia nuts have the highest amount of monounsaturated fats of any of the nuts or seeds that we consume, and are a good source of a long list of minerals and vitamins. But go easy on them, as that fat content doesn't come without a price, unless you use it's oil on your skin. And don't ever let your pup eat them; macadamia nuts are toxic to dogs.
In these cookies, those rich nuts just shine. The buttery base aside, a crunch of the moist nut next to the vanilla-sweet bite of white chocolate is, as I already mentioned, a classic combination. Based on this recipe from Joy the Baker, the end result of this cookie is a moist and tender little mass of cookie goodness. These turned out so perfectly that I almost wanted to box up the entire batch and give them away as a means to prevent me from tip-toeing into a closet with the container and nibbling them to oblivion and a whopping belly ache. I don't know what's worse in terms of temptation; having a sack of macadamia nuts in the house, or these cookies.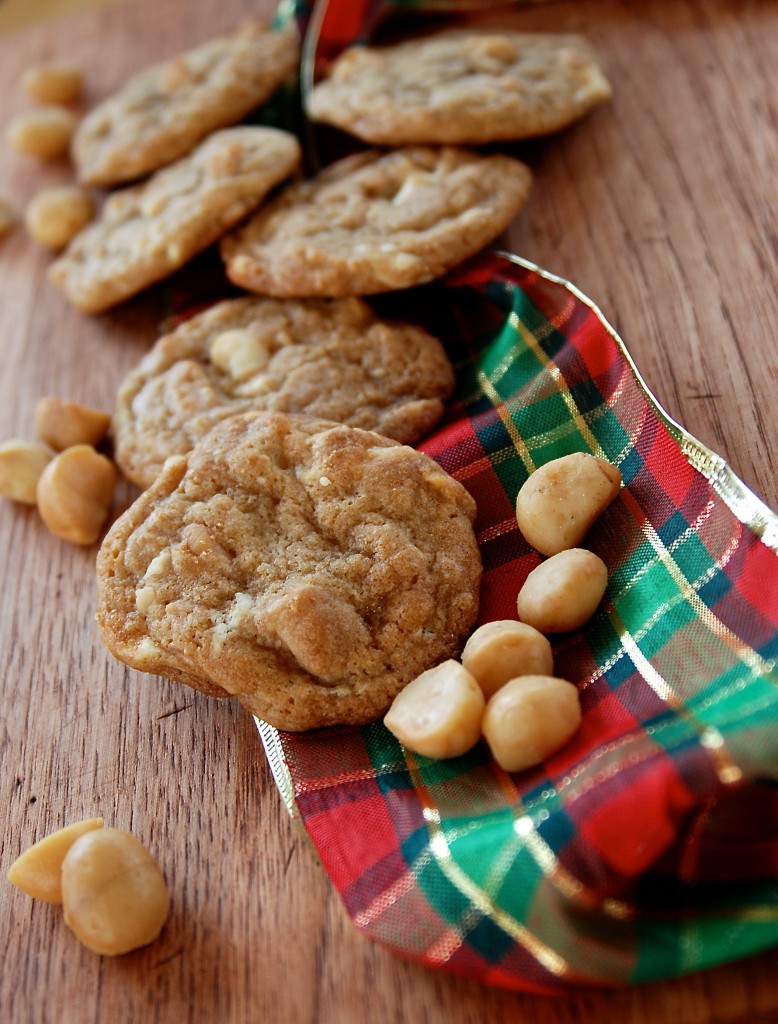 Brown Butter White Chocolate
Macadamia Nut Cookies

1/2 cup (1 stick) butter, don't even think of using margarine, shortening or fake non-dairy butter
1 cup packed light or dark brown sugar
2 Tablespoons milk
1 large egg
1 teaspoon vanilla extract
1 3/4 cup all-purpose flour
1/2 teaspoon baking soda
1/8  teaspoon salt
1/2 coarsely chopped macadamia nuts
1 cup white chocolate chunks

Preheat oven to 350 degrees F.  In a medium saucepan melt the butter, swirling and stirring the butter until nicely browned bits appear in the bottom of the pan.  This may take about 5-7 minutes.  Once the butter is browned, remove pan from heat and set aside to cool a bit while you measure out the dry ingredients and set them aside.

In the bowl of a stand mixer add the brown sugar and slightly cooled butter.  Beat on medium speed for about 2 minutes.  Add egg and beat for one minute more.  Add milk and vanilla extract and beat to incorporate.

Turn the mixer off, scrape down the sides of the bowl and add the dry ingredients all at once.  With either the stand mixer on low, or by hand with a spatula, incorporate the dry ingredients until just mixed in.  Fold in the chopped nuts and white chocolate chips.

Scoop two teaspoon sized balls onto a lined baking sheet.  Bake for 9-11 minutes or until cookies are deliciously golden.  Remove from oven and let rest of the baking sheet for 3 minutes before removing to a cooling rack.

Recipe reprinted verbatim from Joy the Baker
KATE'S NOTES:
The only process I changed in this was to add the white chocolate and the nuts when I added the flour. I find that folding in those extras at the end makes the dough too uneven. This spreads them out perfectly.
I did not brown the butter, as I've had some disasters with that process and have lost my mojo on it. I know. Sad, huh?
As it was, without that step these cookies still rocked.
As stated in the post, I used Ghirardelli white chocolate, a 4-oz bar and chopped up the entire thing, using every last shred.
I also added in way more than half a cup of chopped macadamia nuts because I'm a rebel like that.
And as if that isn't enough, I used vanilla greek yogurt in place of the milk, mostly because I had a container of it that I didn't want to eat. (ugh….don't buy Dannon Light Greek yogurt. Bleah)
I think it contributed nicely to the very moist end result.
DISCLAIMER:
I was provided with the macadamia nuts free of charge as a gift.
No blog post was expected for the offering of this gift and all words and opinions in this post are solely my own.