It isn't much, I admit. This spread, or dip or whatever you wish to call it was a lightning bolt of inspiration one night when I was craving something different to put on our favorite grilled dinner item- a loaf of pillowy ciabatta bread stuffed with an assortment of grilled vegetables.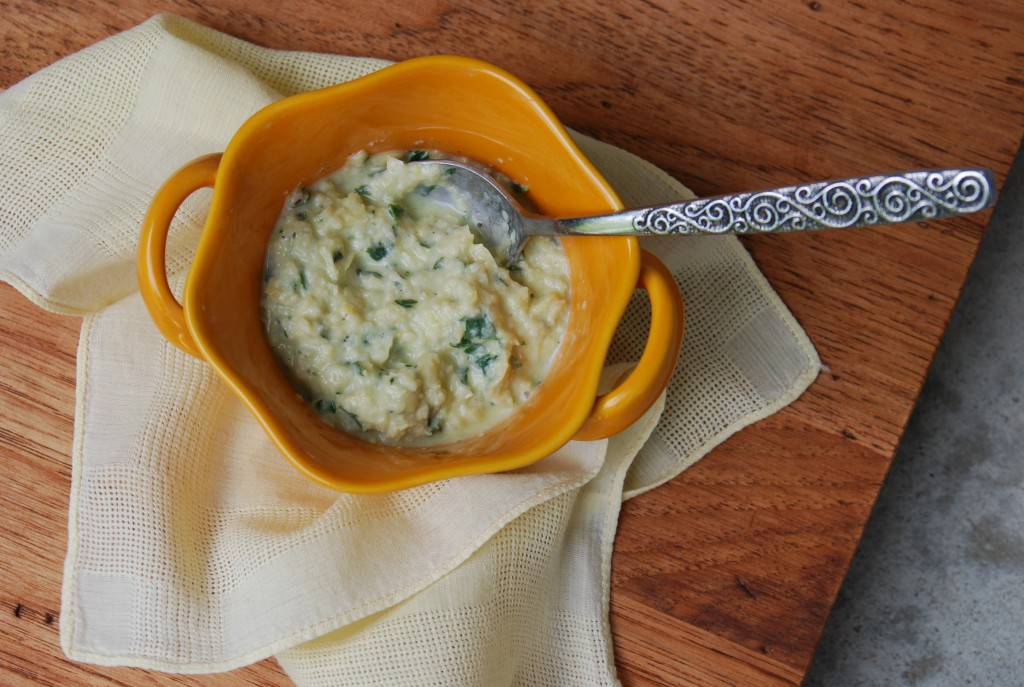 Sweet corn is in that stage of ripeness and availability right now that finds it everywhere you turn, and we're consuming it several times a week, as well it should be. We're so blessed in Minnesota to have an abundant crop of the good stuff, ready on road side stands, in the Farmers Market and a few select amazing Minnesota grown varieties in the local grocers as well. Sweet corn that bursts when you bite it, needing little besides a drizzle of butter and salt to make it wonderful. Have you tried mashed avocado on sweet corn? You must. It's simply divine. And this creamy, slightly tart-sweet spread also lends itself highly to corn, hot from the grill or bubbling stock pot of water.
Beyond the goat cheese and sweet corn kernels, stripped from the cob, you could do any additions to this, with endless possibility. Fresh herbs are a must; I used lemon thyme, oregano and parsley (my basil is overgrown and bitter from the heat- big sad eyes here) but if you have good basil, by all means, use it in this spread. Add a pinch of sugar to balance the tart; combine some Southwestern flavors like cumin, lime juice and zest and chili powder for a big ol' kick. Add curry powder and lime juice  for an altogether different interpretation. Since the sweet corn supply is endless, your variations on this could be as well.
Sweet Corn & Goat Cheese Spread with Fresh Herbs

1 ear sweet corn, cooked and kernels stripped
2 oz soft plain goat cheese
1 T. fresh squeezed lemon juice
1 t. fresh lemon zest
3 T. mixed fresh herbs
Pinch of brown sugar
Salt and pepper to taste

Place all ingredients in the work bowl of a food processor and process until fully combined, scraping bowl occasionally. Taste for seasoning, and add more salt and pepper if it's too sweet, or a bit more sugar if too tart.
Just a note on this: I have a tiny little food processor, like a quart sized one and it was perfect for making this spread. In a larger bowl type of processor, you may not have a confined enough space to get it to mix properly. Try it in a regular blender, or in a deep pyrex measuring cup with an immersion blender if you have either of those options. This made about a cup's worth of spread, but if you want to make more, increase the ingredients accordingly.