Something glorious happened in Minnesota in the last week; that stifling, oppressive heat and humidity finally was swept away and in it's place is cool, breezy sunshine, temperate nights and audible sighs of relief. A pair of jeans even made an appearance lately.
Now I do realize that August can still be hot and sticky, but I am really crossing my fingers that the worst of it is over. I enjoy my outdoor time, my biking and fresh air and I would really love to get back in to this without taking a bath in my own sweat.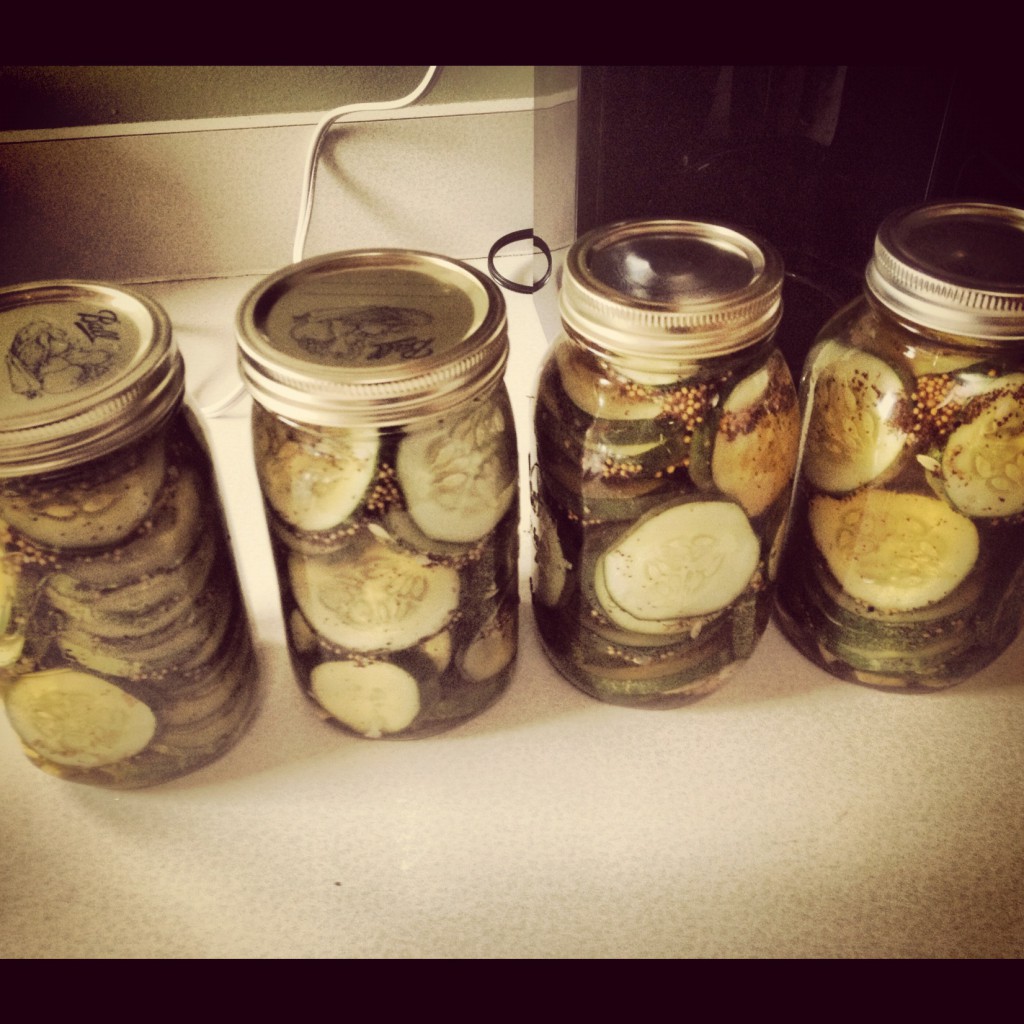 And it is that time of year too, for pickling, for canning, for preserving. I haven't leapt headfirst in to the preserving craze that a  lot of home cooks are on these days, but this year, faced with an abundance of cucumbers from our garden at the lake, I did tackle making refrigerator pickles and I'm so glad that I did. These pickles pack a punch of memory that I love with each crunchy, sweet-sour bite.
When I was very little and before my parents split, we spent a few summers enjoying a vacation at a resort near Detroit Lakes. It was a perfectly idyllic week for both parents and children, as this resort had all sorts of activities planned out, guaranteed to keep kids happy and occupied, while parents had their own time to sit and relax. Every morning, the staff would gather the kids right after breakfast, and some days, keep us busy until we arrived, breathless, grimy and sunburned back at the dining hall for dinner. Three squares a day were served, and at dinnertime, a relish plate was on every table that held carrot and celery sticks and tiny, sweet-sour pickles that I loved. The vegetables, inevitably, would absorb some of the pickle brine, so everything sort of tasted the same, but I loved nibbling off that plate and had no idea how much I missed that flavor until last Fall when my sister-in-law brought a jar of refrigerator pickles to a family gathering and I lifted one to my mouth for that first, long forgotten crunch.
It was like rapidly falling backwards in time to being 5 years old, reaching across the huge rectangle table in that massive dining hall, with floor to ceiling windows open to the summer breeze and surrounded by the last memories of my family completely intact. That sweet, salt, celery and mustard seed flavor had eluded me for a lifetime and I didn't even know it until I tasted those pickles. I was flooded with memories, scents and nostalgia. I could smell the lake, our cabin, the cotton sheets we slept on, suntan lotion, the hot dry grass underfoot. I could see that resort in it's entirety. I could recall the fun and laughter and the sheer exhaustion of falling asleep after a long, busy and exciting day. It was the last memories of perfection in life, before fracture, before pain and shouting and the upheaval of divorce. It was the end of one life and the beginning of another. But now, where life is happy and easy, where the love abounds, the flavor comes full circle. And I've made six quarts of these lovely little pickles, and we're all enjoying them greatly.
There's very little work involved in making these pickles, outside of stuffing the jars with cucumber slices. Our garden cucumbers from the lake were quite round and large by the time I got hold of them; with smaller cukes, the stuffing becomes much easier. Add in slices of onion and peppers, crushed cloves of garlic, slices of jalapeño for kick. I made my quarts with garlic and love the flavor. One 12-hour period in the refrigerator and you're done.
Refrigerator Pickles

For the Brine:
1 c. white vinegar
1-1/2 cups granulated sugar
1 T. kosher salt
1 t. celery seed
1 t. mustard seed

In a non-reactive pot, bring ingredients for brine to a boil, stirring well to help dissolve the sugar and salt. Place sliced cucumbers and any extra flavor additions in quart jar. Pour brine over, screw down the top and shake gently to distribute. Allow to cool slightly, then place in refrigerator for a minimum of 12 hours. Make sure you're putting the jars in the refrigerator while they are still fairly warm. You should be able to hold them, but still feel the heat.

Give the jars a good shake the next day to redistribute the brine and slices. This recipe should make enough brine for 1-2 quarts.
RECIPE NOTES: I doubled this recipe for my first batch, which made three quarts, easily. The next batch, in which I had 12 huge cucumbers to use, I packed 4 quart jars, made a 5X batch and ended up with quite a bit of brine left.
Be sure you are really packing the jars well. These will shrink considerably while pickling.
For both batches I made, I used a small amount of brown sugar in place of the white. It gives the pickles a bit more deep flavor. It's not necessary at all, just an option.