I did not grow up loving mushrooms. I didn't even like them, not one little bit. But I surely can't blame myself, for my only exposure to them as a child of the '70's was from a can. And I can't imagine anything more disgusting than canned mushrooms to a kid. No wonder I was never a fan of the fungus.
As I got older, I allowed a bit of mushroom to pass my lips; I loved them sauteed on a burger, or with a grilled steak. Provided I could have something in my mouth with them, they became only slightly more palatable to me, but I still struggled with texture, and that rich, loamy earthiness to them. Cover them with good red wine, and sauté them in copious amounts of butter and it was ok. Just ok though. Still, they weren't on my favorites list by any means.
Then I had an epiphany, last summer. A major turning point in my culinary taste occurred at one of the wonderful events I attended last year with the Minnesota Food Bloggers group. It was at Cafe Levain in Minneapolis, and Chef Adam Vickerman created grilled portabella mushrooms, richly glazed in balsamic vinegar. I took a few tentative bites of them and my eyes were opened. I was re-born, re-newed and suddenly, all-out crazy for mushrooms. And to Adam's credit, I've been slightly obsessed, and eating them weekly, ever since.
Mushrooms fit well into a healthy eating plan, and that makes them far more desirable given my all-enveloping obsession. Mushrooms have been revered in Eastern culture for thousands of years for their nutritional properties. Mushrooms are low in calories, fat-free, cholesterol-free and very low in sodium, yet they provide important nutrients, including minerals like selenium, potassium, copper, and vitamins such as riboflavin, niacin (the all important B vitamins) and vitamin D. And then there's beta-glucans- something I'd never heard of before, and according to Mushroom Info:
"Beta-glucans, found in numerous mushroom species, have shown marked immunity-stimulating effects, contribute to resistance against allergies and may also participate in physiological processes related to the metabolism of fats and sugars in the human body. The beta-glucans contained in oyster, shiitake and split gill mushrooms are considered to be the most effective." 
So I can feel good about the amount of mushrooms passing my lips, and I like that. I can incorporate mushrooms in to just about any dish, but I hadn't really done much with them in a soup so it was fun to come across this amazing Wild Rice & Mushroom soup recipe on The Kitchn, even better that I stumbled upon it as the coldest air of the month landed on Minnesota, making for a perfect backdrop to a steaming bowl of this thick and hearty soup.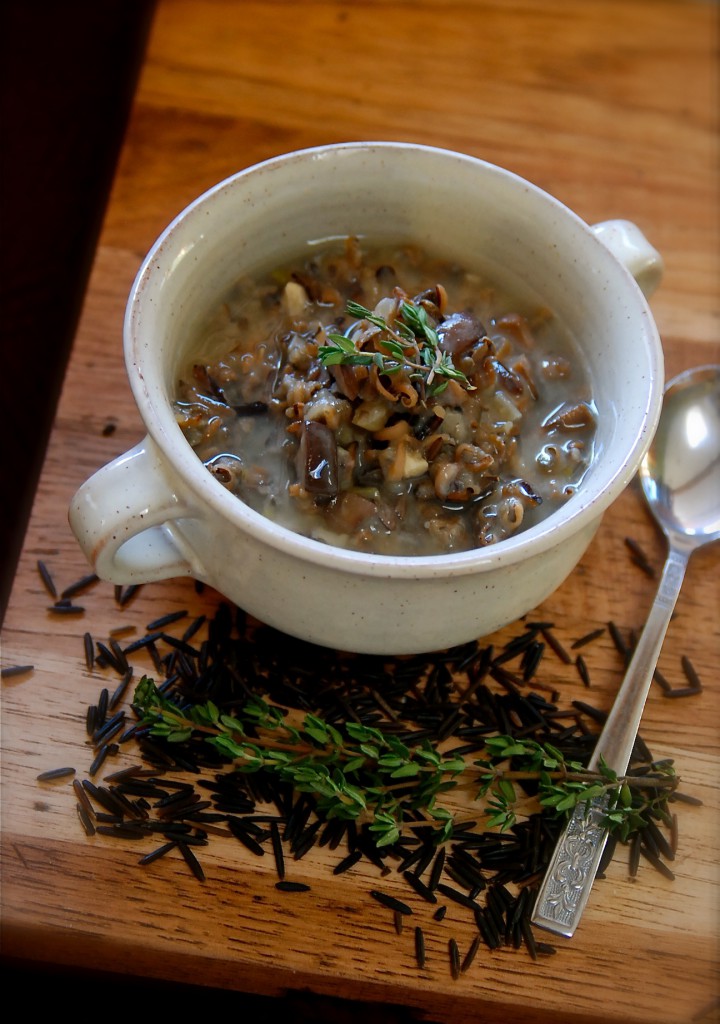 If you love a good wild rice soup with chicken, or turkey, you'll love this lush recipe, which deeply browns mushrooms to develop their rich flavor. A bath of white wine and some good vegetable broth helps round out the simple but complex flavors. Wild rice was another food item I had to learn how to love, but thankfully, this wasn't that difficult, and we've been enjoying wild rice soups for years. This one, with it deep earthy flavors and thick broth will be on repeat now. We all loved it, and soup is such a good leftover item to have on hand.
Wild Rice and Mushroom Soup

1 c. wild rice, washed
1 large onion, diced
4 celery stalks, diced (I love the flavor of the leaves and used a lot of those)
2 cloves garlic, minced
1 pound of mushrooms, rough chopped (I used baby portabella, but adding some porcini or oyster would be delicious)
1 t. fresh thyme
3 T. AP flour
1 c. white wine (I use pinot grigio in cooking. DO NOT use cooking wine from the grocer. Ugh)
1 Bay leaf
1-2 cheese rinds, optional
2 t. fresh rosemary, chopped
1 c. whole milk or heavy cream (I used a lot less, but adjust according to your taste)
1 T. cider vinegar
Salt and fresh ground pepper

Bring a pot of water to a boil and add the rice with 1 teaspoon of salt. Reduce to a simmer and cook for 40-50 minutes, or until the rice has burst open and is soft. You can leave it a bit underdone if you  wish, and cook it to taste with the final soup. Drain the rice, reserving the cooking water to use in the soup if you wish. (I did this. Wow. What a flavor)

Meanwhile, heat a teaspoon of oil in a large dutch oven or stock pot over medium-high heat. Add the onions and celery with a pinch of salt and cook until softened and translucent, about 5-7 minutes. Turn the heat down to medium and add the mushrooms and another pinch of salt. Cook until the mushrooms have released their liquid and start to brown; this should take anywhere from 20-40 minutes depending on the size of your stock pot. I cooked them to a really deep brown. Don't skip this step as this is where a lot of the flavor of your soup will come from.

Once they are nicely browned, add the garlic and thyme and cook for about a minute. Sprinkle the flour over the vegetables and stir to coat. Stir the flour until the mixture becomes sticky, and no visible dry flour remains. Increase the heat to medium-high and add the white wine. Stir and scrape the bottom of the pan, simmering until the wine has reduced and thickened.

Add the bay leaf, cheese rinds (if using) and stock or the cooking water from the rice. Bring to a boil, then reduce and simmer for about 20 minutes to blend the flavors. Add the rosemary, milk or cream and the wild rice, cooking for another 10-15 minutes, or until the soup has thickened to your liking. Stir in the cider vinegar, season with salt and pepper to taste.
Original recipe from The Kitchn, by Emma Christenson.
***This soup will thicken as it stands, and the rice absorbs more of the liquid. I've found that when re-heating it the next day, it tastes best to scoop out a serving and add water to loosen it up.
Linking up to Soupapalooza 2012!!
"Come join SoupaPalooza at TidyMom and Dine and Dishsponsored by KitchenAid, Red Star Yeast and Le Creuset"