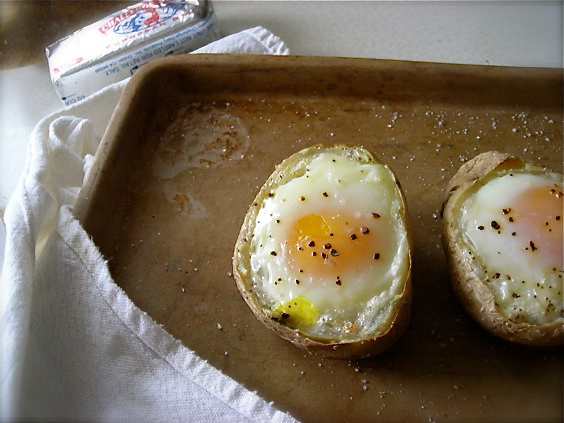 It's my new favorite, my breakfast to satisfy in so many ways and means. But there is also a thin measure of sadness when I make them, as I am the only one in my house that will ever be able to enjoy these. Mike doesn't eat eggs- I know!- and Griffin doesn't eat potato skins. I know! Who are these two? Sometimes, it befuddles me.
But it doesn't stop me from enjoying a simple egg breakfast, or even dinner on my lone Wednesday evenings when the guys are both gone. I treasure those nights; an empty house, the music I love and a kitchen humming with singular possibilities. The food that I make for myself, for my 'alone' time is so different than what comes from the cookware on other nights. I can satisfy my appetite with nibbles of many different items, a bite of this or that, grazing from the fridge and pantry until my tummy says "Ahhh. Thanks. That's good for now." Maybe if it was how I supped all the time it would get old, possibly lonesome. But I don't, so it balances those nights that Griffin charges down the stairs, hopping around in delight, and Mike comes beaming into the kitchen nearly singing "Something smells gooo-ood!"
But, about those eggs.
Baked eggs, well they're nothing new. Called 'Shirred Eggs' if you want to get technical and all, you just place them in buttered ramekins or chafing dishes and set them in a hot oven until they are cooked to your liking. Dusted with salt and pepper, it's a simple meal, especially if placed atop a slice of hearty rye bread, and maybe a slab of briny ham. Having a warm oven on to soothe the ravages of a bitter January night also makes them ever appealing. I had dropped a half dozen potatoes into the oven prior to running Griffin to his youth group night, and when I came home to a fragrant house, soft mealy potatoes and the desperate need to fill my gnawing mid-section, somehow the thought of a twice-baked potato morphed into a baked egg, encased in a crunchy potato skin and soon enough I was sighing happily through so simple and yet so great a repast that I could hardly believe it hadn't been done before. But as I nibbled, sighed some more and gazed blithely at the scene on my plate, it saddened me to know that my family would never eat it. But if my Project365 Flickr friends are any indication, there is plenty of interest to be had out there, among the fervent internet web I have woven around this little blog.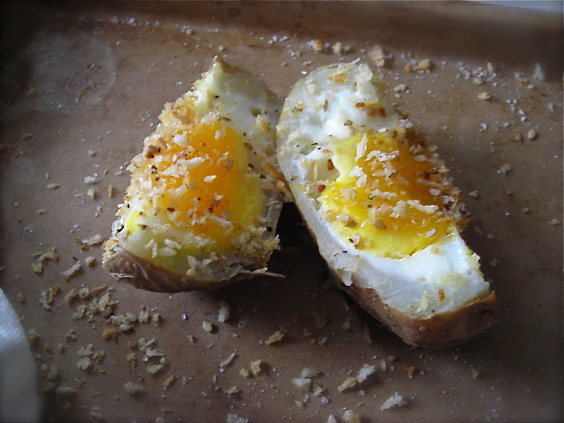 Here's what you do:
This dish requires nicely baked potatoes. You need skins that are good and sturdy to hold your egg. I like my baked spuds to be superbly soft and mealy and often bake them much longer than most people. The skins pucker, and they look like they've nearly collapsed inside. Be sure to have some potato size that will adequately hold an egg inside. The ones I baked were almost too small. Keep the oven on after the potatoes are done. Mine was set at 400°.
Once baked and cool enough to handle, slice the potato as if you plan to make Twice Baked- I cut a slip of skin off the top to make more of a cup-like shape. Scoop the interior- gently!  into a bowl and if you're like me, add a small pat of butter, some good salt and a grind of pepper, and nibble on it while you make your eggs. Lay the bare potato skins on a baking sheet and place them back in the oven for maybe 5 minutes. This firms up the skin, making them more sturdy. I placed the skins in ramekins to help support them to hold the eggs, but that's because mine were rather small. If yours are large enough, this won't be necessary. Remember that if the skins tear or split, they won't hold the raw egg.
Have a small measuring cup with a spout ready, and crack one egg in to it. Make sure your potato skin is already on the baking sheet. With the raw egg in it, it is difficult to move. Gently pour the egg into the skin. Season any way you wish. Place the baking sheet in the oven and bake the egg until it is set to your liking. I am not a soft-set girl by any means, and I baked mine until they were very firm with only a small amount of soft egg left. The time needed will vary accordingly. Remove from the oven and allow to cool slightly. Top with cheese, bacon, seasoned bread crumbs- my way in the photos- or whatever suits your fancy. If firm enough, they can be sliced and eaten out of hand but I suggest sitting down with knife and fork, and quietly enjoying them with each rapturous bite.
And be sure to also use those slices you've cut away from the tops. With a bit of salt, they bake into the most delectable potato chip.