Thanksgiving is just a few days away. Like you need to be reminded of that? We'll be experiencing a pre-Thanksgiving snowstorm this year but I'm thinking it won't hamper any of our plans. My family is all local, and hardy winter souls with dependable cars and a lifetime of snow experience. Plus it's a homemade meal. They don't miss that for anything.
My menu is planned and it's always pretty simple. The family is not much for experimenting with rambunctious flair; they like their mashed potatoes, a good smoked turkey on the grill and plenty of gravy. We'll drink wine, snack on cheese and crackers and enjoy each other's company and really, that's all that matters at all on a holiday, isn't it?
Snacks are an important part of any gathering, and since I'm doing the cooking, someone else is bringing the pre-meal offerings. But if it's me making something for nibbling, I like a bit of variety and spice.
For something delicate and different, this Herb Flatbread from a long ago Gourmet magazine is a simple and delicious option. It's good enough to eat alone, or topped with a thin slice of sharp cheese. It's a bit too delicate to spread much on, but nice to have in a cracker basket.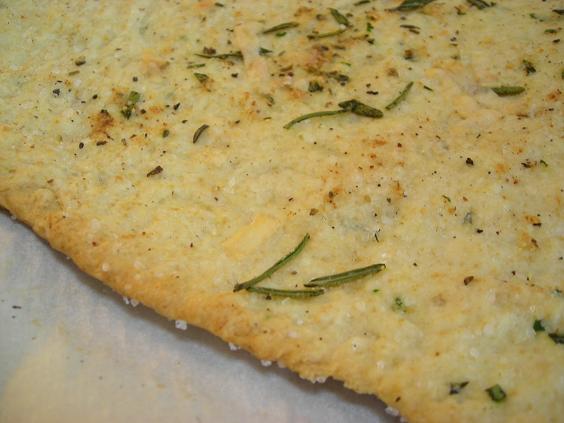 For something really different to spread on your dinner rolls, or a good hearty cracker, this Roasted Red Pepper butter is an awesome option. It's rich, with the sharp tang of roasted peppers, and could even turn a pan of mashed potatoes into a unique delight.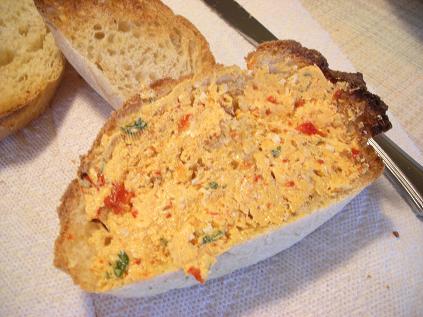 And if you want to really stretch your wings and offer something bold, spicy and off the beaten track, this fragrant nut and spice mix called Dukka is a wonderful option for an appetizer. A fragrant crush of nuts, cumin and coriander seeds and a little coconut, it makes for a good crunchy texture against soft bread that's been dipped in olive oil.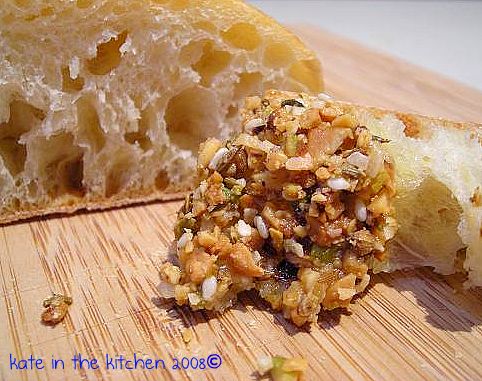 The  most important aspect of any holiday gathering, though, is to relax, enjoy the day and the company and don't sweat out every detail. Here's hoping your Thanksgiving is full of warm smiles, plenty of laughter and lots of delicious food.
Dukka- middle eastern spice mix
From July 2008 Food and Wine magazine
1/4 c. each raw pistachios, almonds, hazelnuts and cashews
1/4 c. coriander seeds
1/4 c. unsweetened coconut
1 1/2 T. cumin seeds
1/4 c. sesame seeds
In a 350 degree oven, roast the nuts until golden brown and fragrant, stirring occasionally, about 10-15 minutes. Empty into bowl to cool slightly. In a skillet over medium heat, toast coriander seeds until fragrant and browned, about 6-8 minutes. Remove from pan to bowl for cooling. Toast cumin and coconut until coconut is golden, 4-8 minutes. Cool with coriander. Toast sesame seeds until golden, 4-6 minutes. Cool separately.
In work bowl of food processor, combine nuts, coriander, cumin and coconut; pulse until coarsely chopped, or preferred consistency. Empty into large bowl and add sesame seeds, stirring to combine. Season with a little kosher salt and black pepper if desired. Keep in airtight container, either refrigerated or frozen.
Roasted Red Pepper Butter
1 c. room temp butter
7-oz jar roasted red pepper, drained and finely minced
2 t. milk
1 T. fresh chives, minced
1 T. fresh parsley, minced
1/4. c. fresh grated parmesan or asiago cheese
Salt and Pepper
Combine all ingredients in a small bowl and beat with a hand mixer until smooth and fluffy. Can be shaped into a log and chilled, or stored in a plastic container.
Hint: with the peppers, the finer you mince, the prettier and more spreadable the butter will be. I used a knife on mine but next time will use a food processor or chopper to get them even finer.
Herb Flatbread (from Gourmet magazine)
1 3/4 c. unbleached flour
1 t. baking powder
1/2 t. salt
1-2 T. fresh herb of choice
1/2 c. water
1/3 c. oil
Heat oven to 450 with a pizza stone on middle rack. Combine dry ingredients and herbs. Make well in center and pour in oil and water. Stir with spoon until a soft dough forms. Turn out onto parchment paper and knead about 5-6 times to bring dough together. Can be divided into 2-3 small balls and rolled flat, or rolled out as one large circle. Drizzle olive oil over top, sprinkle with sea salt and more herb and transfer, parchment and all to heated stone. Bake until browned in spots and fragrant- time will depend on how thin dough is rolled. Remove from oven and cool (don't cool on stone- it will continue to bake). Slice with pizza cutter and enjoy.