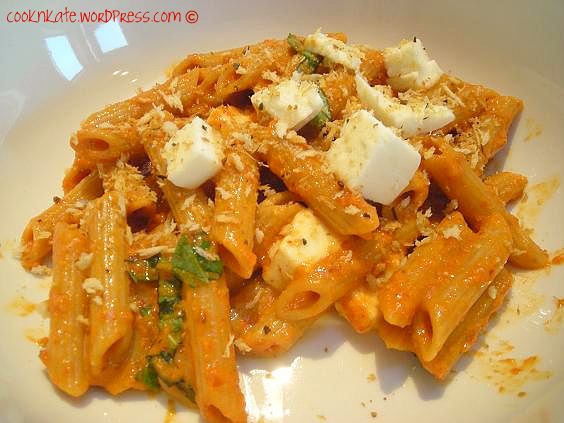 Pasta with Creamy Red Pepper Sauce
Food and Wine Magazine Feb 2008
3/4 pound gemelli
2 whole roasted red peppers from the deli counter (6 ounces)
1/4 cup plus 2 tablespoons extra-virgin olive oil
2 oil-packed sun-dried tomato halves, drained
1 tablespoon tomato paste
1 garlic clove
9 large basil leaves
Kosher salt and freshly ground pepper
1/2 pound salted fresh mozzarella cheese, cut into 1/2-inch dice
Bring a large pot of salted water to a boil. Add the gemelli and cook until al dente. Drain the gemelli.
Meanwhile, in a blender, puree the roasted red peppers with the olive oil, sun-dried tomatoes, tomato paste, garlic and 3 basil leaves until smooth. Season the sauce with salt and pepper.
Scrape the sauce into a large bowl and toss with the pasta until well coated. Tear the remaining 6 basil leaves into the pasta and add the mozzarella. Toss the mozzarella, basil and pasta and serve warm or at room temperature.
Browned Panko Crumbs:
In a small skillet, melt two tablespoons of butter. Add in about a cup of Panko crumbs and stir to combine. I also add garlic and onion powder, basil, oregano, some rosemary, sea salt and pepper. Stir continually over medium-low heat until browned and fragrant. Remove and immediately scrape onto plate to cool. Don't cool in pan or they will burn; trust me!
KATE'S NOTES:
I roasted my own peppers for this dish. I also lightly browned the garlic in oil on the stove before adding it as I don't care for the taste (or aftertaste) of raw garlic. This needed a lot of seasoning; don't be shy with the S&P. I think some of the fresh mozzarella could be added to the sauce before blending, as the whole chunk seemed to be excessive and we didn't even come close to adding it all in. Stir some in the hot pasta and top it with more; I love the different textures. Add lots of basil to the finished product. I didn't have quite enough and it seemed to need more.