There's a lot of cowboy in me. Not the horse-ridin' spur-wearin' giddy-up-ing cowboy, but the kind that understands 'Cowboy Cooking' as a necessary culinary term.
Most people these days better understand the term 'Iron Chef' though, thanks to the ubiquitous presence of the Food Network. Cowboy cooking, or Iron Chef-ing is where you take a whole bunch of ingredients and come up with a dish that is nothing short of fantastic. It's a skill that has served me well in my kitchen.
This roasted vegetable pasta dish was a stellar example of that. It's from last winter and was a repeated entree in our kitchen for the remainder of the season.  All you do is roast up a pan of your favorite vegetables until they are fragrant and soft, then process them in a food processor to a chunky sauce. Mix them with a hefty pasta shape, add some grated parmesan and grab your fork. It works equally well to just toss them with pasta as is after roasting.
The sauce is versatile enough to also be used as an appetizer, topping crostini or another sturdy base.
And uh yeah….. ew; this photo is NOT my favorite, yet it's what I get trying to photograph food in Minnesota during the month of February. Ugh. Sorry.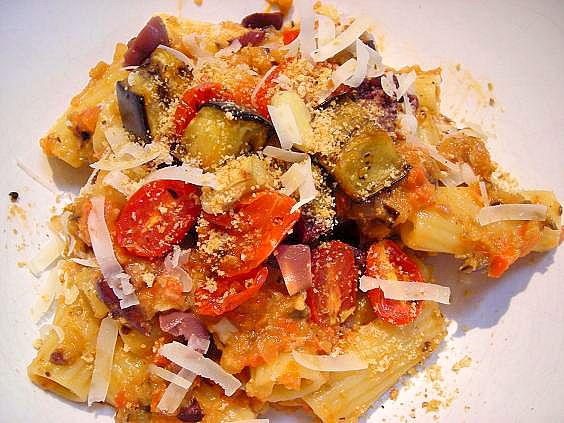 It really tastes FAR better than this looks. I promise! Yee haw!! Let's get cookin'!
Roasted Vegetable Pasta
1 medium eggplant, cubed
1 medium yellow onion, cut into eighths
1 red pepper, seeded cored and cut into large chunks
1 pint grape tomatoes, halved
4-6 cloves garlic, rough chopped into large pieces
Olive oil
Salt and pepper
1 # rigatoni
Fresh parmesan cheese
Chopped kalamata olives
Place vegetables into a large bowl. Pour about 1/8 c. of olive oil over them, salt and pepper and maybe some dried seasoning of your choice. Toss to coat. Place on cookie sheets and roast in a 400-degree oven for 25-35 minutes, or until vegetables are soft and fragrant. Gently stir once during the cooking.
Cook pasta to al dente. Drain, reserving about 2 cups of pasta water and keep pasta warm. Place roasted vegetables in food processor and add a cup of reserved pasta water and 1/8 c. olive oil. Process until mixture is chunky, scrape down sides and process to desired consistency. If mix is too thick, add some more pasta water. You want it to be spreadable but not drippy, thick but not gloppy.
Toss vegetable mix with warm pasta. You may not need it all so scoop accordingly. Toss to coat pasta, add in kalamata olives (if desired) and parmesan cheese. Season with salt and pepper. Serve hot.
And remember when I recently talked about that yummy Panko Crumb topping? Hello, and giddyup …..it works perfect here.