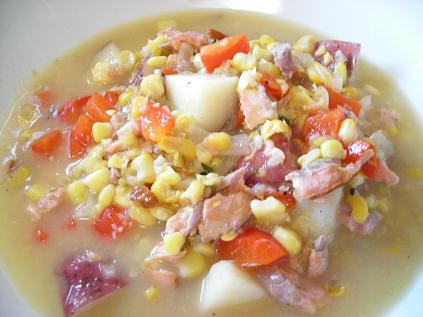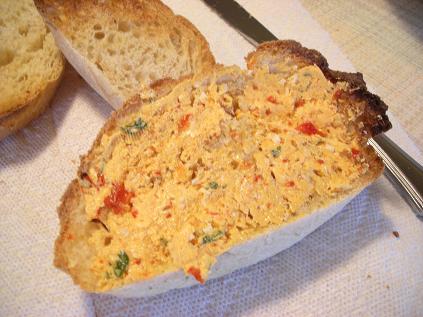 Smoked Salmon Corn Chowder
from 'The 12 Best Foods Cookbook' by Dana Jacobi
4 small red potatoes, scrubbed and diced
1 T. canola oil
1 small red onion (or two shallots) peeled and minced
2 cloves fresh garlic, minced
1 green (or red) pepper, cored and diced
1 14-oz can creamed corn
1/2 c. frozen corn kernels (i used corn cut from two fresh cobs)
1 c. fat free lo-sodium chicken broth (i used way more, like almost a quart)
2 t. fresh thyme leaves, minced; or 1/2 t. dried thyme
Pinch cayenne pepper
4 oz smoked salmon, flaked
Salt and pepper
Place potato in medium saucepan and bring to boil; simmer until just fork tender. Drain, and set potato aside. In stockpot, heat oil, then saute onion until tender. Add garlic and cook 30 seconds or until fragrant, then add pepper and cook until crisp tender (or to taste- you may like it softer). Add in creamed corn, corn kernels, thyme, broth and cayenne and bring to a boil. Add in potato and cook for 5 minutes. Turn off heat, stir in salmon, season with S&P and serve.
Roasted Red Pepper Butter
1 c. room temp butter
7-oz jar roasted red pepper, drained and finely minced
2 t. milk
1 T. fresh chives, minced
1 T. fresh parsley, minced
1/4. c. fresh grated parmesan or asiago cheese
Salt and Pepper
Combine all ingredients in a small bowl and beat with a hand mixer until smooth and fluffy. Can be shaped into a log and chilled, or stored in a plastic container.
Hint: with the peppers, the finer you mince, the prettier and more spreadable the butter will be. I used a knife on mine but next time will use a food processor or chopper to get them even finer.