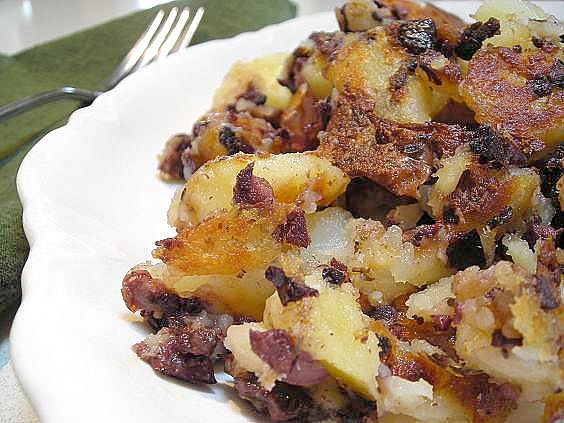 From my lips to yours, I never would have thought to put these two flavors together in all the world of combination's; one so briny, the other so mellow- who would have thought that they'd be any good together?
Thankfully someone did, and they had the fortitude to put it in a cookbook for all of us to see.  And for me to find. I love a good potato, especially charred in a hot pan, a nice crust on the outside. And tapenade?  I have no reticence, and no restraint for all things constructed of chopped olives. I've been known to use a pastry brush to glean the remains from any given jar that crosses my doorway.  I love the stuff that much.
The ironic thing was, several days before I happily discovered this recipe in the New York Times Dining Section, I was browsing through the cookbook 'Seven Fires: Grilling the Argentine Way', from where this recipe came, by Francis Mallman and Peter Kaminsky. I was enraptured, and getting hungry. I even saw this recipe and thought to myself, once again, about whether or not it was wise to purchase a cookbook based on one divine recipe in it, decided that yet again I couldn't justify it, and placed it back on the shelf. Then my normal Wednesday browsing on the NYT site nearly made me shout out loud.
What was unexpected was that I had all the ingredients right in the pantry to make it .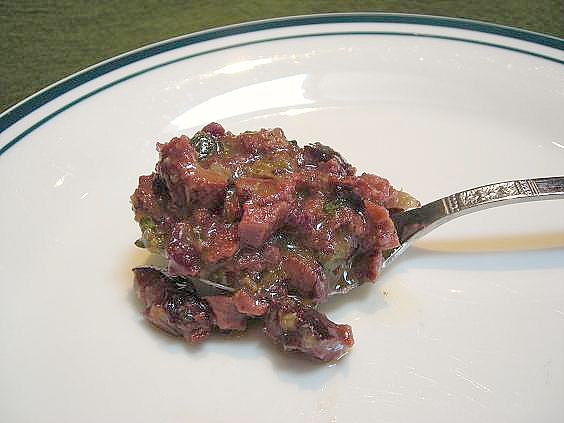 What wasn't so expected? I waited, for more than a week, to actually do it. Had I known, or better yet believed fully that I would love this to the extent that I did,  I would not have hesitated one instant to put it together, and I encourage you to do the same. For breakfast. For brunch. For a nice supper, a late night snack.
But hesitate I did, and the tapenade, thrown together in about 10 minutes, languished in the fridge in it's oil and vinegar bath, most likely improving in flavor  immensely prior to me unearthing it. And the finished product was so outstanding and perfect that I awoke the next day craving more.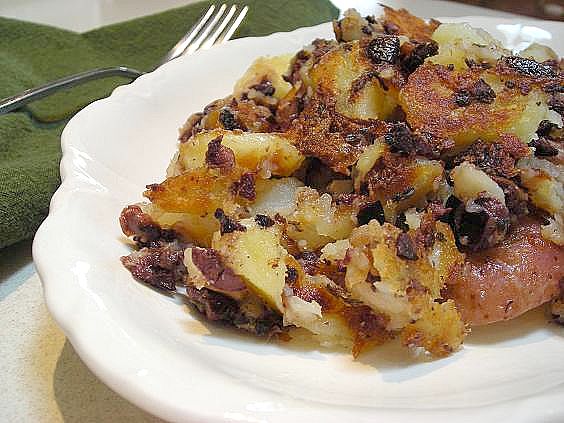 When I think of Smashed Potatoes, I think of a fluffy mash of skin-ons. This is more like Home Fries, Fried Potatoes or anything of the same sort, and the crusty-ness of the potato chunks is one of the biggest pulls of this dish. The pairing of the briny and sharp tapenade with the mellow, mild potato seems unlikely; too much of one and not enough of the other, but the mix is divine, the flavors perfect in their execution.
Smashed Potatoes with Tapenade
Adapted from 'Seven Fires: Grilling the Argentine Way' by Francis Mallman and Peter Kaminsky (via the New York Times Dining Section, 5/20/09)
For the Tapenade:
1 c. kalamata olives, minced
2 T. capers, minced
1 t. grated lemon zest
1 T. fresh lemon juice
1 1/2 t. fresh thyme, chopped
1/2 c. extra virgin olive oil
Fresh ground black pepper
Mix everything in a bowl. I stirred in about a tablespoon of red wine vinegar and it sat in my fridge for at least a week.
For the Potatoes:
About 1-1/2 pounds of waxy small red or white potatoes,
2 T. red wine vinegar
1 bay leaf
6 black peppercorns
Salt
Wash potatoes. If not uniform in size, cut to size and boil, with all added seasonings, until tender. Drain and discard seasonings. Gently break the potatoes into smaller chunks. I did this on a paper towel.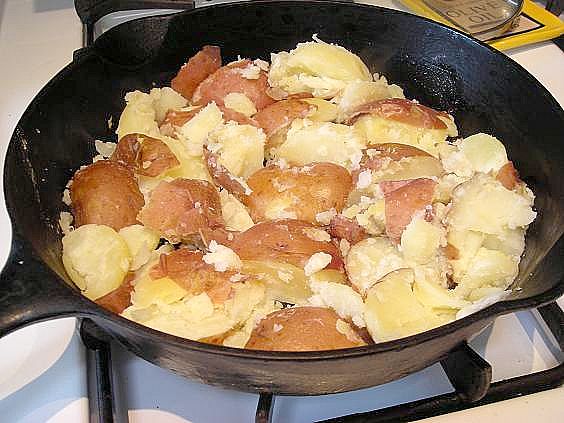 Heat a heavy seasoned skillet until very hot (a drop of water immediately sizzles and evaporates). Place potatoes in skillet and cook without stirring for about 10 minutes. Dot top with tapenade and gently turn potatoes over. Cook on other side for about 10 minutes more, or until crisp and browned. Serve immediately.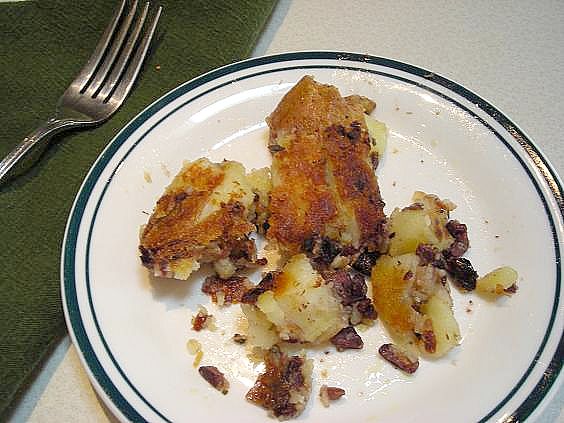 An excellent option:
Cook the potatoes and tapenade until hot and crispy. Push aside from the center of the pan, making a circle and drop two eggs onto the hot pan. Cook to desired soft or hard stage and serve with potatoes.
A warning:
Although these flavors are wonderful together, it could easily be overpowering by adding too much tapenade. The recipe given makes a nice amount, but I caution against using all of it with the potatoes, as the original recipe seems to suggest. Add in less than you might think, and taste when it's hot. There should be a nice balance between the two flavor components. If you wish for a sharper taste, add more of the tapenade.
And a great suggestion:
Use some of the oil from the tapenade to flavor the potatoes as they cook. The recipe calls for a half cup olive oil for the tapenade and it seems like a lot until you realize how flavorful it gets, and how it can really amp up the end result of this dish. Use it, and love it.