This year's event by The Giving Table focuses on South Africa, and The Lunchbox Fund, which "…..has been feeding impoverished and orphaned schoolchildren since 2005. It brings communities together with the help of small local businesses and entrepreneurs, and provides vulnerable students with healthy meals that nourish their bodies and minds." 
The Lunchbox Fund identifies schools or forms partnerships with locally based NGOs or community organizations in order to evaluate and identify schools. It funds distributers to buy and deliver food, monitor the feeding scheme, implement a Project Manager, and deliver reports back to them for evaluation.
Maybe you were here last year when I told my own personal tale of being hungry, and the impact it had on me. Last year's cause focused on children in the USA that went hungry every day, on families that struggled to make ends meet and provide enough food. But children go hungry all over the world. And we know they do. But what do we do about it?
What have YOU done about it? What are you WILLING you do about it?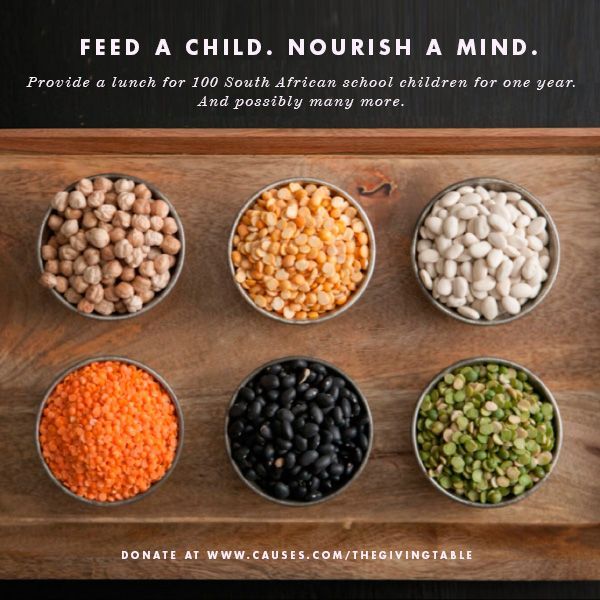 While breakfast is one of my favorite meals ever, lunchtime is a treasured routine, a suspension in the middle of any day when all activity stops and we sit down to nourish ourselves for the rest of the day. As far back as I can recall, I have so many memories of lunchtime; from being able to come home for lunch when I was just a kid (do any school children actually do this anymore?? It was such a treat.) to a break in the action of high school to gather in the lunchroom and catch up with everyone. Then, we enter the workplace, and those moments when work ceases and we pick up our lunch totes, or head out for a quick fix. Weekend lunches of leisure and leftovers. It all resonates. I've always enjoyed lunchtime, no matter where I am, or how old I've become.
I cannot imagine being in school and not being able to eat lunch. When my boy was young, and when he allowed me to pack a lunch for him, I wanted it to be something special that he enjoyed and we worked together to make it fun, to be something he looked forward to and would eat when the time came. He would help me pack his tote, make sure that he had a napkin or the right utensil for his yogurt, a cup of dressing to dip his carrots in, an apple cut up just so. When he wasn't looking, I would slip in a note just for him. Eventually, he wanted school lunch just like the other kids, and when he got home, we always talked about what he ate, why he liked it and what he didn't. One day, I clearly recall when he told me how he and a few friends shared their lunch with a new boy in their class who had no food. When he asked me why that boy wasn't given lunch, or didn't bring any with him, I had no answer. We talked about how it was always a good idea to share if someone had none.
Lack of food can diminish concentration, erode willpower, and strip away a child's potential; without food, a child's attendance and performance at school is severely jeopardized. 

65% of all South African children live in poverty. Receiving food encourages these children to stay in school and obtain their education

.
We know, as adults, that being hungry makes it hard to concentrate. We know how it can affect our work, and most of us keep snacks at hand to ward off hunger if our meals don't carry us through, but imagine being a child, in school and trying to concentrate while hunger gnaws at your belly. There are no snacks. Likely there's little at home to even start the day. And there may even be no promise of food throughout the entire school day. No one should have to live like that.
Can you find it in your heart to donate even a small dollar amount to help? All you have to do is click on this link..….. it's so easy, and so profound. We all spend money throughout our days that provides us with simple pleasures that we take solely for granted; our daily latte fix, that cup of yogurt with all the fancy toppings, a candy bar, a soda, the latest fashion or gossip magazine, even the money we spend on our own daily lunches. Where does that money go? Would you consider donating only $10 dollars? Most people spend that every day and rarely can recall on what, but $10 would help fill The Lunchbox Fund and provide 100 school children their only meal of the day for an entire year. Can you imagine the impact of that small of a donation?  Compare that to a cup of yogurt, or your fancy latte and I think you'd agree it's money well spent.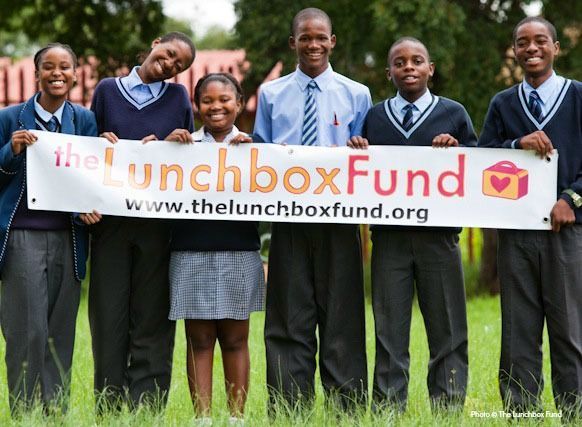 My lunch now is always fairly simple. I like quick, nourishing salads for my midday meal, or simple foods like an apple and peanut butter, a handful of nuts, hummus and vegetables, a quick meal of leftovers from the previous night. I like the calm of a quiet half hour to eat, to taste and enjoy, to watch the sun out the window and just be.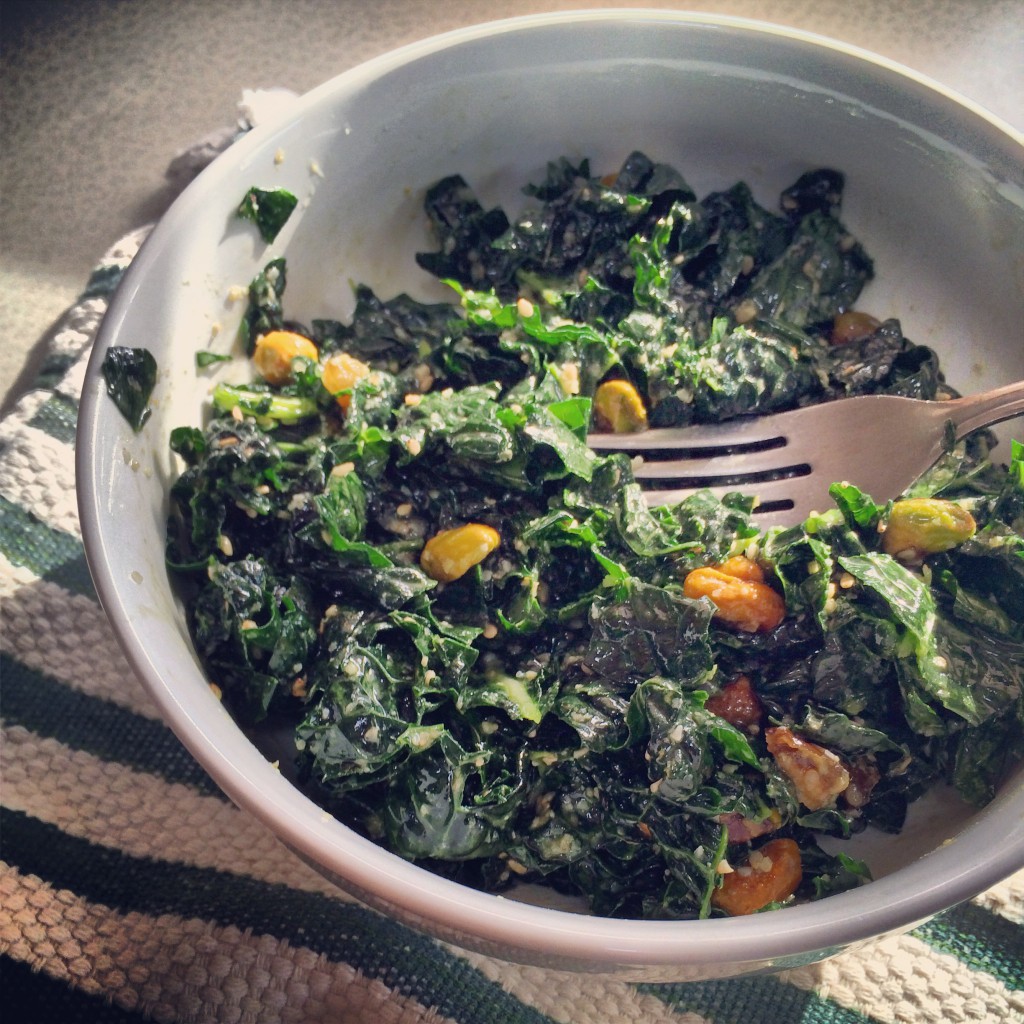 This raw kale salad has been on repeat in my lunch repertoire since discovering it's simple tastes, the crunch of pistachios and the dreamy, chewy dates that bounce off the tart dressing. It's a breeze to prepare, and taste much better the next day, after the lime juice, miso and sesame oil have a chance to penetrate the kale, soften it fully and infuse it with flavor. Make it the night before and by lunchtime, it will be perfect.
Raw Kale Salad with Lime-Sesame Dressing,
Pistachios & Dates

For the salad:

One bunch Lacinato Kale, washed, stems removed and rough chopped
1/3 c. pistachios, roasted & salted (or raw, if you prefer)
2 Medjool dates, pits removed and minced
1 t. fresh squeezed lime juice
Pinch of sea salt

For the dressing:
2 T. toasted sesame oil
1 T. extra virgin olive oil
2 T. fresh squeezed lime juice
2 t. white or brown miso
2 t. honey
2 T. white or brown sesame seeds, crushed
Pinch of sea salt

Place kale in a bowl. Drizzle with the teaspoon of lime juice and the pinch of sea salt. With your hands, gently massage the lime juice and kale for a few minutes until it becomes soft. Set aside

In a measuring cup or small bowl, place the crushed sesame seeds and sea salt. Drizzle with the lime juice, sesame and olive oils and whisk gently to combine. Add the miso and honey and whisk together thoroughly. Taste for seasoning. It should have a nice balance of tangy, salty and sweet. Adjust with a bit more miso or honey, if desired. Drizzle half the dressing over the massaged kale and toss to combine. Add more dressing if needed, but you may not use all of it. Add the pistachios and minced dates, toss well and serve. Salad will deepen in flavor if allowed to sit for a few hours, or overnight.