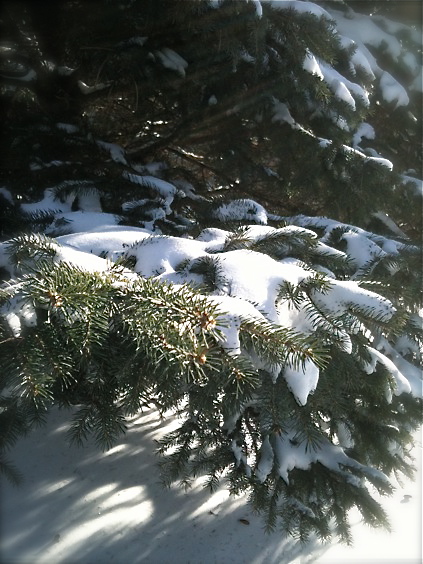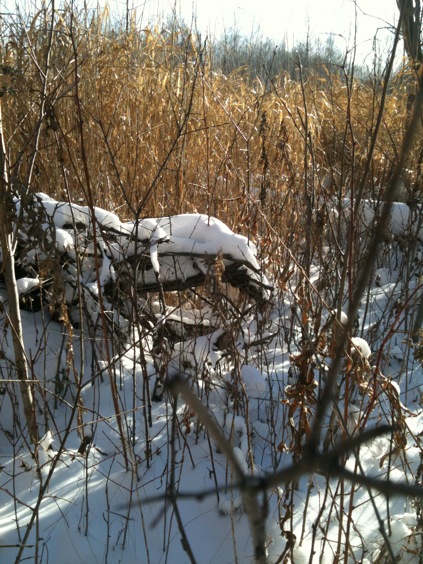 It came on as ferociously as promised and effectively shut down a large portion of the state. What a great metaphor, if you choose to see it that way. The Christmas crazies have taken hold and yet, no matter what your plan, be it a holiday party, a shopping trip, weekly youth group meetings or even dinner out, Mother Nature said 'Not a chance, bud' and forced us to stay in, stay warm and just sit, quiet and calmly, during what amounts to some of the nuttiest days of the year. The snow swirled around us, the wind howled and we took a small step away from the frantic pre-holiday race. Honestly, should we be forced to do this every year, I wouldn't be one to complain.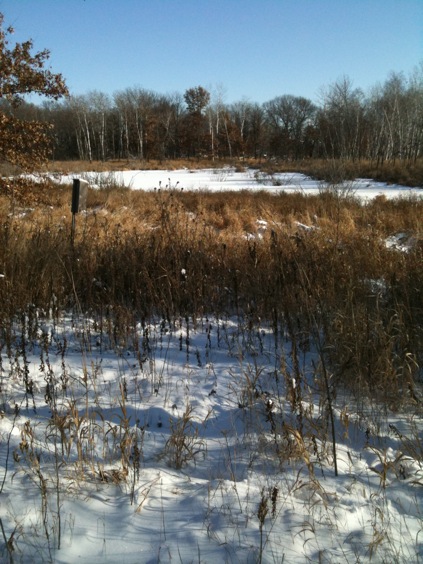 After a few days of relative inactivity, I bundled myself up to take a chilly hike, ever aware of the need to move, to get the blood flowing and to whittle away not only the pesky excess on the body, but the loud and clamoring voices in my head that I often can't shut off. I also wanted to see the winter landscape, to find the moments of clarity that come from a fresh snowfall when the hushed silence around us is marked only by the squeak of your boots. I needed the cold, and the cardio output. It helped immensely.
Christmas is having a hard time reaching me this year. Not particularly sure why, but given that the last 12 months have been challenging, it would suffice to say that getting festive may be the last thing on my mind. But a part of me wants to drench myself in the spirit, hauling out the decorations in an attempt to impress my mind with the full blown effects of the holiday. There is still plenty to be happy and excited about this season. We are in high anticipation of a new member imminently joining the already large clan on Mike's side. This Christmas will be more beautiful when sharing it with someone so brand new and perfect, a simple reminder of the true reason we celebrate Christmas in the first place. Fresh promise. New hope. I should be eagerly awaiting the end of December, the turn of a new calendar page, a fresh start to another 12 month saga. I should, really. And I am. But every year is the same; I fight the despicable commercialism of Christmas, the vapid holiday music that is everywhere, and the rush, rush, rush of everyone thinking that somehow there is perfection wrapped in a package, tied up in a bow. One year when I was in college, my cousin took a trip to Europe over Christmas. I remember thinking she was crazy to go away that time of year, but now, looking back, I almost wish I could do just that. Part of me wants to just jump from here to the 31st.
My kitchen repertoire during this quick cold snap turned towards the warm and comfort angle- thick soups, pastas, a delicious meatloaf. It's a return to the familiar, like the chill wind outside. I don't complain about cold. It's inevitable here in Minnesota. Dress warm, keep moving. You'll be fine. Filling tummies with comfort and warmth is just another step in the process.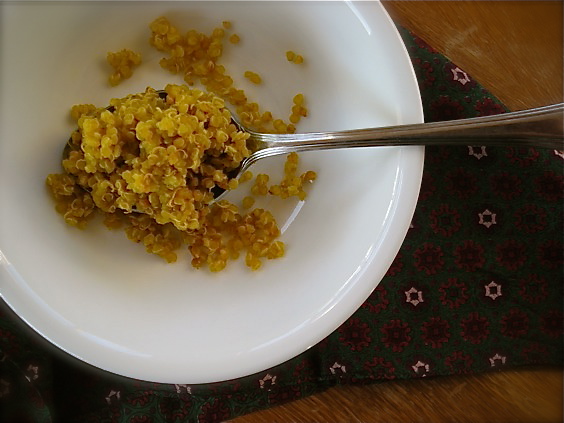 This golden and fragrant Spiced Quinoa made it's way to our table on a dragging Friday, the end of another long week. With the warming spices of cumin and ginger- easily my favorite duo in the kitchen-  the quinoa was rich in flavor, soothing to look at and warm in the belly. It easily took us from busy day to quiet evening, where all I wanted was my couch, my PJ's and a good movie to engage my mind. It smelled fabulous. And for those frantic days ahead, this could be the easiest and least demading thing you put your energy towards. I spent more time measuring out the spices than doing anything else.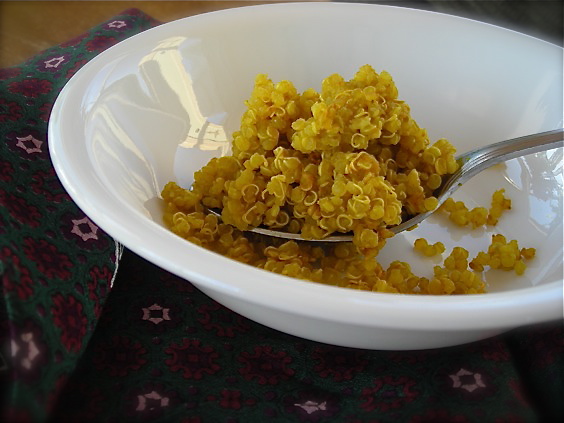 Spiced Quinoa
from the Taste for Life test kitchens
2 T. extra-virgin olive oil
1 t. each ground ginger, cumin, coriander and turmeric
1 c. quinoa, rinsed and drained
2 c. boiling water
Fresh cilantro or mint, if desired
In a medium saucepan, warm the oil and brown the spices for several minutes, stirring frequently. Add the quinoa and stir to coat with the spices. Pour in the boiling water, make sure it's simmering and then reduce the heat to low. Cover the pot and allow to simmer, undisturbed, until the water is fully absorbed and little holes appear on the top of the quinoa. Gently pull back the grain to check for any remaining liquid but do not stir. When all the liquid is absorbed, turn off the heat and allow the pan to sit, covered, for about 10 minutes. Fluff grain with a fork before serving, and top with fresh cilantro or mint if desired. Season to taste with salt and pepper.
KATE'S NOTES:
It's imperative NOT to stir quinoa when it is cooking. Like rice, it will get mushy if disturbed in the cooking process. One cup of the grain cooks in about 15 minutes or so at a gentle simmer. Quinoa is a perfect alternative to a rice side dish. We topped this option with chopped pepitas (pumpkin seeds). Soy nuts are also good with it, as are chopped almonds or cashews.