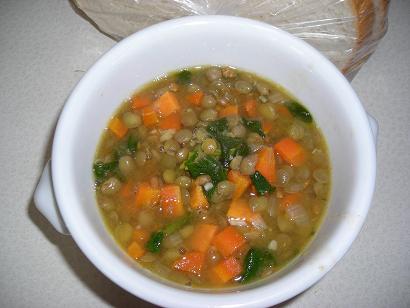 This utterly outstanding soup is courtesy of the current issue of Eating Well magazine. There is an very nice article about wheat berries in it, along with some very tempting recipes. We have enjoyed wheat berries before but I wasn't 100% sure of how to cook them and so they disappeared from our meals. The magazine lists a method too. Of course, you could make this soup without the wheat berries and it would still likely be quite good. The berries add a certain earthy-ness to it though. Wheat berries are the whole, unprocessed wheat kernel, they are loaded with B vitamins, iron, magnesium, zinc and fiber and because they aren't refined, all three parts of the grain- the nutrient rich bran, germ and endosperm are all intact making them a whole grain. And we all know how whole grains are very good for you. They do require a long cooking time though. Once cooked however, they keep very well in the freezer and can be tossed into soups still frozen, or heated up quickly in the microwave for a nice side dish. They are nutty, chewy, and grainy. You should be eating some of these little grains. To cook them, put two cups of washed and picked over berries in a large saucepan and add 7 cups of water with about 1/2 t. of salt. Bring to a boil, reduce the heat and simmer, stirring occasionally, for about 1-1 1/2 hours while you go about your business. They should be chewy, easily broken with your teeth but not hard. Spread the cooked berries on a cookie sheet to cool, then they can be frozen in one cup increments in freezer bags for a month. The two cup amount yielded about 5 1/2 cups when I cooked them.
When you have the berries cooked, then make this soup.
Wheatberry Lentil Soup
1 ½ c. green or brown lentils, washed and picked over, 4 c. vegetable broth, 4 c. cold water. Place lentils in 4-quart stockpot, add broth and water and bring to a boil. Reduce heat, cover and simmer until lentils are tender, 25-35 minutes.
4 carrots, peeled and finely chopped, 1 large onion, finely chopped, ½ t. salt, ½ t. fresh ground pepper, 2 T. olive oil. Heat oil in sauté pan. Add carrot, onion, salt and pepper and sauté for approximately 15-20 minutes over medium heat, stirring occasionally. Vegetables should be tender, slightly browned. Then add the following:
4 cloves garlic, minced, 1 ½ t. ground cumin
Sauté for about 30 seconds to one minutes, Turn off heat.
When lentils are tender but not mushy, add 1-1 ½ c. cooked wheat berries and about two cups of rough chopped fresh chard or fresh spinach. Heat through until greens are wilted. Add in carrot mixture. Add in 3 T. fresh squeezed lemon juice and salt and pepper to taste.
(Serving size: 1 2/3 cups. Calories per serving: 250. Fat: 8 g (1 g sat, 5 g mono) O mg cholesterol, 36 g. carbs, 9 g. Protein, 9 g fiber, 617 mg sodium, 433 mg potassium. Extra nutrition: fiber, vitamin A, folate, vitamin C and Iron)
This soup was really delicious, and very flavorful. The lentils and berries added a nice chewiness to it, the carrots, while soft, weren't mushy and had some good texture still. And I just love spinach, so that was perfect as well. The soup had a really good scent to it too, very earthy and hearty and it reminded me clearly of what the air smells like after a good rain. Kind of odd, but that was the image that came to mind when I bent over the steaming pot. Although I only had one serving, it filled me up. What a lunch! I could have just kept eating but y'know that just doesn't help me when I see that drawer full of jeans that don't fit.
A good note- all of Eating Well's recipe's are available on their website without a magazine or online subscription, so if you are at all interested in more things to do with the mighty wheat berry, visit them at eatingwell dot com. You might be really glad you did.