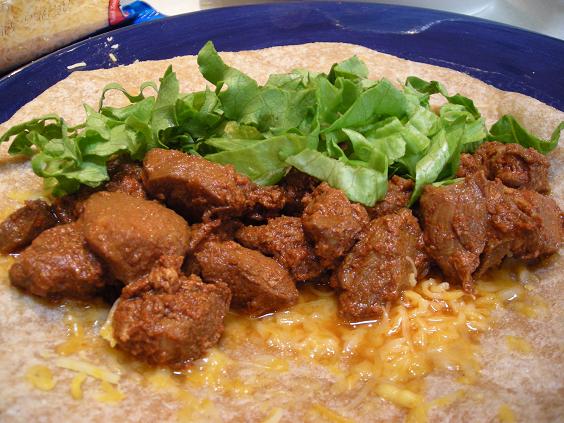 I could perhaps subtitle this post "The Wait Coulda Killed Me" to get the point across that this dish takes time, people. The particular recipe I followed said to marinate the meat for 48 hours. That's one heckuva long time to wait for something so good.
But it was worth it. Woweeee…. was it worth it.
Other recipes call for a 24 hour marinating period. The next time (heavy emphasis on 'next time' because it was THAT good!) I will only allow it to languish in its spicy and nose numbing marinade for a day before sending it off to the slow cooker. I can't wait that long again for this delight.
Carne Adovada is described as 'traditional New Mexicao pork in adobo sauce'. I found the recipe in a long forgotten cookbook that Mike had when we married called 'Sante Fe Hot and Spicy- Hot New Recipes from Santa Fe Chefs'. On the back of the book it says "Attention Chile lovers, if you like fiery food, here's the book for you, Kate and Mike." All right, no, it doesn't have our names on it, but it seems to be geared towards our culinary tastes so I took a generous creative leap there. This multi step recipe first has you create a simply eye watering concoction of dried chile peppers with various and sundry other items that you simmer in a pot and then put through a food processor, turning it into a rich, thick sauce that you pour over cubed pork shoulder and allow it sit for two days. Once it has sufficiently soaked up all that capsaicin, you cook it slowly until it is meltingly tender and so aromatic that it drives you just plain mad in your quest to stuff it shamelessly into your mouth; rich sauce dripping down your chin.
I admit that, yes, I did this. No apologies either. No one saw me so it doesn't count.
I expected that the finished product would be blazingly hot, but what I tasted was a pleasant zing that left my mouth tingly but still with all its nerve endings intact. The meat….oh, that meat was so achingly tender that it simply broke into great slivers in my mouth as easily as an empty egg shell cracks under pressure. One could just push an errant finger into a large chunk and it would break apart; no knife, no fork or even a spoon was needed. With our homemade tortillas, some cheese and shredded lettuce, it was a meal that caused us all to swoon in delight. My sweet little carnivore had salivated over it all afternoon and was joyously rewarded with an intense protein high after two good sized burritos. Feed him meat and he's all yours. He even mowed the lawn and whacked the weeds around the whole house without any complaint because HE KNEW what was for dinner. Meat+Mom= Griffin Love.
I followed the chile sauce recipe fairly closely, using Ancho and New Mexico dried chiles. The processing of the solids is very messy…..don't wear good clothes and go in batches. You will need to strain out all the chile skins and any seeds that get into it. I had my meat all cut up and strained the sauce right into the pan with the meat. Still, I made an all encompassing mess, splattering my counter tops with red splotches that made my dish rag look like it had been used to clean up a murder scene. Thank goodness for bleach. I actually had the bright idea of putting the meat into a crockpot liner to marinate, which then went seamlessly into the crockpot to cook when it was ready. Sometimes my brilliancy amazes me. When it came time to put it all together, I left out the extras to go in the marinade as I wanted it to be mild enough for Griffin to eat. Follow the recipe, or sub in what amounts you are comfortable with, but if this is something you think you would love to death, please do yourself a favor and make it. You will not be disappointed at all.
Red Chile Sauce
3/4# dried chile peppers; ancho, New Mexico, guajillo…..you pick your heat level.
1 large onion, chopped
8 cloves fresh garlic, smashed with skins removed
2 t. dried oregano
2 t. ground cumin
2 t. kosher salt
De-stem and de-seed chile peppers; place in large stock pot and cover with hot water. Soak for 30 minutes. Add remaining ingredients to pot, bring to a boil then simmer over low heat for half an hour. Drain off solids, reserve liquid. Allow to cool slightly, then process solids in batches in a food processor using reserve liquid for proper consistency. Strain through a wire sieve, pressing on the solids to extract the liquids. This should make about a quart.
Carne Adovada
3-4 pounds pork shoulder or butt, cut into 1/2″ cubes and trimmed of most fat.
4 c. Red Chile Sauce (just use the amount a batch would make)
2 New Mexico dried chile peppers, destemmed, deseeded and crumbled
4 t. red pepper flakes
2 sticks cinnamon
Combine all ingredients in glass bowl and stir to mix. Cover and chill for 24-48 hours, stirring occasionally. Remove cinnamon before cooking. Cooking method: This can be done in a crockpot on medium for about 4 hours or low for longer; it also can be brought to a boil on the stove then transferred to a 350 degree oven and baked, covered, for 2 hours.
NOTE: When the meat is done, plenty of liquid will be in the pot with any fat that cooked off. Allow the meat to sit and cool, then pour off the thin liquid that has accumulated, leaving the solids in with the meat. If you chill it thoroughly, the fat will be easier to remove. This step is entirely optional if the fat content does not bother you.
Serve with tortillas, avocado, shredded lettuce, cheese etc…… or simply grab a spoon and shovel it in.