Aaaaaaand I'm back! Miss me?
I did treat you to a few posts, shelved prior to 'the week without tastebuds' in my house so I wasn't superbly absent. Interestingly enough, while I recuperated, my blog was inundated with hits, mostly searching for pictures of funny cats. I suppose I'm not so remiss in that area, but this is a food blog!
So it's December, and the month of Christmas, which means it's time to bake cookies. Baking for me is highly nostalgic; my mother was a champion baker, if only just for our family. She prided herself on never having store-bought cookies, cakes or anything like that in our home, she baked, and she baked really darn well. If she had one prominent love language to show us, it was in her Baking. She only had to call out "Who wants to help me make cookies?" and I would often drop everything I was doing and race to the kitchen. It was our time to bond, hang out and laugh, not to mention, nibble on warm cookies. Each recipe I have of hers brings me waves of nostalgia whenever I make them- Gingersnaps, Peanut Butter Fingers, Coffee Toffee Bars, Three Layer Bars; they all spelled L-O-V-E in our house. I love to bake but don't have the benefit of five kids to take away the tempting treats, so I don't do it too often unless it's for a crowd, or a special occasion.
Onto the cookies!!!
One of Griffin's favorites is what our family, and likely plenty of others, always calls 'Church Window Cookies'. It's a simple chocolate and colored mini-marshmallow cookie, that when cut (and if you squint and engage enough imagination), can resemble stained glass.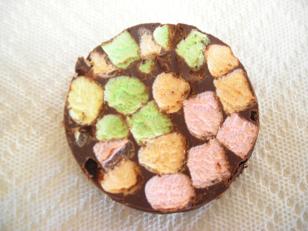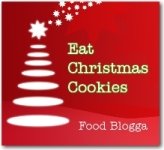 (jump for story and recipes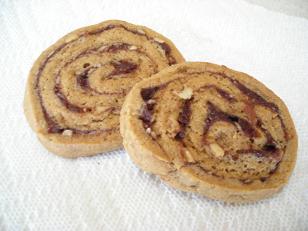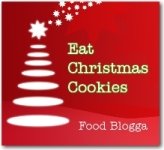 RECIPES:
Church Window Cookies:
Melt one stick of butter and one bag of chocolate chips of your choice, stir gently until smooth, then cool. Pour over one bag of colored mini marshmallows, stir to combine. Either roll into logs, or scoop into plastic drink cups, chill until firm, then slice.
Date-Nut Pinwheels
8 ounce package dates
1 cup hot water
1 cup very finely chopped pecans
1 cup sugar
2 teaspoons vanilla
2 cups firmly packed brown sugar
1 cup butter
2 eggs
3-1/2 cups flour
1 teaspoon cinnamon
1/2 teaspoon soda
1/2 teaspoon cream of tartar
1/2 teaspoon salt
Combine dates, sugar and 1 teaspoon vanilla, and hot water in a medium saucepan. Cook over medium heat until thickened – about 6 – 8 minutes. Stir constantly. Remove from heat and stir in pecans. Set date mixture aside to cool. Combine brown sugar and butter. Cream until light and fluffy. Beat in eggs. Combine flour, soda, cream of tartar, salt and cinnamon. Stir into creamed mixture. Add 1 teaspoon vanilla and mix well. Divide dough into thirds. Roll each portion into a 12″ square on waxed paper. Spread with 1/3 of date mixture. Lifting up edge of waxed paper, gently peel off dough and roll jelly roll fashion. Wrap rolls in waxed paper and refrigerate overnight. Cut dough into 1/4″ slices and place two inches apart on greased cookie sheet. Bake at 350 degrees for 8 – 10 minutes. Cool cookies on wire rack.
Lemon Cream Cheese Cookies
3/4 cup butter, room temperature
1 (3 ounces) package cream cheese, softened
1 cup powdered sugar
1 teaspoon vanilla flavoring
1 Tablespoon lemon zest
2 teaspoons lemon juice
2 cups cake flour
1 cup chopped pecans (optional)
Cream together butter and cream cheese until light and fluffy. Gradually add sugar and beat hard. Stir in vanilla, lemon juice, and lemon zest. Add flour, mixing well. Stir in nuts. Push small amount from spoon onto a greased baking sheet. Bake at 300 degrees for 20-25 minutes or until delicate brown. While hot, roll in powdered sugar.
RECIPE NOTES:
On the Date-Nut Pinwheels, I doubled the filling mixture, using half dates and half dried sweet cherries. This mixture took a lot longer than 6-8 minutes to thicken, likely from the extra bulk. Cook until it resembles a thick paste, almost jam-like, and allow it too cool completely. I also subbed in some wheat flour, and used a little extra cinnamon. The dough was tacky, I treated it somewhat like pie dough, tossing a little flour over it to keep the rolling pin from sticking. Chill the logs thoroughly and keep them chilled while baking. Any extra filling is wonderful spread on toast.
In our version of the Window cookies, we used Ghiradhelli dark chocolate pieces. If you're going to eat chocolate, why not make it dark?? Don't sub the fake stuff for butter; trust me, it tastes so much better to use the real thing. We keep these chilled for a better texture. Cool down the chocolate mix before pouring over the marshmallows or they will melt. Using plastic drink cups is super easy; make sure to press the mixture well into the cup for the best effect. When chilled, cut a slit in the side of the cup and break it apart, pushing the solids onto a cutting board. Use a serrated knife and just a little pressure to slice. *Hint* The bottom slice from the cup is the best part!
For the Cheesecake cookies, I added in about 3/4 of a teaspoon of pure lemon extract to give the cookies more pizazz. It's been my experience with using just zest and juice that it needs a little added something to really make that lemon flavor shine. Instead of adding in the nuts to the batter, I dipped the cookies into the nuts prior to baking, then finished them with a glaze made of lemon juice and powdered sugar.