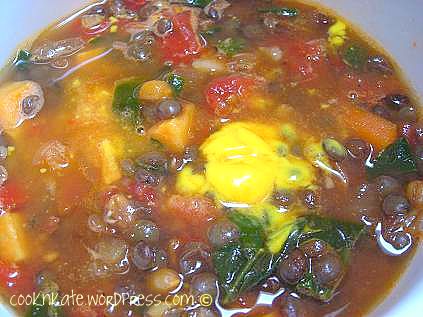 Lentil Vegetable Soup
2 c. small french green lentils, washed and picked over
6 c. water
Combine in large stockpot and bring to a boil. Simmer about 20 minutes, or until tender. Drain and reserve. Use any form of lentil you wish; the small green ones hold their shape nicely for a good texture in soup.
In a large soup pot, I heated olive oil. Into the oil went two small yellow onions, diced; about 5-6 small carrots, peeled and diced and one yam, peeled and diced. I cooked the vegetables until soft over medium-high heat, then turned down the flame and allowed them to brown slowly, stirring occasionally. After about 25 minutes, I added in two cloves of minced garlic and a cup of cooked wheatberries. I browned it for another 10 minutes, then added in two cans of diced tomato, a quart of water and the cooked lentils. I brought this to a simmer, then stirred in about 2-3 cups of shredded spinach. I seasoned it with a little white pepper, cumin and Prudhomme's Vegetable Magic seasoning. Five minutes later I turned off the flame.
The browning of the vegetables was solely to add flavor to the soup. It isn't important, but I like a deep flavorful soup base and I was out of any kind of base except chicken and I didn't want that. The variations on this recipe are endless and imaginative; Heidi tosses out lots of options on her site. The saffron cream was very good but the soup tasted delicious even without it.