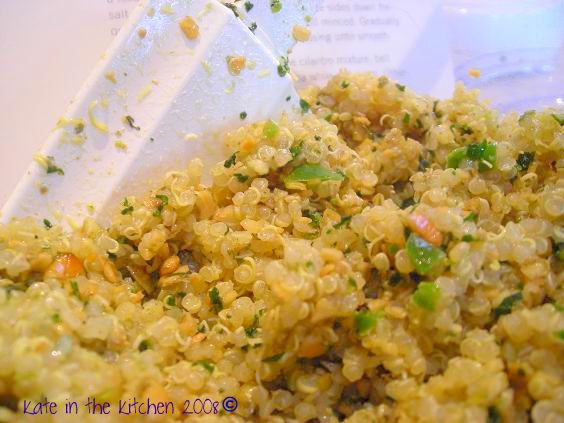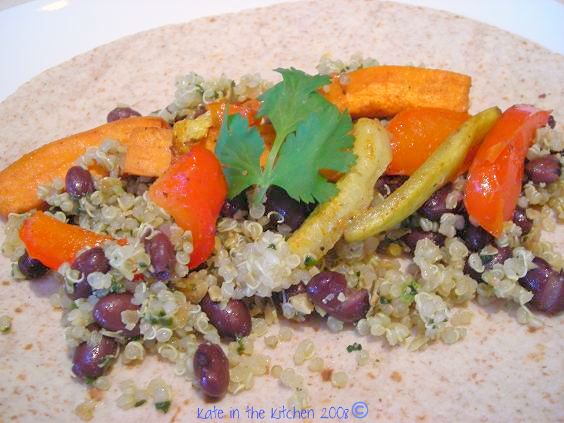 Mexican Quinoa with Pepitas and Cilantro
from The New Whole Grains Cookbook by Robin Asbell
1 1/2 c. water
1 c. quinoa
1/2 c. raw pumpkin seeds
1 c. washed cilantro leaves
2 cloves garlic
1 jalapeno chile
1/2 t. salt
1 t. ground cumin
2 T. olive oil
1 t. lime juice
1 small red bell pepper, chopped
2 scallions, chopped
Bring water to a boil in 2-qt saucepan with tight fitting lid. In medium bowl, wash quinoa well, rinsing with warm water. Pour off most of the water and drain in a fine-mesh strainer. When the water boils, add the quinoa, bring to a boil and the reduce heat to simmer, cover and cook for 15 minutes. The water should be absorbed and small holes will have formed on the top. Let stand, covered for 5 minutes.
In a large skillet, dry-toast pumpkin seeds, shaking pan until they begin to pop. Remove from heat and place in food processor or blender. Add cilantro, garlic, jalapeno, salt, and cumin and process, scraping sides occasionally, until all ingredients are well minced. Gradually add in oil and lime juice and process until smooth. Stir into cilantro, mixing well. Can be served warm, or chilled.
KATE'S NOTES: I followed the recipe faithfully. The only thing I did different was to use roasted and salted pepitas (the seeds) as the store I went to did not carry raw ones. The flavor, at least in my opinion, was highly enhanced by the roasted seeds, which I toasted as per the recipe. You would need to cut back a little on the salt if using a salted seed. I also added lime zest to the sauce. You just can't lose with that addition.
Roasted Vegetable Wrap
Cut one sweet potato/yam, one red pepper and two small zucchini into 2-inch strips. Toss with olive oil, salt, pepper and place on baking sheet. Roast in 400 degree oven for 20 minutes; stir and roast until tender.
Stir one cup of drained and rinsed black beans into Mexican Quinoa. Layer quinoa/beans and vegetables on a whole wheat or multi grain wrap and fold over. Cheese is optional, enjoyment is paramount.