Unbeknown to me, yesterday's post about Men Making Dinner and Nacho Day was my 500th post on this blog.  That kind of blows my mind; I've been at this a long time- yes, 2 1/2 years to be exact- and I'm rather prolific with words so really, it shouldn't come as any surprise.
Nor should it be any surprise that when you roast root vegetables that include beets, everything will be PINK!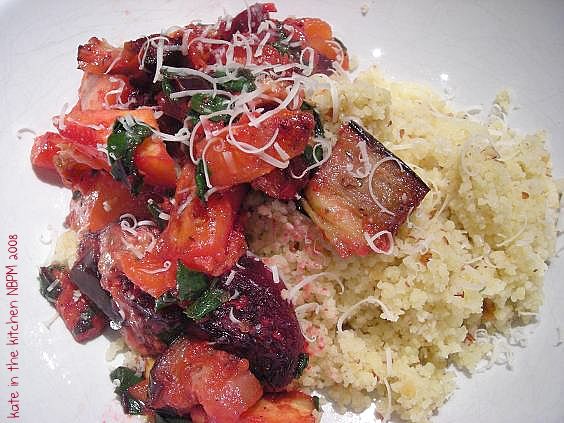 Pretty pink and richly colored, in fact; staining your couscous and your bowl, but filling your tummy and taking the edge off the raw wind that came up.
And the national food holiday today? It's Bittersweet Chocolate with Almonds Day and I thought about seeking out this concoction and spending copiuos amounts of time bestowing praise on such a delicious combination but then I spotted this roasted vegetable dish and all thoughts of chocolate scampered out the window. I should be declared something- possibly certifiable?-  when veggies take precedence over chocolate.
But like I said, the wind turned raw and the rain was pouring down and after our early week flirtation with the 70's in November– temperatures, not the decade mind you- the chill and damp that came over us was harsh and required not a candy to bring relief but something warming, deeply satisfying and a hot oven.
The original recipe, found here in our local paper's award-winning Taste section, caught my eye and made me drool; an array of vegetables roasted to tender melting goodness and served over super-simple couscous. With my little carnivore heading out with his beloved Uncle Mike to the Gopher basketball game, it would be a welcome dinner for us- no meat yet tons of flavor.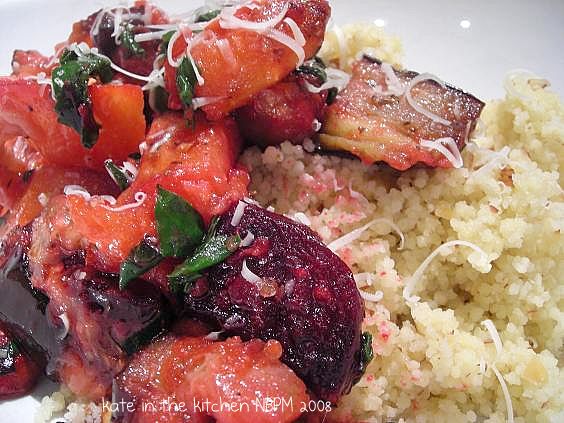 Beets, rutabaga, parsnips, eggplant, carrots and tomato were my combination, doused with olive oil, a sprinkle of thyme, salt and pepper and a long roast in a 400 degree oven. I knew the outcome even before I started, but the beets were small and tender and I didn't care if they bloodied my dish. The chopped beet greens added a nice color and tons more nutrients-don't ever throw those away!! They taste like spinach and are SO good for you. And the nicest part about the whole dish was, as we sat down with steaming bowls in front of us, Mike declared with a high amount of enthusiasm "I love beet greens!" which was the smallest little detail ever, but after six years of marriage, I never even knew this about him. Imagine that! This was, by and large for the blustery night, a much better option than chocolate.


To roast your own:
Take one eggplant, one rutabaga, three parsnips, three carrots and one bunch of beets (mine had three in it) and cut them into uniform chunks. Place them in a roasting pan and pour about 1/3 cup of oil over them and add seasoning of choice. Stir to coat. Roast at 400 degrees, stirring after about a half hour. Roughly chop three tomatoes (minus the seedy pulp) and scatter over vegetables at the 30 min. mark. Continue roasting for 15-20 more minutes, then stir. Everything will be PINK. Saute the cleaned and chopped beet greens separately and stir into the veggies before serving, or serve on the side.

Prepare quick-cooking couscous, polenta or another base of choice and serve roasted veggies over this, sprinkled with some fresh grated parmesan cheese.
Delicious additions to the veggies could be: garbanzo beans, kalamata olives, celery root, turnips…..really the sky is the limit, or your personal taste. Leave out the beets if you don't like PINK.