Fifteen posts down for NaBloPoMo and fifteen more to go. So far so good.
Today will be a fun post as it's National Bundt Pan Day.  In Minnesota, we can boast not just the amazing four-season changes in weather coupled with temps that can range over 130 degrees in a single calendar year, but we can brag that Nordicware's inspired Bundt pan was built and sold from the non-descript factory that stills resides on the south side of Highway 7 in Minneapolis. The pan, created in 1950 by H. David Dahlquist, was designed as a request by the Hadassah Society's chapter in the Twin Cities who were looking for a sturdy pan to bake a traditional Austrian/German coffee cake called bundkuchen, also known as kugelhopf, or gugelhupf. The sturdy pan made out of aluminum may have been destined for anonymity had a bundt-style cake not won second place in the 1966 Pillsbury Bake-Off; the be all to end all of baking contests. The winning design prompted a mad scramble for the pans, and in 1970, Pillsbury itself licensed the name for a line of cake mixes. It was a meteoric rise for the pans, resulting in an introduction to the Smithsonian Museum in early 2007 and an estimated 60 million pans in kitchens from coast to coast. The fluted and grooved sides of a Bundt pan are considered one of the most recognizable kitchen items ever, and since the inception of the original design, Nordicware has created a multitude of new designs and functions to this once simple pan, including loaf style Bundt pans, miniatures, pans in different shapes and designs such as Fleur-de-Lis, Cathedrals, Hearts, Spirals, Castles, Stadiums, a Pirate Ship and a new Kugelhopf pan specifically for that first ever bundt cake created. There's holiday style pans depicting pumpkins, snowmen, Christmas trees, wreaths and Santa Claus all created in heavy duty cast aluminum.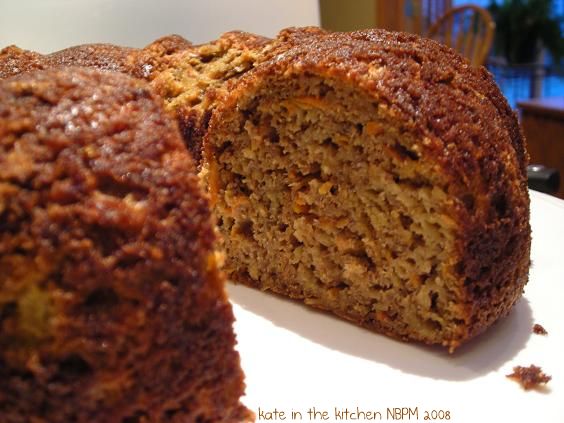 I grew up with bundt cakes and the sight of one always makes me think of my mom. Other than the layer cakes she baked for our birthdays, every cake she made was done in a bundt pan and I can still envision her old dark-orange pan, slightly chipped and worn as she would pull it from the cupboard. After I was on my own and had a decent sized kitchen again, I sought out and purchased a bundt pan for myself as I couldn't imagine not having one, even if I didn't use it as much as Mom did. Just being able to pull it out to bake a cake gives me a surge of nostalgia and I always hang on to the bundt cake recipes I come across. I don't know if it's just the memories or something else, but no cake tastes quite the same to me like one made in a bundt pan.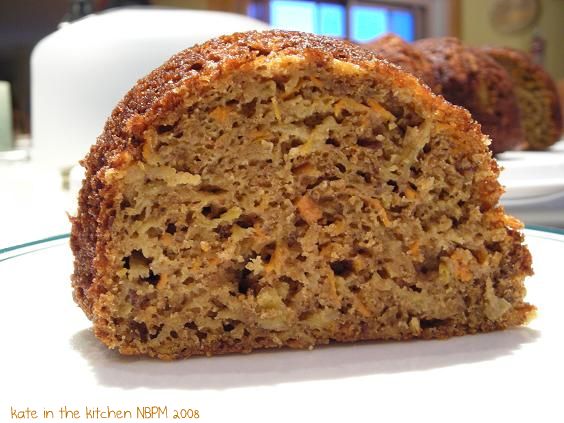 This recipe came from Adam at Baking with Dynamite. I like his loose and casual style and he can put up some pretty killer looking posts. What I love about this cake recipe is that it's not a super overload of oil and eggs and with the addition of apple and carrot it can actually pass for something reasonably good to eat. And of course, it's just delicious.
Apple Carrot Cake
Recipe by Adam (Baking with Dynamite)
1 cup whole wheat flour
1 cup AP flour
1 tsp baking soda
1 tsp baking powder
1 1/2 tsp cinnamon
1/4 tsp allspice
Pinch (or two pinches if you're like me) cloves
1/2 cup sugar
1 cup packed brown sugar
3 eggs
1/2 cup canola or neutral flavored oil
1/2 pound carrots, peeled and grated (about 3)
1/2 pound apples, peeled and grated (about 3 small ones)
Preheat your oven to 350*. Grease a large 13×9 pan, or any pan you like. I used a round pan, because I really like round bundt type cakes 🙂 <——my thoughts exactly
In a medium bowl, combine the flours, baking soda and powder, and spices. Stir with a spoon so they are all mixed evenly, and set this bowl aside.
In a large bowl, place the sugars together, and stir with a wooden spoon so they are all mixed up. Add the 3 eggs, and mix well, so they form a nice sugary, liquidy type glaze. Pour in the oil and mix by hand or hand mixer for a few minutes, so they emulsify.
Add the dry flour mixture into the wet sugar one, and mix well. If you are using a wooden spoon, you are going to get a workout on this one. I even had to switch hands, and I rarely ever do that 🙂 The resulting batter is very thick, but don't worry… it'll be all better soon. Once the batter is smooth, brown, and no lumps remain, fold in the carrots and apples. I think the moisture from the fruit adds a bit more liquid to the batter, and it becomes much easier to work with.
Pour the batter into your prepared pan, and bake for 30-40 minutes, or until the cake springs back lightly to the touch, and a toothpick comes out clean. Baking times depend on the pan you use. (my bundt pan required an hour of cooking time)

Bake a Bundt!!