It's another great food holiday today, if you're me that is; it's National Gingerbread Day! I love gingerbread.
Again, it's a Mom thing as is nearly all of my baking love; something I got from having a mom who loved Gingersnap cookies and would make them regularly when I was little. That molasses tang, the bite of ginger- I couldn't wait until the first batch came out of the oven. Although we always (always) had an ongoing debate over the merits of a firm crispy cookie versus a chewy moist one, I didn't really care when Gingersnaps were on the docket. Chewy or crisp, I loved them madly and could eat them any day.
I still love making my mom's Gingersnaps and Griffin and I have pooled our willingness to get them from batter to oven to hand on several occasions. I roll out the dough balls and he takes care of the sugar coating. Then, like me and my mom did, we wait in eager anticipation for the first batch to be cool enough so we don't burn our mouths.
Griffin loves Gingerbread as well, and when I was taking the pan out of the oven, his eyes glazed over in delight. This is the second, or maybe third showing of this recipe and it's so perfect that I have no desire to look anywhere else. It's dark, rich and loaded with molasses and ginger, perfect next to ice cream or vanilla yogurt and amazing with a scoop of warm cranberry compote on top.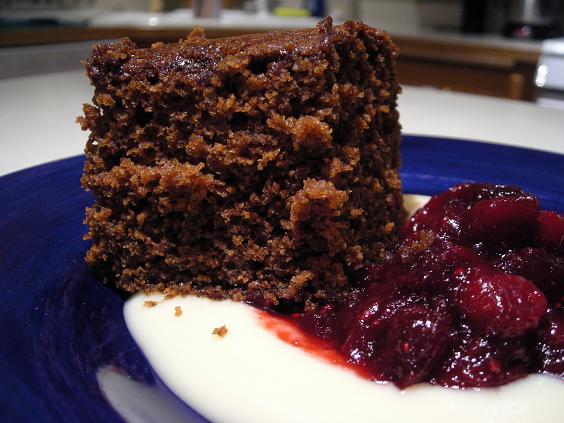 Ginger Spice Cake
(anonymous food network star)
2 c. AP flour
1 t. baking soda
1 T. ground ginger
2 t. ground cinnamon
1/2 t. ground cloves
1/2 t. allspice
1 egg
1/2 c. molasses
1 c. sugar
1/2 c. unsalted butter, melted
1 c. buttermilk
Preheat oven to 350 and coat a 8″ square pan with cooking spray.
Stir together dry ingredients. With electric mixer, blend egg, molasses, sugar and melted butter until thick and very smooth. Gradually mix in dry ingredients, alternating with buttermilk, mixing each addition thoroughly. Pour batter into prepared pan and smooth top. Bake for 35-45 minutes or until a toothpick inserted into the cake center comes out clean.
KATE'S NOTES:
I had some soy eggnog on hand and used that instead of the buttermilk, giving the finished cake a nice richness. And since I tend to be slightly forgetful in the kitchen sometimes, I overbaked this a bit and the edges got rather firm. It did not alter the taste of the product at all, in fact, the firm edge stood up so well to the moistness of yogurt and ice cream that it was almost beneficial.
And the cranberries?? Well, that's coming up on Sunday so venture back then for all things Cranberry!