This last week of NaBloPoMo has been a sweet one- literally. We've had Cake Day, French Toast Day, Bavarian Cream Pie Day and now…… National Lemon Cream Pie Day. Oh, and it's also National Chocolates Day. You have TWO excuses to indulge in the sweet life, not to mention my enthusiastic permission.
With all the Thanksgiving festivities going on and getting everything together for that, I wondered just how much I wanted to prepare a few scratch pie recipes and I naturally took a 'Bye' on the Bavarian Cream, but curiosity won out for this Lemon Cream recipe, as lemon is one of my favorite dessert flavors. The only problem for this lactose intolerant kind of gal was the heavy cream. I wasn't going to sub; I just wouldn't be able to fully indulge.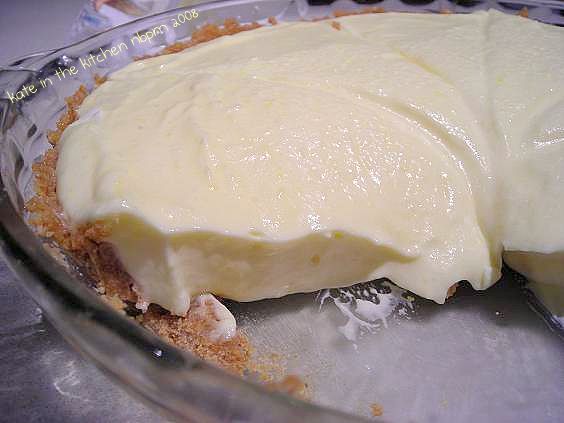 The finished pie wasn't as firm as I wished (nor was the picture so stellar); I likely could have whipped the cream tighter but it had grown late on Wednesday evening after we all got into Bourdain's 'No Reservations' from Netflix and I was tired and unwilling to get too involved in cream beating at such a late hour. For me, a new recipe will either end up fine or it won't and I usually don't stress. Once I understand how it will work, I can tweak it on the next go-round to make it better, and I knew my siblings would love it no matter what as they never get something like this, ever.
The lemon curd was simple and quick, and oh so very tart. But one little swipe across my tongue and I wished to turn my back on the whipped cream just to indulge in the curd. It was really amazing. I know it will be something I make again because I could envision it spread over muffins, or scones or on the French Toast I made for breakfast yesterday morning, or drizzled over waffles, sampled with a tiny little spoon…..you get the picture. I kept thinking about Lime Curd too and what a summertime treat that would be with fresh fruit.
The pie, like I said, was softer than it could have been, but the finished product with the fresh cream folded into the curd and mingled with a scratch graham cracker crumb crust was really a delight. Just seeing the looks on my siblings faces as they enjoyed their messy pieces was enough for me. I took a few bites to try it out, unwilling as I was to subject myself to a middle of the night stomachache from the dairy and I must say, it was divine. I can totally see Lemon Curd in my future. A lot.
Lemon Cream Pie
6 large eggs
3/4 cup sugar
2 teaspoons grated lemon zest
3/4 cup fresh lemon juice
1/2 cup (1 stick) unsalted butter, cut into 8 pieces
1 cup heavy cream, chilled
1 prepared crumb crust  (see notes)
Combine the eggs, sugar, and lemon zest in a heavy medium-size saucepan and whisk the mixture until it is smooth. Add the lemon juice and butter and cook the mixture over medium heat, whisking constantly, until it is thickened, 7 to 9 minutes. Do not allow the mixture to come to a boil.
Pour the lemon curd through a fine mesh strainer into a glass bowl. Cover the surface with plastic wrap. Refrigerate the lemon curd until it is cold and thick, at least 3 hours and up to 3 days.
In a medium-size mixing bowl using an electric mixer, whip the heavy cream until soft peaks form. Gently fold the whipped cream into the lemon curd and scrape the filling into the prepared pie shell. Cover the pie with plastic wrap and refrigerate it until the filling is completely set, at least 6 hours and up to 1 day.
KATE'S NOTES:
Make a scratch graham crust by whizzing one package of graham crackers in the food processor with up to 1/2 c. of sugar depending on how sweet you like it. Melt about 4-6 T. of butter (again, depending on your desired level of firmness) and mix with crumb/sugar mix. Press into a pie plate and refrigerate. Skip the sugar if you want; the crust will still taste fine.
Strain the curd well as you will get some cooked egg pieces. You will need to press the curd through the strainer with a spoon and scrape off the outside. Although I can't prove it scientifically, where the recipe calls for the cream to be whipped to soft peaks, I think it should be whipped a bit firmer. The pie chilled for more than 24 hours and still was rather soft. Reduce the zest if you wish to have less tart curd.