I've often been wary of chickpeas.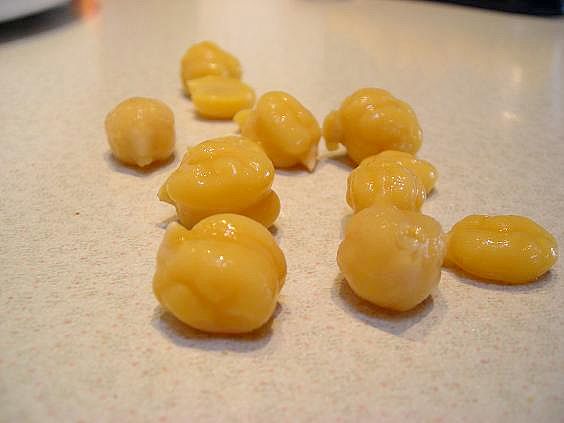 The very name sends images into my head of a certain something that I never consider to be a food, and for some reason, I expect a particular texture from them- something certainly un-legume like- and as a result, have been overly cautious about putting them, whole, into my meals.
But I'm more than willing to eat them after they've been ground to a pulp. I adore Hummus, and we are pretty regular consumers of the chickpea/tahini spread, usually adorned with kalamata olives and tangy with plenty of lemon juice and good zest.
This past summer I took a tentative foray into the world of whole chickpeas, or garbanzo beans as they are also called, and made a wonderful grilled eggplant and garbanzo bean salad that earned rave reviews and for me at least, a lot more respect to the round little legume I've been avoiding. The texture that had held me back was unsurprising- it was a legume and it tasted like a legume- primarily, it tasted like whatever I had added to my dish to create a flavor base. That's the beauty of legumes, the empty palette of them, one of the many tabula rasas of the food world; alone they don't taste like much but add them to a robust recipe that smacks of flavor and they become something else all together.
So back to Hummus. As I said, we love the stuff, and when I made it I always used canned chickpeas for ease and we were perfectly fine with it. Really, really fine with it, in fact we held more concern for the state and freshness of the pita bread we enjoyed as a means of transfer for the spread, often traveling across town to the Middle Eastern deli to buy bags of it that were fragrant with thick rounds, and often still warm or sweating from the days baking. We take our bread seriously in this house, no matter what form it comes in.
But then, I started noticing in my food magazines that recipes for Hummus were appearing regularly, and extolling the virtues of cooking garbanzo beans from scratch for the ultimate flavor. I was intrigued, but it took me a while to get my act together and really do it, and wow, do I wish I had taken this one on quicker. Fresh cooked chickpeas taste nothing like the canned that I have previously used. (Insert a great big 'Duh' right about now- it's OK, I don't mind)  The Hummus that resides in my fridge right now has the nicest, freshest, most garbanzo bean-y flavor I have known; nothing has even remotely come close, not the containers I've tried, not the batches I've whirred up at home. Nothing. I'm hooked on the good stuff and ain't looking back.  And the most important aspect of it is that cost-wise, making anything from dried beans is really inexpensive.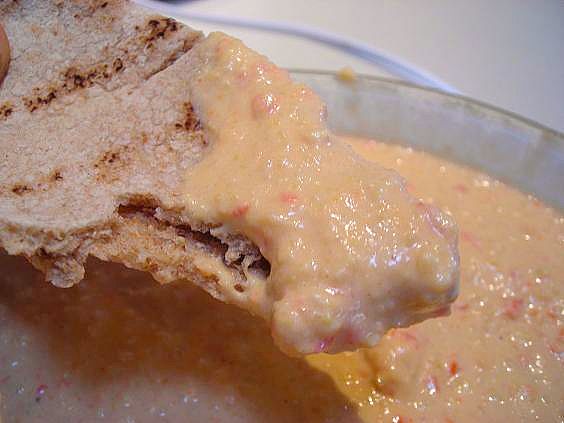 I cooked the garbanzos in the crockpot over the course of a lazy snowy Sunday afternoon. They took longer than I anticipated, and once finished, I simply drained and rinsed them-or tried to anyway- as the one thing about garbanzo beans I have a wee bit of trouble with finally reared it's ugly head- the skins. Gads. I don't know what it is about them but I became obsessed with removing the offensive looking milky little things and just try to do that to a pound of recently cooked chickpeas! It's an act of futility, but I charged forward and did my darndest. It might be slightly easier if I just didn't look at them, touch them, think about them or even start the process next time. They can't possibly be all that bad, can they?
Ugh, now I can totally feel them clinging to my fingers and feel like I need to wash my hands. Rant over!
jump for the rest……
Make some Hummus. From scratch. Thank me later. Now go……
Hummus
Rinse 1# of dried chick peas well and pick over for quality. Place in crockpot and cover with water to a depth of 3 inches if possible. These little guys swell big time. Cook on high until tender, adding more water if necessary. Mine took nearly 4 hours.

Combine the following in food processor: Half of your cooked garbanzo beans , 1/2 c. tahini, juice of half a lemon, 2 T. olive oil, 2 t. minced garlic, 2 t. salt, and 1/4 c. water for smoothness (this is optional but it seems to even it out well)
Whirl together until well blended, scraping sides and stirring from the bottom as needed. Your proportions may vary, but this works for us. Enjoy it.
For extra flavor, add in kalamata olives, or like I did for this particular batch, fresh roasted red peppers.