And you thought I was done talking about food holidays!!
December is National Fruitcake and National Eggnog Month.  Blech. Just the word 'fruitcake' conjures up images of crazy people, and the real deal is not at all appetizing although I would like to taste one, for real, that is fresh and worthy of praise instead of ridicule. The poor Fruitcake just never gets any respect- the lil' Rodney Dangerfield of food.
Today is National Date Nut Bread Day. I'm a big fan of dates and have been since childhood. My mom made the standard Date Bars- you know, with the oat topping?- and I loved them dearly. Sadly, her recipe isn't in my treasured recipe box of hers, and despite several attempts with recipes found on-line, I haven't been able to duplicate her offering and gave up, full of sad face and regret, resigned to a date-less existence.
But the holiday intrigued me because this is bread, and it has dates and it shouldn't be too hard to come up with an option that doesn't make my teeth hurt from being too sweet. Dates are notoriously sweet and contain the highest concentration of sugar in any dried fruit. They are also higly caloric, but they are loaded with potassium and fiber and can be an enjoyable treat, in moderation. One thing they don't need at all is any extra sugar, so in finding a recipe that relied on only the dates for sweetness was a bonus in my mind.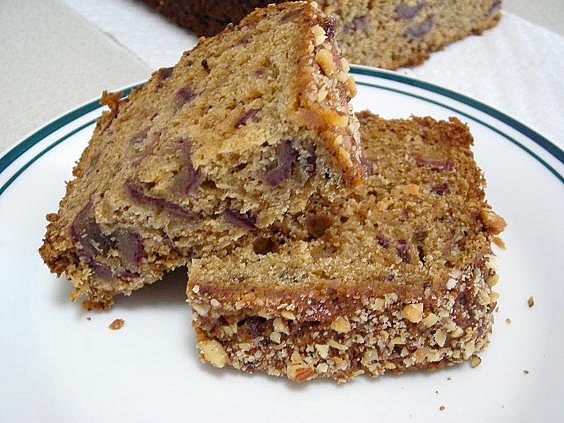 I'm not one to expend too much effort searching online recipe databases for the perfect recipe. I'm not patient enough for that. If I'm looking through Recipezaar, AllRecipes, Epicurious or any other site, I want to find something quickly and not spend endless time perusing through countless offerings, reading dozens of reviews and gazing at pictures. I trust reviews the most and they need to be unanimously positive. Coming across this bread recipe on the AllRecipes site, the first thing I noticed was that it had no added sugar, the next thing I read were the enthusiastic reviews that claimed this moist tender bread would surely be a hit. I didn't need any more than that.
The best part was, they were right. Even slightly overcooked- which seems to be a recurring theme in my kitchen lately- the bread held a nice moist feel and was chock full of date flavor without making my eyes water from the sweetness. Without the sugar, the true flavor of the fruit shone through, and really, isn't that why we eat something in the first place? This will be a repeat in my kitchen, with proper oven timing, whether it's a food holiday or not.

Moist Date Nut Bread
from AllRecipes
2 1/2 cups chopped dates
1/4 cup butter
1 1/2 cups boiling water
1/2 cup packed brown sugar
1 egg
1 1/2 cups all-purpose flour
1 teaspoon baking soda
1 teaspoon baking powder
1 teaspoon salt
1 cup chopped walnuts
Preheat the oven to 350 degrees F (175 degrees F). Grease and flour a 9×5 inch loaf pan.
In a medium bowl, combine the dates and butter. Pour boiling water over them, and let stand until cool.
When the dates have cooled, stir the mixture to break up any clumps. Mix in the brown sugar and egg until well blended. Combine the flour, baking soda, baking powder, and salt; stir into the date mixture until just blended. Pour into the prepared pan.
Bake for 50 minutes in the preheated oven, or until a wooden pick inserted into the center comes out clean.
KATE'S NOTES:
I followed this to the letter except for the walnuts. I don't do walnuts, not after a childhood of dealing with walnuts in every home baked goodie I ate. I loved my mother's baking, just not her love for walnuts. Instead, I finely chopped almonds and sprinkled them over the top of the loaf before baking. I think pecans would be nice too.
Be sure to thoroughly allow the dates and butter to cool and absorb the liquid. It will become a thick fragrant paste and really, is quite delicious all on it's own but keep your spoon out of it and use it in the bread! A little fresh grated nutmeg would probably add a nice flavor touch to this, but the date flavor all on it's own is really delicious.