Not long ago, I spoke about taking baby steps towards chickpea appreciation.
I'm getting there. Slowly.
And also slowly, I'm foraging into my cookbook cupboard and removing a few under-appreciated and under-utilized books; books that hold glorious recipes that make me drop my head back on the chair in a sort of agony, due to my tastebuds sorrow over never having tried it, and how delicious does this look anyway?? And why do I have this book with the almost perfect spine and unstained pages? These bitter days of January, bright with sunlight and diamond sparkling snow are perfect for experimentation, for exploring the vast untapped knowledge in these books. Now that I am getting my cross country skis out regularly, it gives me a much needed energy boost and all that drive needs to go somewhere, doesn't it?  Best get cooking, I say.
Well, hello there beautiful…..
Couscous is about as much fun to say as it is to work with; what other product can you dump in boiling water and forget about, coming back to tender tiny little grains of perfection with zero fuss? What else can be fixed so quickly that you barely have time to chop up a few nuts, or grate some good asiago to mix into it for a stellar side dish? Let's say couscous….. Cous…..cous.
And this dish turned out gorgeous, if I do say so myself. Brightly colored pepper and carrot nestled up to the rich green of cilantro and with a quick toss of chili garlic sauce, it became just a tiny breath of spice in the mouth, nothing 4-alarm, not a rush of sweat breaking on the brow but just a hint of the heady flavor of chilies. It's like when you eat something and it evokes a memory that you can't quite place. Fleeting. Perfect.
Yes, the chickpeas. Right.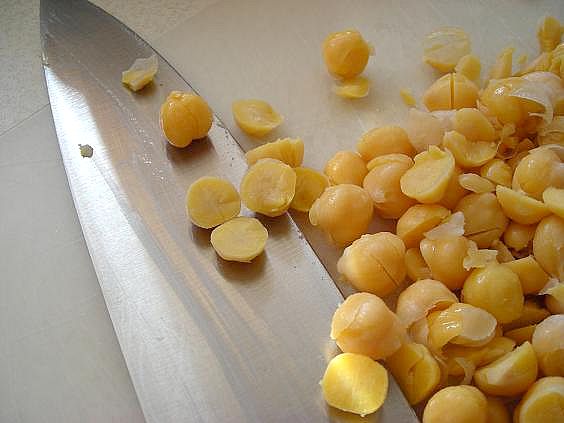 I liked the idea of mixing the chickpeas in the all that couscous goodness, the vegetables and bite of chili sauce, but I thought 'Hey, y'know, they aren't the right size!' because it's all about symmetry in my world- the towels folded edge to edge, the sheets and comforter hanging to the same length on both sides of the bed- symmetry, similar and even. Besides, when faced with a plate of food, especially something like this, it's all about the teeny-weeny (it is couscous, after all) and so I blended the pepper and carrot in the food processor to mince them fine, whacked the nuts to pieces and took my chef knife to the chickpeas.
I then turned my kitchen into The Flying Chickpea Circus. Did I think at all that those little guys might be quite sprightly?
Oh, and the skins. Ew. That never occurred to me as I lifted my Wustof. I don't like those skins. But it was time for chin up, marching forward to the finish line. Think symmetry; ignore the skins.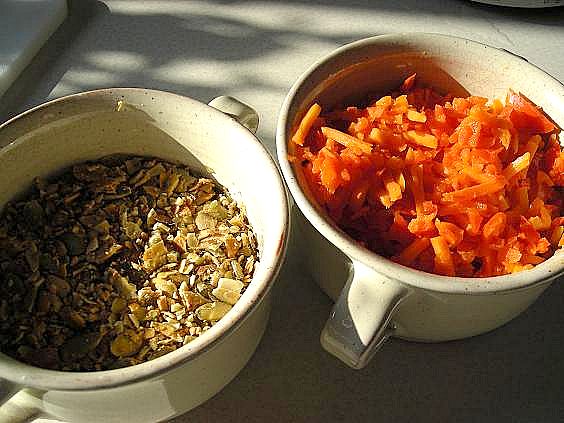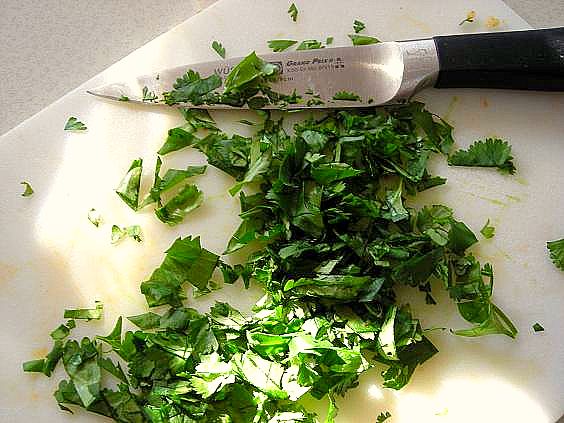 In real time this only took about 15 minutes to pull together, of course, minus the chickpea chasing. I had the vegetables seared and waiting, the cilantro chopped, the nuts fragrant and toasted. A few quick tosses and my fork was present and accounted for, heading to my mouth. So delightful. I think the best part of this dish came later, at dinnertime, as I sat down to a steaming bowl of soup I realized that I wasn't even that hungry. My small bowl of grains, legumes and vegetables had given me some serious sustenance, a bonus to any recipe.
More chickpea appreciation and a great dish to boot; this works perfectly as a good main course or as a side dish. Increase the chili garlic sauce for your own heat level. Watch for the flying chickpeas.
Spicy Couscous and Chickpeas
The Food and Mood Cookbook by Elizabeth Somer and Jeanette Williams.
1/2 c. chopped pepitas
2 c. chicken broth
2 c. whole wheat couscous
2 t. olive oil
1 medium red bell pepper, stemmed seeded and diced
1 medium carrot, peeled and diced
1 15-oz can chickpeas, rinsed well
1-3 T. chili garlic sauce
Fresh chopped cilantro
Toast pepitas in a hot skillet until fragrant, remove to dish. In same skillet, saute pepper and carrot in oil until soft, about 5 minutes. Set aside. Bring broth to a boil, add couscous and stir, then cover and remove from heat to absorb. In large bowl, combine couscous, chickpeas, pepper, carrot, pepitas and chili garlic sauce. Salt if desired. Top with cilantro.
KATE'S NOTES:
In the original recipe, the nuts listed are slivered almonds, which would be delicious in this. Toast them as well. The original recipe did not call for carrot, but it definitely improves the overall appearance and nutrition of the dish. Whole wheat couscous was my addition and I think the heartier flavor of the grain is a real boon. Thin the chili garlic sauce with a little water to make mixing more uniform. I subbed cilantro for parsley as I like it better.