And how I got from hot steaming soup to a cool salad I have no idea, but  I can't throw off the desire to recreate something I see on a website, even if the weather outside is more comfort food appropriate than salad worthy.
I wish I could remember where I originally saw the photo of this Orzo salad with yellow pepper, kalamata olives and feta cheese because it would be nice to give due credit. Regardless, with a party to attend it was the perfect excuse to give it a whirl even if the temperatures outside plummeted to sub-zero once again.
I'm really glad I did.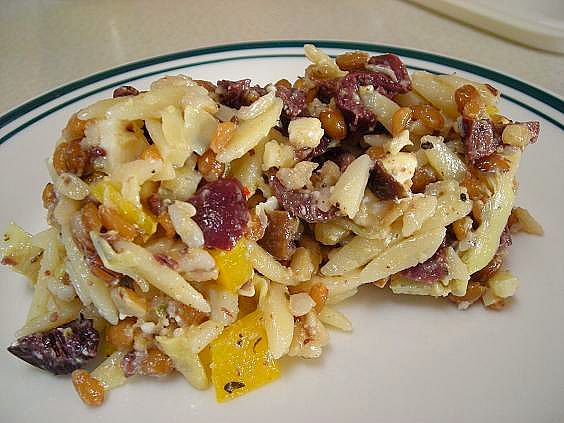 The original recipe called for orzo and israeli couscous- double pasta whammy- and although it probably would have tasted fine, it was too much in the carb department. As I browsed the grocer's aisle in search of some type of substitute and appearing about as aimless as possible to all those frantic cart pushers around me, I finally spied, way on a top shelf and really obscure, a package of Kashi Original 7-Grain Rice Pilaf.
I am, admittedly, always willing to buy just about anything from Kashi, even without scrutinizing the label, the ingredients or even the expiration date like I tend to do. It's one of the few items in a grocery store that I know is good quality. What I liked about this 'pilaf' if you can even go so far as to call it that, was that it was nothing more than a simple vacuum packed assortment of cooked whole grains. That's it. No sodium laden, preservative choked flavor packet to add, no un-pronounceable ingredients, nothing but cooked grains. A quick turn in the microwave and they were ready to eat, or to be tossed into any preparation, mixed to your own liking. I love the idea of whole grain pilafs; the mix of nutty and healthy grains can compliment any dish, but since most of them require widely fluctuating cook times, it's hard to think of putting them together myself without a whole lot of work. I do imagine though, that the work and effort would be totally worth it.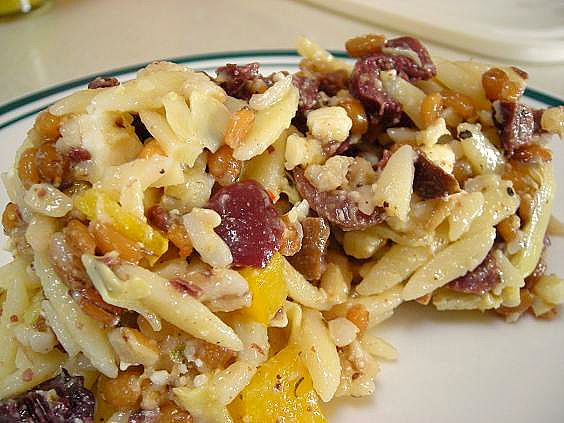 I did add some extra wheatberries to this dish. I love their chewy goodness and the added nutritional aspect of them. They are really simple to keep on hand to add to any number of preparations, especially pilafs.  Eating Well magazine has the goods on cooking wheatberries. This is how I do it. Then I package them in one cup increments and freeze them. They break apart very easily once frozen and have a long shelf life. I add them to pasta dishes, pilafs, soups, oatmeal, breads…..the list is endless.
This is one of those dishes that tastes better once the flavors have a chance to get to know each other really well. I mixed it on a Saturday for a Sunday party and the sampling while I prepped didn't impress me at all. By the time it was served the next day it was a lot better.
And I'm certain it will taste much more appropriate in July. It's kind of  nice to get ahead of myself on summer foods!
Orzo and 7-Grain Salad
1/2# cooked orzo pasta
1 pkg Kashi original 7-Grain rice pilaf
1/2 c. cooked wheatberries
1 yellow pepper, diced
1 4-oz can artichoke hearts, chopped
1/2 c. kalamata olives, chopped
1 3-oz pkg feta cheese
italian style vinaigrette
Salt and pepper
Prepare pilaf according to package directions. Stir all ingredients together in bowl and add about 1/3 c. dressing to coat. Season to taste with salt and pepper.  Cover and refrigerate overnight or for several hours. Before serving, stir thoroughly and taste for seasoning. Add more dressing, salt and pepper if needed.
KATE'S NOTES:
I ran out of kalamata olives and to add more of that tangy flavor, I stirred some olive tapenade into the dish. This could easily sub for the olives. Go the extra mile and make your own vinaigrette, or use a good quality bottled option. The possibilities for extra additions to this are endless.