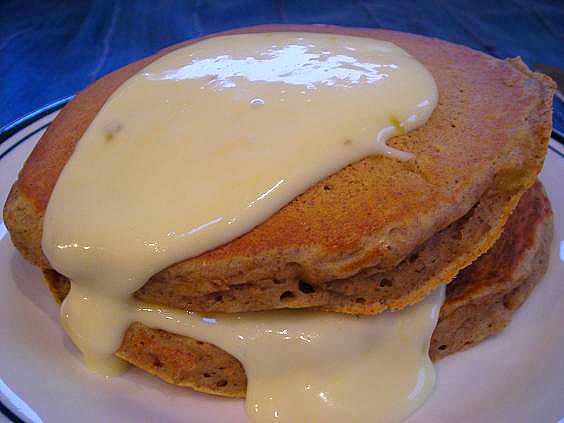 Or is it that I just like something delicious and easy for dinner when I'm really worn out and tired?
Those are my delicious Banana Whole Wheat Pancakes; they were thick moist and delicious, covered with a tart lemon curd that I mixed with cream cheese for a decadent topping. What is it about lemon for me lately? When I think about desserts, or sweets of any kind I just think about something with lemon.
I'm not a wimpy pancake kind of gal. My pancakes require heft. They need height. They won't be some slim disc that falls apart once covered with a river of warm syrup or jam, not a chance. And they need flavor. Oh yeah, and they've got to be nutritious.
No small order for my stacks, is it??
The origin of this recipe was Mark Bittman's Rich Buttermilk Waffle recipe and I've revamped and tweaked it repeatedly to get it from 'pretty good' to 'WOWOMG, that's SO amazing!!'. I swapped out some of the regular flour for whole wheat, and added ground flaxseed and wheat bran. You could easily make these with all wheat flour too, or some buckwheat or even rye flour.  I also eliminated the half stick of melted butter.  This variation is so tantalizing that I can make Griffin's eyes roll back when he sees them, and if I can do that without serving him meat, then I know I have been successful.
And the nice thing about pancakes for dinner is that the next morning you've got breakfast without very much work.
Kate's Banana Whole Wheat Pancakes
1 1/2 c. AP flour
1 1/2 c. whole wheat flour
3 T. flaxseed, ground
3 T. wheat bran
½ teaspoon salt
3 tablespoons sugar
2 teaspoons baking soda
1 1/2 c. buttermilk
1 c. vanilla yogurt
2 eggs
1 t. vanilla extract
2 bananas, mashed but with some larger pieces
Combine the dry ingredients and blend well. Whisk together the buttermilk, yogurt, eggs, banana and extract. Pour over dry ingredients, and with a rubber spatula, blend carefully, scraping bottom of bowl until combined.
Heat skillet or electric griddle. Drop batter by 1/4 cupfuls and cook until browned and fragrant. Serve with topping of choice. These freeze very well.
Lemon Curd Cream Cheese-
This was a total fly-by-night mixture of a partial container of spreadable cream cheese with about a half jar of prepared lemon curd. It was nowhere near as lemony as I like so I grated in zest from about half a lemon and squeezed in the juice. Then I had to stop myself from eating it all with a spoon.
KATE'S NOTES:
Although the recipe calls for buttermilk, I use vanilla soy milk in mine due to dairy restrictions. Yogurt is not an issue with me- the friendly fauna in yogurt helps to prevent stomach upset from the dairy. Buttermilk adds superior flavor to pancakes and should be used if dairy is acceptable. I really love the texture that yogurt adds to pancakes as it helps a lot with the heft and moistness.
This recipe is endlessly versatile. Swap the fruit with mashed strawberries, grated apple or chopped mango; change up the yogurt or use applesauce instead, another favorite method of mine for additional moisture.
No buttermilk on hand? Use a teaspoon of either vinegar or lemon juice per cup of regular milk to create a decent substitute, or you can use all yogurt, or even sour cream thinned with a little water in place of milk.