Yeah, here I go again……taking pictures of soup.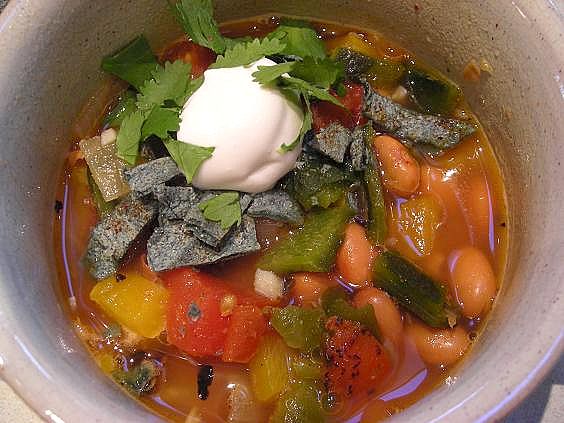 But….with surprisingly good results this time! I credit the extra sunshine from Daylight Savings Time. Say what you will about it; that extra light in the evening has a very magical effect on us weary winter dwellers.
In case you missed it, my birthday was a little over a week ago. And one of the gifts I received was The Eating Well Cookbook.  This book is loaded with colorful photos and easy to follow recipes, no different than the magazine, which is always a welcome sight in my mailbox. I earmarked a lot of recipes to try too and am pretty excited about them.
This vegetable soup caught my eye right away. I've been really enjoying soup making this winter and we've had some wonderfully soothing bowls. Although I took a lot of liberties in evolving this recipe to what I envisioned it could be, it didn't deter from the quality of the end result. It was fairly quick and full of flavor.
The original recipe only called for roasting a poblano pepper to enhance the flavor, but since I've been kind of ga-ga over roasted vegetables lately, I thought it would be awesome to simply place ALL of them under the broiler (instead of trying to char them all on a stovetop gas flame as the book suggests….which, um…..ick) and in doing so, created a soup that simply sang in the bowl. Broiling peppers gives them a densely sweet and delicious flavor; I love how it also mellows onions too, bringing out the taste of them without the 'onion' after-affects. Broiling, or grilling onions is one of the few ways I will actually eat them while they are still crunchy. Otherwise, they can't have any toothy-ness to them or I still, like my former 7-year old self, will push them aside on the plate.
Once the vegetables were sufficiently charred, and with a can of fire-roasted tomatoes and two cans of pinto beans, this soup comes together in about 10 minutes. I added a jalapeno for a little bite, and we applied liberal amounts of cilantro, toasted blue corn tortilla chips and a nice shredding of garlic-herb co-jack cheese for added taste. Some lime juice would have been perfect, but the limes languished in the fridge, forgotten. It didn't even matter. The soup had depth and a ton of flavor. Mike and I slurped it up, wiping our dribbling chins and exchanging happy grins. Griffin ate some leftover meat.
Typical.
(jump for recipes)
Fire Roasted Vegetable Soup
as adapted from The Eating Well Cookbook
One poblano and one yellow pepper, seeded, cored and split in half
One jalapeno pepper, seeded (if desired) and split
One large onion, cut into 1/2″ thick rings
One 15-oz can fire roasted tomatoes
Two 15-oz cans pinto beans, rinsed well
2-3 garlic cloves, minced
One quart vegetable broth (chicken is fine too)
1 tsp. cumin
1 t. chili powder
1/2 t. cayenne pepper (optional, but nice)
Sour cream, lime wedges, shredded cheese for toppings.
Heat oven to 425. Take two corn tortillas, and with a pizza cutter slice them in half. Turn the tortillas sideways and slice them into thin strips. Toss them with a teaspoon each of cumin and chili powder and toast them on a cookie sheet in the over, stirring once or twice for about 10 minutes, or until nice and crispy. (You can skip this altogether and use broken tortilla chips)
When done, turn the oven to 'Broil'
Remove one cup of pinto beans and mash in a bowl with a fork. Add just enough water to make a very thick paste.
Place peppers and onion on cookie sheet and spray lightly with cooking spray. Broil carefully, watching closely, until peppers are charred and onion is soft, with some blackened spots. Remove peppers to bowl and cover with plastic to steam. Roughly chop onions. When peppers are cool enough to handle, peel off skin and chop.
In a soup pot over medium heat, saute garlic in oil of choice for about a minute; add onions and peppers and cook for a minute or two more. Add in the tomatoes, mashed and whole beans, broth and seasonings. Stir to combine and bring slowly to a boil. Simmer for about 10-15 minutes. Season to taste with salt and pepper, and serve with condiments.
Nutritional Information:
Per 1 cup serving– 193 calories, 2 g. fat (o g. sat, 1 g. mono) 0 g. cholesterol, 34 g. carbohydrates, 9 g. protein, 10 g. fiber, 291 mg. sodium.
Bonus: 39% DV fiber, 3 mg. iron (15%DV) 56 mg. magnesium (14%DV)
KATE'S NOTES:
A 4  1/2 oz can of green chilies can be subbed for the poblano in a pinch but this will increase the sodium level. Any kind of colored pepper can be used, or even more than one. I initially thought to add some frozen corn to this soup too and completely forgot but it would be a very nice addition. The soup flavor gets even smokier and has more depth the next day. The cheese we added was a garlic-herb co-jack; pepper jack would be delicious too, or if you can find a chipotle cheddar, that might be great as well. Of course, you can omit that too. It does add a few calories and sodium.