Sometimes, when I frantically yank on my 'Iron Chef' hat with dinner staring me in the face, what I pull from my pantry and fridge to make a meal is memorable, but never something I would do again; it worked for the moment but that's about it.
Not this focaccia. This one will be here to stay.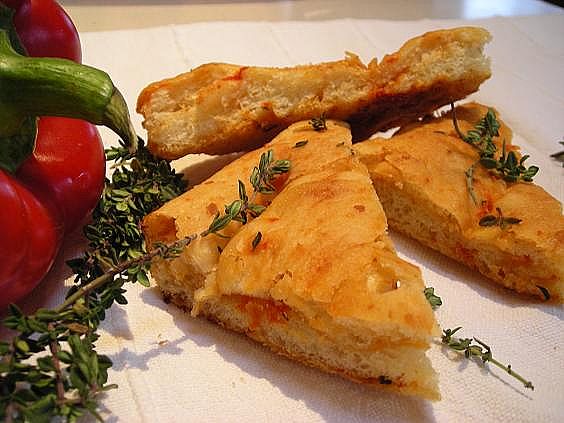 I'm still loving this book, and legally can possess it without monetary fine for another few weeks before the library politely expects its return so I'm trying to dig in deep and fill more pages with flour and watermarks, but so far I've managed to use this focaccia recipe enough that the book falls open to the page with little effort.
I love me a good focaccia.
This particular bread is a wonderful canvas for a wide array of toppings- everyone loves a good sea-salt sprinkled chunk, dipped in a little olive oil touched with fresh ground pepper; you can top a foccacia with grated parmesan cheese and herbs, tomato slices and asiago, red wine soaked mushrooms and rosemary……the list is endless. And unlike some bread recipes, this focaccia has one rise, then you form it in your baking pan, leave it for maybe a half hour to puff up a bit, then bake it. The hardest part, really, is waiting for it to cool enough to slice.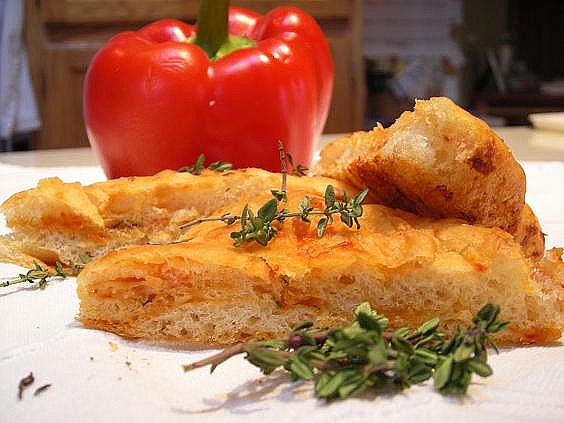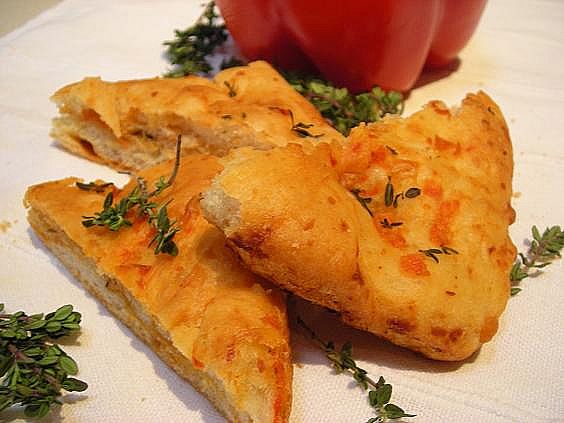 Read on…….
For a recent gathering of my wine group, I wanted to bring some of this focaccia but I didn't want just any ol' bread to offer up. These people know I can cook; one is my former culinary school instructor,  so I kind of feel like I'm on some proving ground when I bring a food item, or host one of our gatherings. On a perusal of our fridge, while the dough was rising happily on the counter behind me, I pulled out a roasted red pepper, a partial container of fresh thyme,  half a tube of goat cheese and some leftover plain great northern beans, placing them skeptically on the kitchen island, my mind tumbling over the possibilities.
'Oh what the heck' I thought to myself, and dropped it all into a food processor with my fingers crossed. When the dough was ready, I pushed it into a large rectangle and spread the mixture over the top, then gently folded the dough over itself, placed it in the baking pan and re-pressed it into shape. One look at it and I thought 'No way am I photographing this! If it tastes as bad as it looks right now, I'll leave it at home.'
It was sort of wet, kind of sticky and altogether scruffy looking and…..well, raw. Wet raw bread dough is SO not appealing.
But in to the oven it went, and a half hour later, an aromatic burnished pan came out reeking of yeast and succulent pepper. The dough successfully merged with the filling and formed a beautiful melange of flavor that was a smashing success at the party. My highly encouraging friend Samantha turned to me, with her fourth or fifth piece between her fingers and said "You must blog about this!"
And thanks to her, I did.
Focaccia
From Baking with the Saint Paul Bread Club
1 pkg active dry yeast
1 c. warm water
1 T. sugar
2 T. extra virgin olive oil
4 T. canola oil
1/2 t. salt
2 1/2- 2 3/4 c. AP flour
Olive oil for brushing
In large bowl, dissolve yeast in warm water and set aside. Combine sugar, salt and oils and stir into yeast mixture. Add 2 c. of flour and mix well. Slowly add remaining flour. Knead on a lightly floured surface, adding a little more flour as needed to prevent sticking. The dough should still feel tacky and very soft; don't add so much flour that it starts to get firm. Knead carefully for about 5 minutes. Place in oiled bowl and turn to coat top. Cover with plastic wrap and let rise until doubled, 1-2 hours.
Preheat oven to 375.
Turn dough onto greased sheet pan or 13×11 jelly roll pan and press into shape. Brush oil over top of dough and sprinkle with sea salt, parmesan cheese and herbs if desired. Bake for 30-35 minutes or until golden brown.
Kate's Roasted Red Pepper and Goat Cheese Spread
1 large roasted red pepper, roughly chopped
1/2 tube of goat cheese- approx. 2 oz (can be flavored with herbs)
1 T. fresh thyme leaves, or more to taste
1/2 c. great northern beans, rinsed and drained (this helps bind the spread, otherwise it's very wet)
Place all ingredients in bowl of food processor and process until as smooth as possible. It will be slightly chunky.I realize some of these instructions are rather arbitrary. If it seems like you have a lot of filling, spread some on the dough and save the rest to use elsewhere.
Roughly press dough out on countertop to a rectangle- be as uniform as you can but don't sweat it if there's thin spots- then spread topping to within 1/2″ of edge. Carefully roll dough up, jelly roll style from narrow end and fold together into a ball, or fold dough over itself in thirds, tucking the edges in to hold filling. Place dough on pan and press into shape. This part is messy, and some filling may leak out. Before it's baked it might look awful, but trust me…..the magic of heat will transform it. Carefully brush top with some olive oil and sprinkle with a little sea salt. Bake as instructed.
Allow to cool before slicing, if you can.