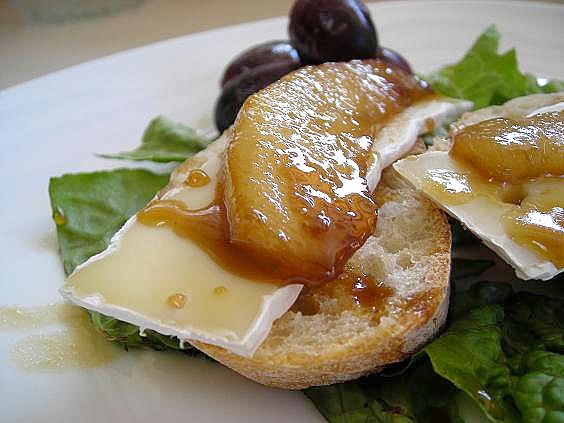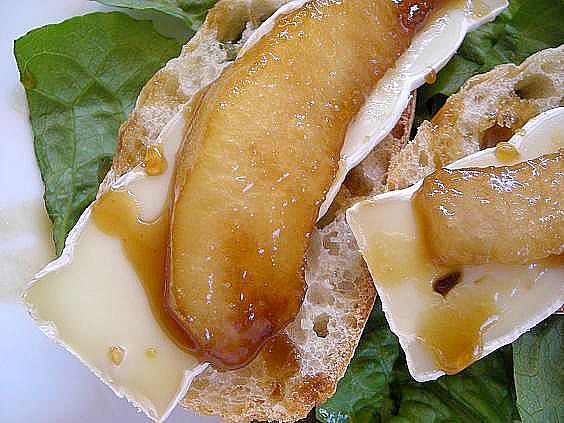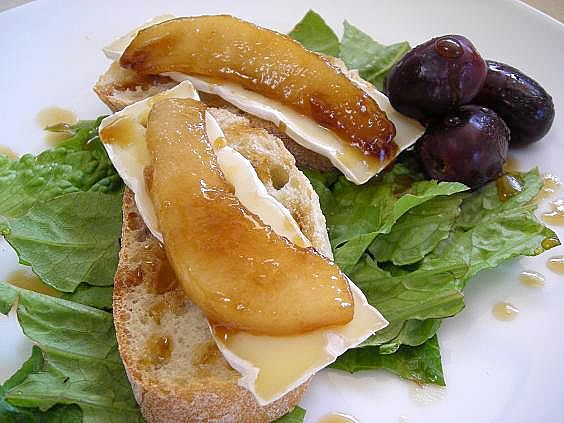 Recipe after the jump
Crostini with Camembert and Glazed Pears
by Kate
1 Tablespoon unsalted butter
2 Tablespoons brown sugar, firmly packed
One firm Red or Bosc pear, peeled, cored and sliced thin
Ile De France Camembert cheese, sliced thin
Sliced Baguette bread
Fine grey sea salt for dusting
In a small skillet over medium heat, melt the butter until foamy. Sprinkle in the brown sugar and stir with a heat-proof spatula to combine. Continue stirring over medium heat until sugar melts, taking care not to splash as mixture will be very hot. When sugar is melted and bubbling, carefully lay the pear slices in the pan, being careful not to crowd. Allow to cook on one side for about 1-2 minutes then carefully turn over. Remove from pan when soft but not falling apart; timing will depend on thickness of cut. Some sugar may crystallize from moisture in the pear. Pour any remaining un-crystallized sugar over pear slices.
Lay one slice Ile De France Camembert cheese on top of sliced baguette and top with one slice of glazed pear. Drizzle some melted sugar over top and a fine dusting of grey sea salt. Serve at once accompanied by red grapes, a dry champagne or a chilled late harvest Riesling.
This recipe has been submitted to Ile De France Cheese for their Spring Follies Recipe Contest. Recipes can be submitted through the Ile De France website up until April 29th. Rating recipes begins May 1st and ends May 31st. Four prizes will be awarded. Please see the website for more details.