There's a glut of food blogs on the 'net, have you noticed? I've been trolling for some new inspiration, awesome lurk-worthy sites that are an instant source of excitement, chock full of recipes that I can't wait to make.
I found myself gasping at what was in front of me; I was a bit taken aback, like thinking I fell into another era. The posts talked about mac and cheese, baked potatoes covered with canned soup, casseroles with frozen vegetables and potatoes, grilled cheese sandwiches with perfect squares of fake cheese…..and please excuse me for sounding snobbish as I certainly know I do right about now…. but this is the food that Jamie and I joke and laugh about, the stuff we were forced to eat coming of age in the 1970's from mothers who only knew about Betty Crocker and The Joy of Cooking.  This is not, in all our 2009 understanding about our food, our health, the way we can nurture and protect ourselves from the plate up; this is not food. I'm sorry. Forgive the mini-rant, it's done now.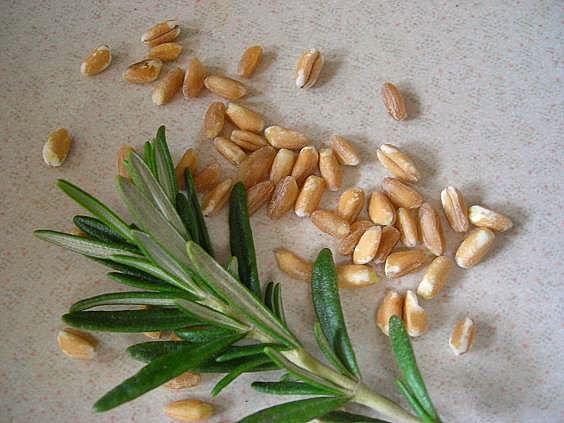 It gets better….I promise-  read on…….
Thankfully, I did have some gasps of the good kind- the kind where you instantly start drooling, maybe mentally checking over your pantry thinking 'Can I make this….NOW!?'  as I came across several new sites that re-define my idea of a good food blog. The fact that they're powered by men is a huge bonus. But, inevitably and even with a fresh new arsenal of 'Wow' to whip up in my kitchen, when I become so overloaded with what I find impossible to handle and just need reassurance of the good in the food blog world, I turn to a few 'tried and true' sites; those folks who've totally done it right, that encourage a better way to eat and nourish and sustain. And it was on Molly's site that I found this recipe for Farro, Lentils and Caramelized Onions that punched through the fake cheese images and said 'Make. Me. Now' And yeah, I had everything I needed, imagine that!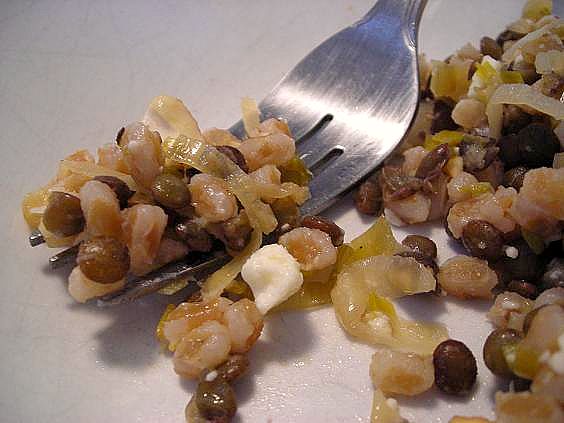 Pretty? Hardly. In fact, if we solely ate with our eyes no one would touch this dish in any manner. But I knew that going in, and was prepared, once all the ingredients were properly introduced to one another, that I should just shut my eyes and lift my fork.
Ahhhh….. life is good again.
That's farro in the first photo. It's a whole grain, similar to wheatberries and also known as Emmer wheat. It's considered to be the heirloom version of spelt, and was one of the first domesticated plants in the Middle East, widely cultivated in ancient times. These days, although it's popular in Italy and most often used in bread making, it hasn't specifically caught on in the whole grain lovefest these days. Really, this should change.
Almost everything I've read about farro says that it requires a soak prior to cooking. The first time I used it, I followed this method and ended up with blown, soggy grains. I was not thrilled and no matter what I did with them, they were a big disappointment. For this go-round, I toasted the grains in the pan before adding the liquid, and the result was a tender but toothy bite that I couldn't resist, slipping fingerfuls of them into my mouth as I finished the recipe.
This is one of those "super" combinations, the mixing of ingredients that produces a complete protein; the supply of the 9 essential amino acids that our body needs but can only be obtained through the foods we eat. The marriage of a legume and a grain is one made in culinary heaven. For Molly's perfectly good option, go here. This is my slightly tweaked version.
Farro and Lentils with Caramelized Leeks
adapted from Orangette
Warning: This is not a quick fix meal. Plan ahead. The time invested will be duly rewarded. I promise.
2 large leeks, split and washed, sliced thin (white and light green only)
1 large onion, thinly sliced
3 T. brown sugar
2 T. balsamic vinegar
1 c. French green lentils, washed and picked over
1 c. dry farro
One 6-0z container crumbled feta cheese.
Olive oil for saute and plenty of water.
Start the leek/onion caramelization first. In a deep skillet, warm the oil and add in the leeks and onions. Allow to cook over medium-high heat, stirring regularly to avoid scorching for about 5-10 minutes. Get them to a nice wilted point where they smell wonderful. Now stir in the brown sugar. Notice how they get nice and shiny. Reduce the heat to low and stay close to stir on occasion. You want them to be soft, golden and nicely caramelized and this is not a slow process. Be patient and reap the rewards. Once the mixture is good and soft, probably about 45 minutes, stir in the balsamic and then let them cook down more, maybe another 20-30 minutes. While all this is happening, you can tend to the other items.
In a medium saucepan with a tight lid, toast the dry farro over medium heat, stirring often, until fragrant and slightly browned, maybe about 5 minutes or so. Add in 2 1/2 cups liquid of choice- I used water, but broth would be fine- bring to a boil and cover to simmer for up to an hour. Watch the grains carefully and test them starting around the 45 minute mark. This is where your personal preference will come to play. I like them chewy, you may prefer them softer. Take them off the heat when they please you, pour them into a mesh strainer and rinse them in cold water to stop the cooking.
For cooking lentils: The tiny french green lentils cook pretty fast; for me they need about 30 minutes to be perfect. Again, it's arbitrary. Rinse them well and check them for stones or debris, place them in about 3 cups of water and cook them to your preference. I drained and rinsed these as well.
Combine the farro, lentils and caramelized onions in a large bowl and stir to mix well. Taste and season with a little salt and pepper. Now stir in the feta cheese. Taste and season more if needed. This dish can be served at room temperature, warmed up or even served cold. It's perfect all on it's own.
KATE'S NOTES:
I know my method of caramelizing onions is not the norm; most people use salt, maybe a little sugar, but I've never seen the brown sugar/balsamic variation. It deserves to be known more. The presence of the sweet and tart in these leeks is such a stellar taste combination, and in this recipe paired with the bold feta is beyond your imagination. Try it once just to say you did.
The brown sugar/balsamic idea works beautifully on fresh strawberries, peaches, melon chunks, pears, apples and lots of other fruit. It makes a perfect maceration liquid. I would never steer you wrong.