I'm the total opposite of this guy.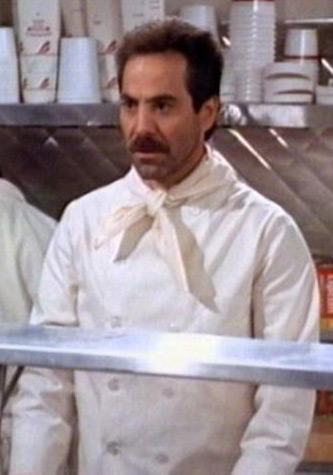 Instead of warily watching over the masses, determining who best to give a bowl of soup to and weeding out the undeserving, I would be holding the door open, waving folks inside and pushing bowls into their hands; bowls of steaming, hearty and delicious soup with plenty of great bread for dunking.
I am no Soup Nazi. I'm a Soup Queen. We're in May now, and I still can be swayed by a bowl of soup; I can read a recipe that is more suited to November's chill, a thick blanket of fleece and a crackling fire and regardless of the fact that Spring is quite literally bursting out of it's seams outside, I find myself lusting for that soup. It's really a huge turn from even a few years ago. I used to never make soup. In fact, it intimidated me and I can't explain why. I think I tried to make it on several occasions and was met with a thin, watery extraction, flavorless and vague that did nothing to satisfy the need inside of me for warmth or comfort. I can't say; I've obviously blanked out the bad experiences of it. Back then, soup was a can for me, sad as it is. I cranked open a tin container to achieve a highly prized level of comfort, and wistfully dreamed of the steaming pot, bobbing with colorful vegetables and thick cuts of meat, or dripping with toothsome noodles and wished for the ability to do it from the ground up.
Obviously, what I didn't know about soup was that it really needs to be built from the ground up in order to achieve that amazing soup quality that we all crave. Getting this…..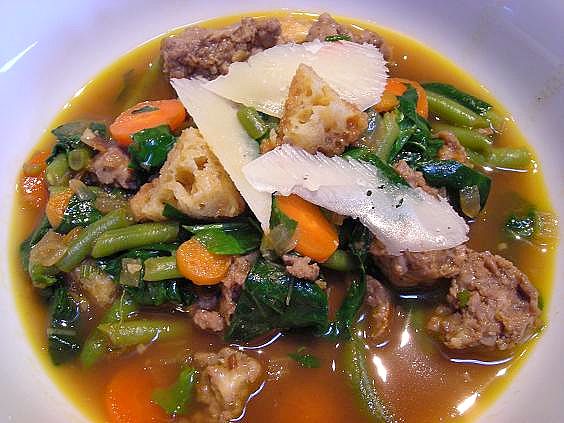 requires little else but a few tidbits of knowledge. Armed with that knowledge, I've knocked out soups by the score, at least one pot a week and often more.
Mmmmm, you can almost smell it, can't you?
The origin of soup can be traced back nearly 6000 years. The word 'soup' is believed to have evolved from the term 'sop', when long before eating utensils were created and everything was consumed with your fingers, getting those precious drops of juices in the bottom of your bowl was necessary. A thick hunk of bread accomplished this task nicely.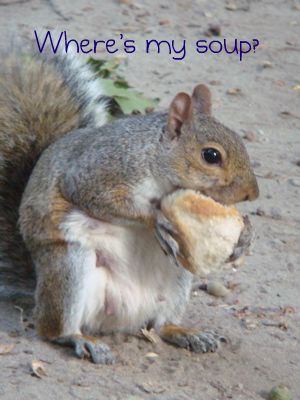 Surprisingly, the word 'restaurant' comes from a term first associated with soup, when in the 16th century in France, a highly concentrated and nutritious food known as a 'restaurer' was sold by street vendors, advertised as an antidote to physical exhaustion. A Parisian entrepreneur opened a shop in 1765 specializing in servings 'restaurers', and the term 'restaurant' was coined to describe it. The 'restaurer' being served was but a humble bowl of soup used as a means to rejuvenate from the trappings of modern life. It's no wonder that now, many hundreds of years later, when we crave comfort and seek solace from our own modern world, that a bowl of soup feels like a restorative shot in the arm.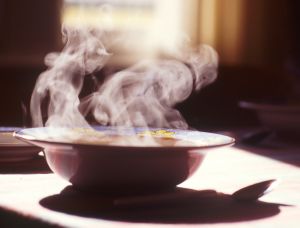 Soup grew in popularity with the onset of canning in the 19th century, and today there are hundreds of options available in the supermarket; dried, canned and all designed to be quick and easy. There is soup for all weather too, and a soup found in all cultures, all cuisines and in every form from around the world. We have classic soups, cold soups, fruit soups and herb soups. It can be called bisque, chowder, stew and consomme. The Chinese have Egg Drop and Birds Nest soup; the Greek have their Avgolemono, Scots their Cock-a-Leekie, the French serve Bouillabaise, Hungarians love their Goulash, Russians their Borscht, the Spanish and Portugese revere their Gazpacho. Heated arguments ensue over which clam chowder is better- New England cream based, or Manhattan tomato based- and Gumbo pots simmer throughout the Southern United States. Ever heard of  Canh Chua? Revithia? Caldo Verde? Lan Sikik? Callaloo? Fasolada? Bourou-Bourou? Kharcho? Snert? They're all traditional, cultural representations of soup. Anthony Bourdain claimed that he fell in love with food after eating a bowl of Vichyssoise when he was a boy. And in the 80's, a flash in the pan boy band went by the name Menudo. Soup is everywhere.
There tends to be a mindset about making soup that it has to take a long time in order for it to be good. While there is something to be said about creating a deep and flavorful pot, simmered for hours at a time, with the ingredients on hand and a quick turn with your knife, soup can be on the table in less than an hour. My Recipe Index has lots of good options for both an easy spin on the stove and a good pot to create over a lazy afternoon.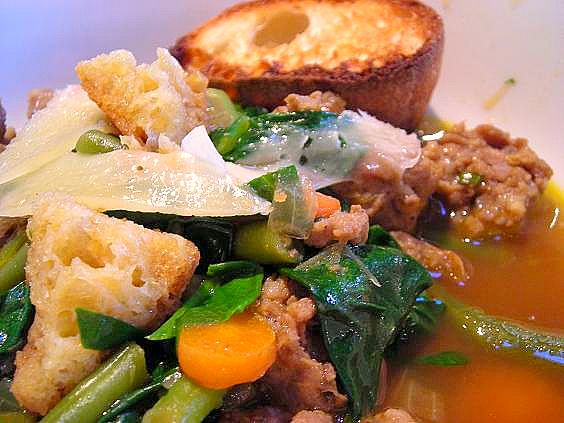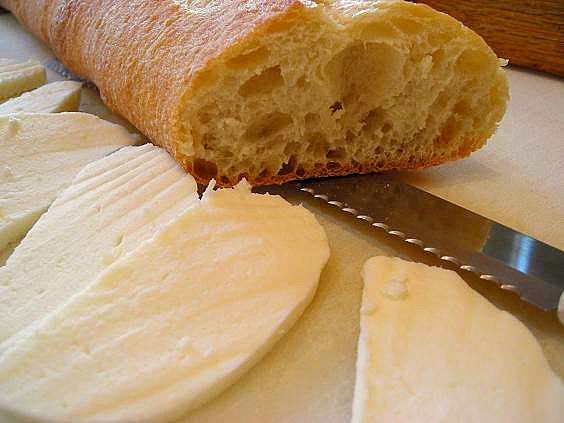 This soup- Zuppa Arcidossana or Rustic Italian Bread Soup- the recipe that prompted me to make a hearty rich Fall-like pot on a beautiful- but cool- Spring afternoon, was one of the simple means to that steaming goodness. Browsing through the New York Times Dining section each Wednesday often gets me in a state like this; I spot a recipe I know I would love and my mad culinary brain must have it. Now. It's all Bittman's fault. The soup was simple, hearty and really flavorful, not to mention very quick.
Zuppa Arcidossana
2 tablespoons olive oil
1/4 pound sweet Italian sausage, removed from casings
1 cup 1/2-inch-diced carrots
1 large onion, chopped
3 or 4 cloves garlic, chopped
Salt and black pepper
1 cup stale bread (use coarse, country-style bread), cut in 1/2-inch cubes
1/2 pound spinach, trimmed, washed and roughly chopped
1/4 to 1/2 cup ricotta salata, cut in 1/2-inch cubes (feta may be substituted)
1/4 cup freshly chopped parsley, optional.
Put oil in a large pot or deep skillet and brown sausage over medium-low heat, stirring occasionally. When sausage is cooked through and leaving brown bits in pan, add carrots, onion and garlic, and continue to cook until vegetables begin to soften and brown, about 10 minutes. Sprinkle with salt and pepper.
Add bread to pan and stir for a minute or 2; add spinach and continue cooking just until it wilts, a couple of minutes.
Add about 2 cups water and stir to loosen any remaining brown bits from pan. This is more of a stew than a soup, but there should be some broth, so add another cup of water if necessary. When broth is consistency of thin gravy, ladle stew into serving bowls and top with cheese and some freshly chopped parsley if you have it. Serve immediately.
Mark Bittman, NY Times, 4/29/09
KATE'S NOTES:
Browning the vegetables adds a lot of flavor. I browned the carrot, garlic and onion for quite some time before adding in the sausage and giving it a good searing as well. Since you are only adding water, the fond on the pan will add an immense depth to the pot.
I had some leftover green beans from a previous dinner that ended up in the soup as well. The bread I used was a baguette, and it wasn't stale; I just cut off the super crusty ends and added them into the soup pot. The slices were toasted to make them nice and crunchy, then set in the broth to soften slightly. I added about a teaspoon of fresh rosemary for extra flavor.
Instead of ricotta, I used fresh mozzarella and of course, shaved parmesan which this soup absolutely cries out for in droves. Basil would also make a good garnish on the top.