So you want to hear something that sounds a little weird to me? I like beets, and not only do I like beets, but I absolutely LOVE beet greens. I think I can officially be called a grown-up now. I think….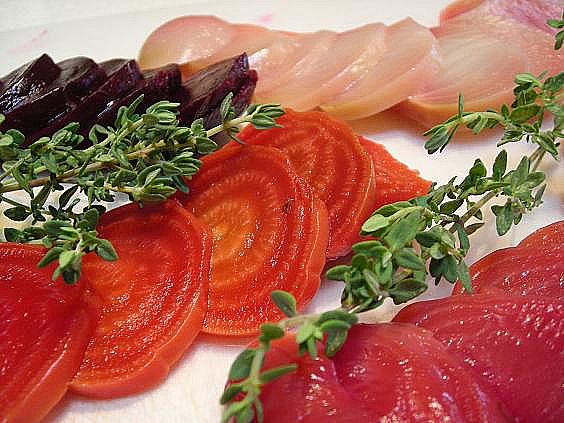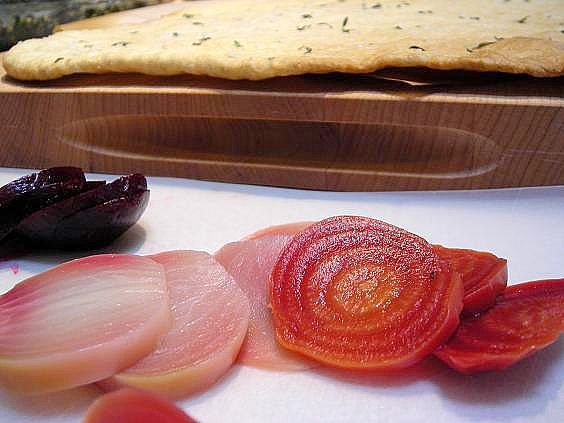 Anyway, why is this such a revelation? Due to the fact that just a few short years ago, I couldn't be persuaded to even consider the beet, it stands to reason that for me to kindly elbow my way to the front of my favorite Farmers Market organic vendor and snatch the last bunch of his bi-colored beets off the table is little short of miraculous. What's more miraculous is that he is but one of only a few vendors that I see at my local weekly stops that A) actually has beets other than red ones, B) has beets with stunningly gorgeous greens and C) has beets with the green still attached, period.
Why farmers hack off those nutrient rich leaves I'll never know. Beet greens are nutritional powerhouses, chock full of Vitamins A, B-6 and C, antioxidants like beta carotene and lutein and they are full of fiber, zinc, calcium, magnesium, phosphorus, potassium and iron. There's no saturated fat and no cholesterol in beet greens, and with a quick saute and a few seasonings, you get a delicious option for your plate. A cup of greens will set you back a measly 10 calories or so.
I recently experimented with Spinach Pesto, much to our delight (and Griffin's chagrin) and so it wasn't without much thought that I considered another go-round of Pesto with the slowly growing pile of beet greens that I was accumulating. A quick search for recipes or methods turned up little on actually making a Pesto with the greens, and not like it's much to consider what with a food processor, some good olive oil, a little garlic and a few seasonings, that I would be well on my way to a glistening dish of green goodness without much of a recipe to follow. Pesto is pesto…. the method is still the same.  I knew the greens couldn't be used raw like spinach can, so I decided a quick sauté was in order.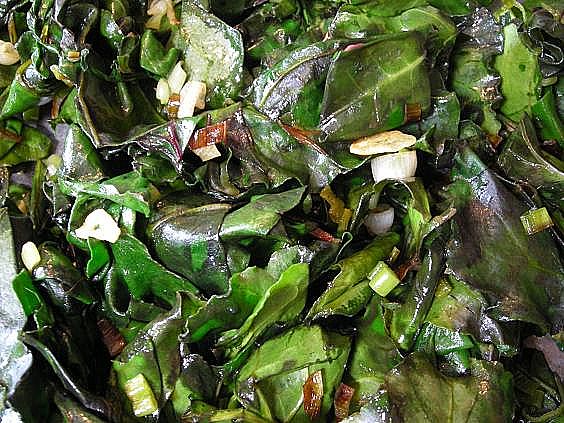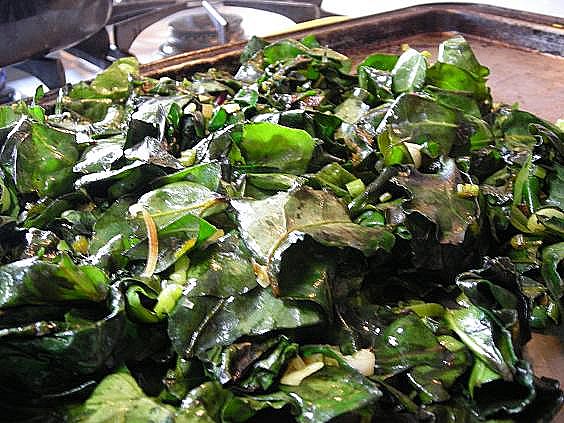 I decided to use caramelized leek and garlic as a good base for this pesto, something that would have a lot of flavor to stand up to the commanding taste of the beet green. After a slow saute to a deep golden brown, I dropped the beet greens into the same pan, stirring and tossing them with the hot leeks, and watched carefully to get them to a point of losing their crunchy texture, but not so far as to make them fully cooked. I left them dark green with some toothsome bite, then scraped them onto a baking sheet to cool. The whole thing was placed in the food processor, with olive oil, kosher salt and fresh ground pepper, then whizzed to the perfect consistency.
Wow. This is one amazing flavor, let me tell you. Perfect for pasta, as would be expected, but also good for spreading on my favorite herb flatbread and topping with an array of roasted and julienned beets, a drizzle of good herb vinaigrette and a sprinkle of nuts.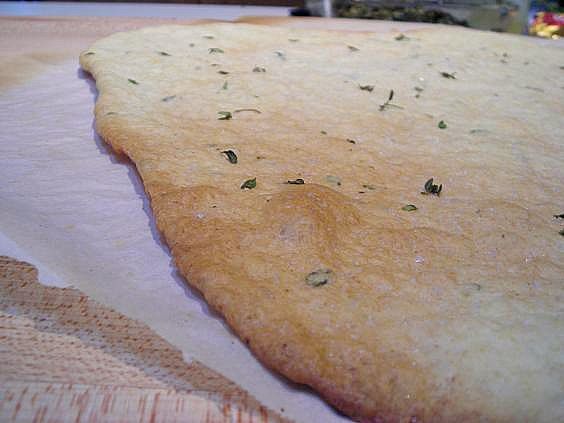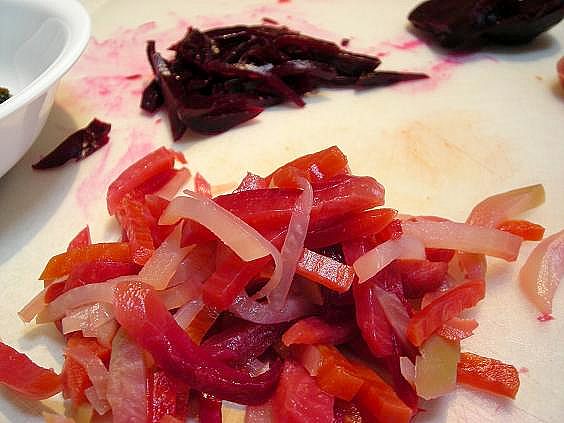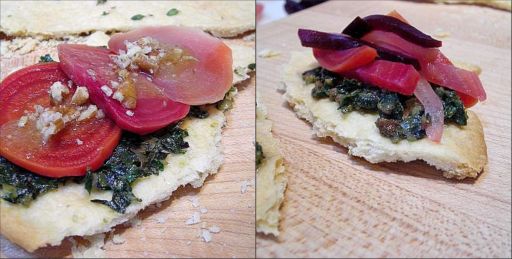 Perfect Herb Flatbread
1- 3/4 c. AP flour
1 t. baking powder
1/2 t. salt
2-3 T. fresh herb of choice
1/2 c. water
1/3 c. good quality olive oil
Heat oven to 450° and place a round baking stone in oven.
Blend dry ingredients, including herbs together in a bowl. Slowly add water and oil and blend until a somewhat stiff dough forms. Turn out onto parchment paper and knead gently about 4 or 5 times to pull the dough together. Roll into a large 10-12″ circle with a rolling pin, sprinkle with sea salt and a drizzle of oil and place, with parchment, on heated stone. Bake for about 8-10 minutes or until browned in some spots. Remove from oven and cool. Do not leave on baking stone or it will continue to bake!
Dough can be divided into smaller portions and rolled out separately to smaller circles.
If you don't have a baking stone, place the dough (on the parchment) right onto the rack of your oven. It may come out a little rippled.
I roasted these beets, wrapped in foil and in a 400° oven until they were nice and tender. The skins slip right off once cooled and they keep for several days in the fridge.