My goodness, I've been MIA on the food posts for a week!! What in heaven's name have I been doing? Playing hooky in the summer sunshine? Ah, sadly no….
Picnics in the gentle July breezes? No again……
Oh yeah….. *sigh*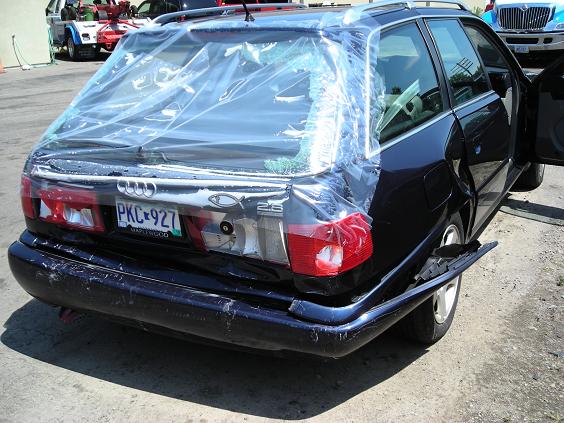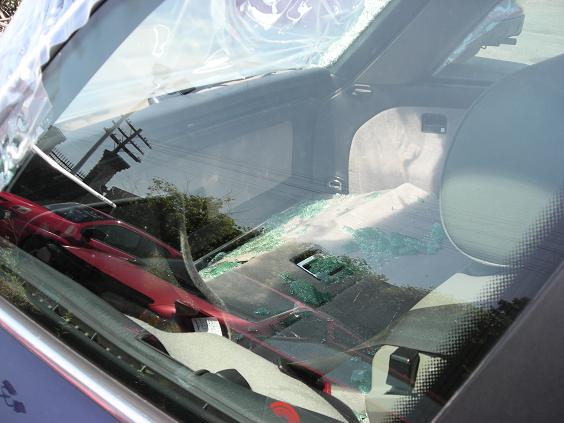 Despite it being high summer, where sunshine and warmth and summer vegetables should be in abundance, instead we've had copious rainfall (a good thing, according to my crunchy grass) cool temperatures and a totaled Audi, our best and most reliable vehicle.
Thankfully no one was hurt. Both Mike and Griffin were in the car and have some very minor whiplash, both completely treatable, but the poor car was a total wreck. The frame was badly bent, the cargo area crushed, the fender pushed under against the wheels and the entire back end twisted to the right due to an unattentive driver who rear-ended it. Our insurance settlement was fair and very favorable, now it's on to focusing our intentions to the purchase of a new vehicle. We loved this Audi, the A6 wagon, and fully intend to get another one, a newer model with lower mileage. Already we've seen some very promising vehicles. And once again, when faced with something difficult and trying, the outcome could have been so much worse and we're really so very fortunate and blessed in that regard.
So there's been my focus for the past week. The Audi was my car primarily, and having to clean it out and leave it at the salvage yard was like saying goodbye forever to a trusted and reliable friend. While it's only a chunk of metal, I really loved it, and it was as close to a dream car as I've ever owned so for a day or two I simply felt heartbroken.
Dinners have been almost an afterthought, and even when effort was made they remained pretty simple; grilled chicken, delicious chicken sausages stuffed with hearty portobella mushroom chunks, some of the first summer sweet corn, grilled eggplant and zucchini and still, lots of hearty summer salads made with tons of fresh vegetables and the nicest greens found from the farmers market. We've done BLT'S, making Griffin nearly dance with joy over the prospect of BACON for dinner, but now that he's off for a week of service with his youth group, Mike and I, once again, declared the house a Meat-Free Zone.
And to celebrate, I made Quinoa, rich with a hearty helping of fresh vegetables.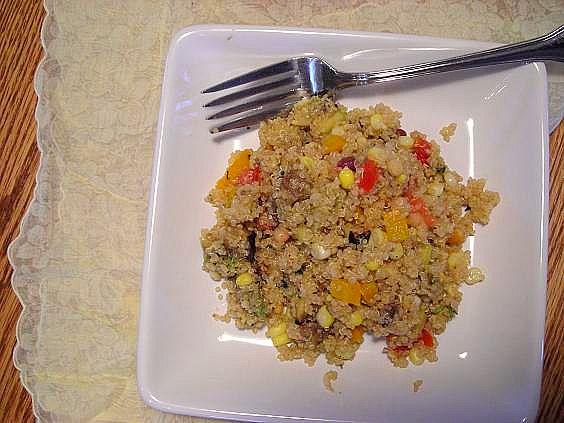 This was one of those dishes made out of the odds and ends that accumulate over a short window of time in your fridge from various meals. I couldn't possibly create it in this same way again, but the idea of it is open to infinite possibilities. All you need is cooked quinoa for the base and the rest is up to your taste, imagination and whatever leftovers you have on hand.
What did go in to this version was about half a chopped red pepper, a clove of thinly sliced garlic, an ear of leftover sweet corn, two slices of grilled eggplant and about four of grilled zucchini (i've been crazy for grilled veggies lately- maybe because of my spiffy new grill???) , the remains of two store-bought deli salads left from a party, half an avocado and four slices of tomato. It didn't need any seasoning but salt and pepper.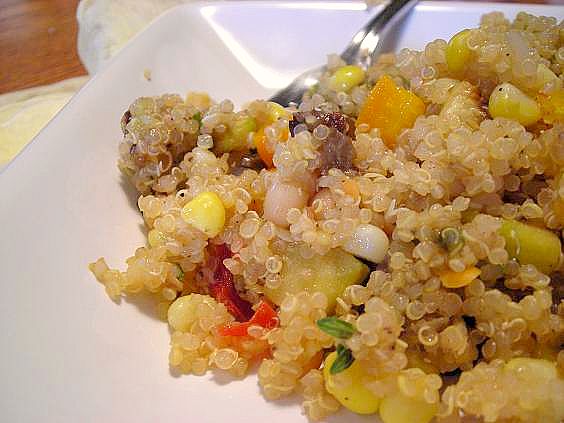 It was a nice dish to enjoy in the company of an attentive and interested cat too….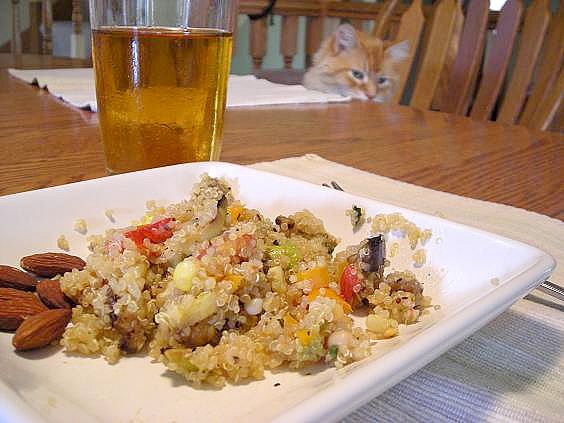 This isn't a whole lot different from what I posted recently….my apologies if repetition annoys you but that post brought forth a few inquiries that were deemed noteworthy to address,  so here's a few good tips……
Cooking quinoa:
Measure 1-1/2 cups of water into a saucepan with a tight fitting lid and bring to a boil. Meanwhile, in a mesh colander, rinse 1 cup of quinoa well, lifting it with your fingers to make sure it gets saturated. Quinoa is a very dusty grain, and although most commercially available sources have already removed the bitter saponin from the outer husk, a thorough rinse is always recommended. When the water boils, add the washed grain and cover the pan, bring it back to a boil then reduce heat and allow to simmer for 15 minutes. The water should be absorbed and small 'eyes' will have appeared in the top of the grain. Remove from the heat and allow to sit for 5 minutes or more to steam. I've left the grain for up to half an hour once cooked with no issues. Steaming is necessary to 'finish' the process.
Grilling Vegetables:
I've had several queries lately about how I grill vegetables, and this will mainly cover eggplant and zucchini as those are my most current obsession.  The key to cooking eggplant is NOT to add too much oil. Eggplant is like a sponge and will absorb an enormous amount of oil which is then released when cooked, turning the vegetable to mush. I cut the eggplant into thick slices and brush one side only with olive oil, usually seasoned with dried basil and garlic. Resist the urge to add more. For zucchini, I cut them into long slices, and as thick as possible. This will vary depending on their size. I brush them with a bit of seasoned oil as well, then sprinkle them all with sea salt and a little pepper and a nice dousing of McCormick's Parmesan Herb seasoning mix. (this is optional, but it's pretty darn good)
I use a gas grill, and this is my method:
Heat your grill on high until it's good and hot, then scrub your grates well with a stiff wire brush. I'm kind of a fanatic when it comes to keeping my grill grates clean, but it keeps them from getting anything gunky or off-tasting on my food. Once they're scrubbed, using a pair of tongs, dip a wad of paper towel into some cooking oil- I use canola- and wipe the grates well to prepare them. The more you scrub them off, the more you need to season. Turn down the heat to low- remember, it's already really hot- and then place the vegetables oiled side down on the grates and shut the lid. Let them cook, undisturbed, for about 3-5 minutes but keep an eye on them. The edges should be curling slightly or showing wrinkles, then flip them over and allow to cook on the other side for about five minutes more. They should be soft but not soggy, and have some nice grill marks.