Mike and I recently had our 7th anniversary. I've posted on the blog in prior years about it, but this time around I enjoyed it quietly. With cake. I'll get to that in due time, ok?
And as a side note, today, August 22nd, is Mike's birthday, my niece Leah's birthday, and my friend Melissa's birthday!! Woot!
Ok, now back to anniversaries, the untraditional, and of course, CAKE.
Someone asked me what gift coincided with the 7th anniversary, and I had to pause a moment to recall what they were talking about. Apparently each year has some sort of meaning in terms of the gift you give, and seriously,  who does this anymore? If you're at all interested in what each year should entail, check this out. The 7th anniversary, according to that chart, should be either Wool, Copper or a Desk Set.



I'm stunned at the romance behind that.
My husband is not a gift giver, and I don't know that I've met anyone who has more anxiety and trepidation over getting someone a gift. It just isn't his thing. If you're one of those people who think that no special occasion is complete without a pretty wrapped package, you might have some trouble with this mentality, and admittedly, it was a somewhat tough reality for me to accept at first, but Mike has shown me in the eight years I've known him that the best gift he can give me resides within him, not in some store. He gives me his heart and his love on a daily basis. No brightly wrapped box will ever come close to that. Although in years past I have asked for a few items- a simple bracelet, a 5th anniversary ring- what I get from him every day comes without a price tag, and all year long. I would take that over a thousand red roses, a paper card or a shiny trinket because it really is so much more vital to a happy union than some expected token given out of a sense of obligation.
So I didn't get an anniversary gift, not in a box, wrapped in paper, with a bow anyway. I got this…..
……for the rest of my life. That's an awfully spectacular gift.
But there has to be cake. It is, after all, the best of celebrations, the finest excuse to kick up our heels and revel in what we share. And because there is little convention to our celebrations, what with the absence of pretty packages, the cake we shared should also bear little resemblance to those towering stacks of genoise, layered in thick cloying buttercream that are often represented at your standard party.
So I made a Flourless Honey Almond Cake.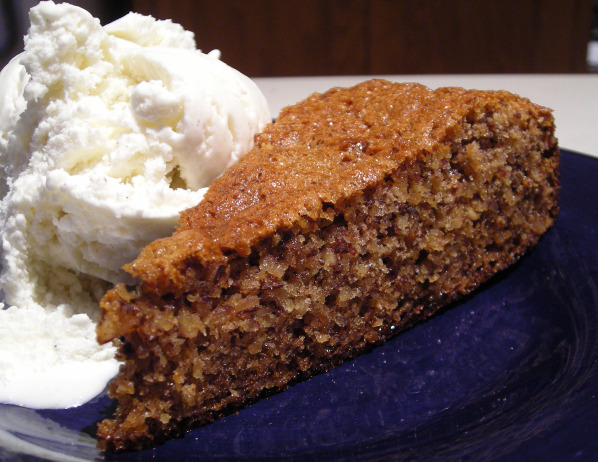 This cake, from the April issue of Eating Well magazine, caught my eye immediately when I first read about it. I like a good cake that is versatile, a slice being perfect for a quick light snack or dressed up with vanilla bean ice cream for a more glorious treat. The cake is light and deeply nutty, using ground toasted almonds for the base that is then fluffed with beaten egg whites. Although I was expecting something a bit sweeter due to the honey, and it was delightful as it was, I imagined a version with orange zest and juice to give it just a little more personality, some more 'Hey, Look at Me!' kind of taste. It was the easiest cake to put together. My new springform pan worked beautifully too.
Flourless Honey Almond Cake
1-1/2 c. toasted whole almonds
4 large eggs, room temperature and separated
1/2 c. honey
1-1/2 t. pure vanilla extract
1/2 t. baking soda
1/2 t. salt
Topping (optional)
Honey and toasted sliced almonds
Heat your oven to 350°. Spray a 9-inch springform pan with cooking spray; line bottom with parchment paper and spray paper. Process the whole toasted almonds in a food processor until finely ground. It's ok if there are some larger bits, it makes for a delicious texture.
In the bowl of your mixer, beat the 4 egg yolks, honey, vanilla, baking soda and salt on medium speed until well combined. Add in the ground almonds and mix to incorporate. The mixture will be very thick and sticky.
In a separate bowl, and with clean beaters, beat the 4 egg whites until they become very foamy and double in size, but not to a point of holding stiff peaks. You want them to be firm, but still loose. Turn off the beaters and push them gently through the whites; the whites should be firm enough that the beaters make ridges yet still fall away when you stop.
With a rubber spatula, gently fold the egg whites into the almond-honey mixture until just combined. Be sure to scrape the bottom of the bowl as you fold. Pour batter into prepared pan and bake on center rack of oven for 25-30 minutes. A cake tester will come out clean and the top will be golden brown. Allow the cake to cool in the pan for 15 minutes, then run a knife around the edges and release the spring. Cool the cake completely before removing the bottom part of the pan.
Serve with vanilla ice cream, yogurt or fruit topping. Or just eat it plain.