Banana bread? Oh yawwwwwnnn……seriously?
Oh my yes! Seriously!
If you are at all a fan of a good banana bread, one that smells perfectly banana-y, is superbly moist and tender, with the added attraction of caramelized banana pieces on top- yes! on top!- of the bread, then you really, I mean, really need to give this recipe a whirl. I love a good banana bread. I mean, since I was a kid I have loved banana bread and I have always been a stalwart for my Mom's tried and true recipe that I've rarely ever strayed away from, but oh do times change, and tastes mature and now, with this recipe and it's 8 bananas….yes, no typo there folks…. I'm pretty sure that even my Mom would be nodding in approval. And snatching another piece, maybe feigning indignant hurt that I've strayed, with her mouth full.
This recipe comes from the Huckleberry Bakery and Cafe in Santa Monica CA. No, I haven't been jet-setting across the country to bring you a new and agonizingly delicious banana bread recipe, I just happened to be browsing the LA Times food section and came across this. One glance and I was sold. Eight bananas, people. Eight. And poppyseeds. And dates. And did I mention the eight bananas?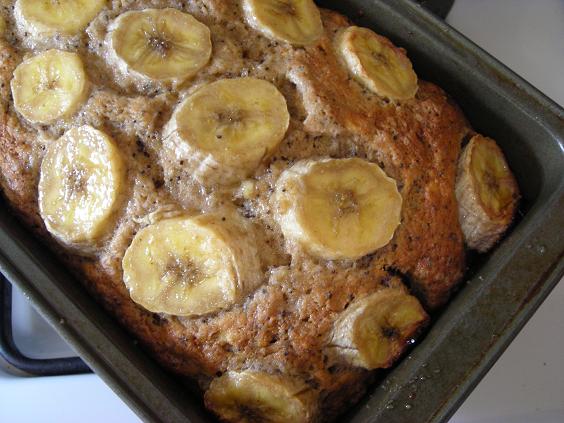 So besides the abundance of fruit, the sugar sprinkle across the top that melts and gets gooey brown and fabulous in the oven and the pockets of tender dates baked into the loaf, just what makes it so good? For one thing, you whip the butter and sugar until it's barely recognizable as such, creating a base layer that just shouts out it's fluff and tender personality. It's loaded with vanilla. There's sour cream and some poppy seeds. It's like a whole adventure in texture, taste and crumb, and a day or two on the counter only intensifies it's beauty. I'm a goner. Better crank up the cardio if this one sticks around, because I foresee it sticking to many spots I may wish to ignore before too long. Restraint, where art thou???
Banana Poppyseed Loaf-
From The Huckleberry Bakery and Cafe, Santa Monica CA (and the LA Times newspaper)
3/4 c. butter, softened
3/4 c. sugar
1-1/2 c. AP flour
1-1/2 c. whole wheat flour
1-1/2 t. baking powder
1-1/2 t. baking soda
3 T. poppyseeds
1 t. salt
5 ripe bananas, plus 2 fresh bananas (divided)
3 eggs
1 T. vanilla extract
1 c. plain or vanilla yogurt
6-8 oz. chopped dates (most pkgs are 8 oz; I used the whole pkg)
Heat oven to 375°. Spray two loaf pans with baking spray.
In a medium bowl, whisk the flours, leaveners, salt and poppyseeds together. In your stand mixer or with a hand mixer, cream butter and sugar until very light and fluffy, about 5 minutes. Don't skimp here. Make it really airy and light. Add eggs, one at a time, and blend each one well. In a separate bowl, mash the 5 ripe bananas well and stir in the vanilla. Spoon into the butter mixture and blend well. It will look kind of curdled but don't fret. It all comes together. Mix in the yogurt until incorporated then gradually stir in the dry ingredients. Fold the dates in gently.
Divide the batter between the two loaf pans and smooth the top. Slice the other bananas into 1/2″ slices and line the top of the batter with them, pressing them down slightly. Sprinkle the bananas with sugar of choice. A good raw sugar would be nice, or a flavored version if you have one. I used a pistachio sugar.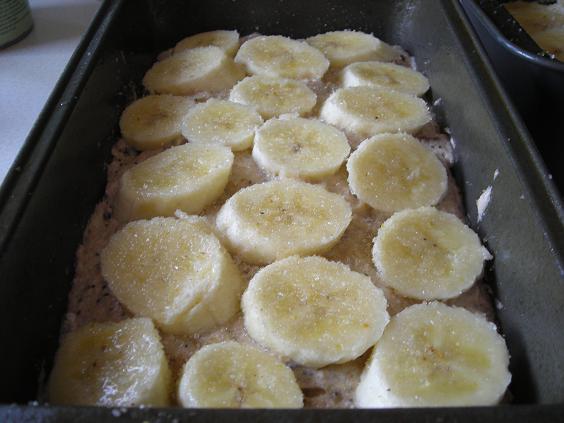 Bake the loaves for about an hour, rotating them halfway through. Check at around the 50 minute mark for doneness. Use a wooden skewer if necessary. Cool loaves for about 20-30 minutes in pan, then run a knife around the edges and unmold the loaves onto a cooling rack. You may have a banana piece drop off in the process. Bummer. Better eat it.
Sift powdered sugar over the top if you wish, but I didn't. It doesn't need it. Indulge. Enjoy. Live the banana joie de vivre!