November has come, and we've been treated to a few simply glorious days. The sunshine is most welcome here, since October winds and rain stripped the trees barren before we had our customary chance to oooh and ahhh over the coloful glory. The tone of the land is now that of bleached straw and flat brown; the deer that roam our neighborhood melt into the backdrop like a thief, vanishing in a blink.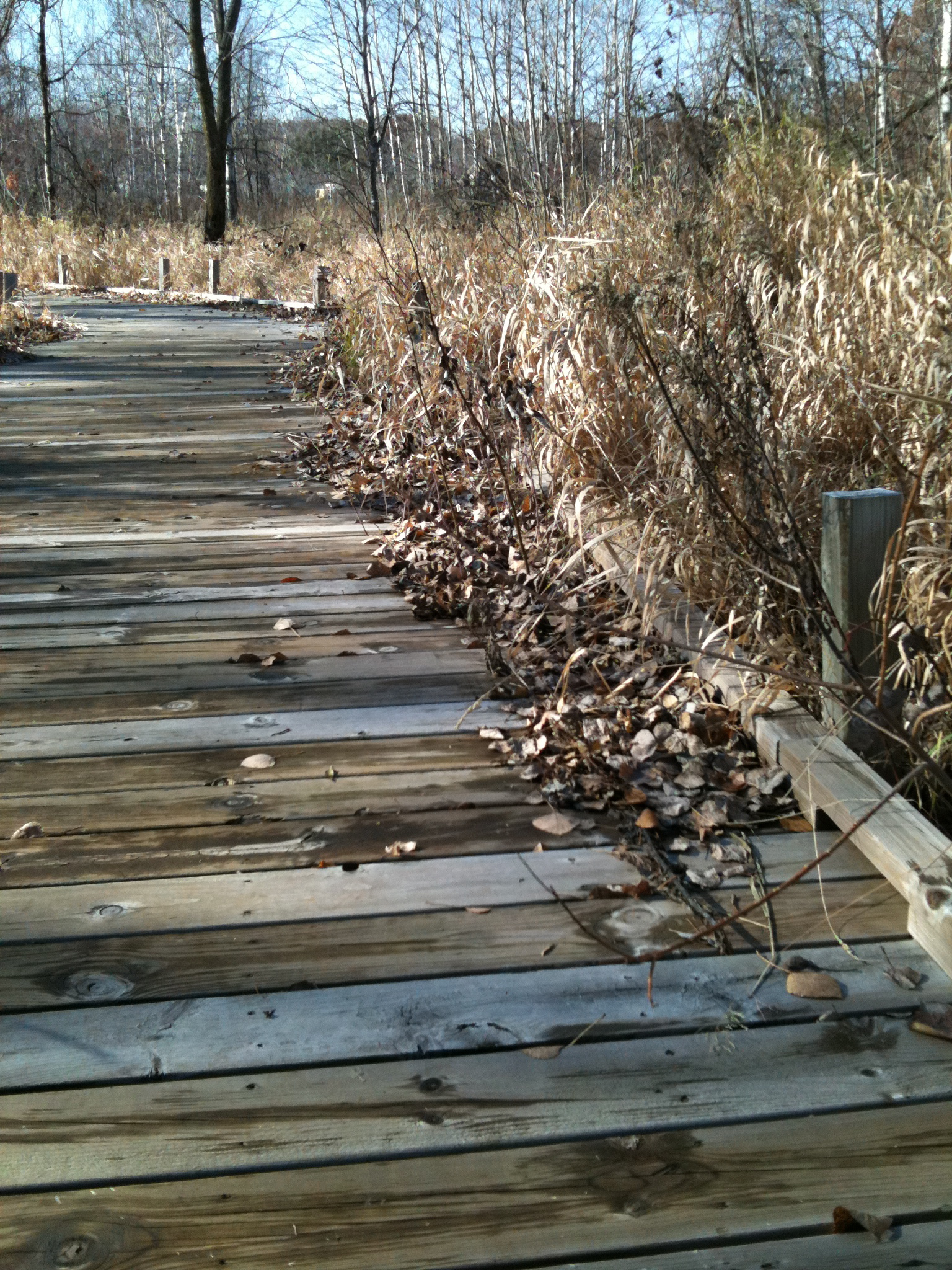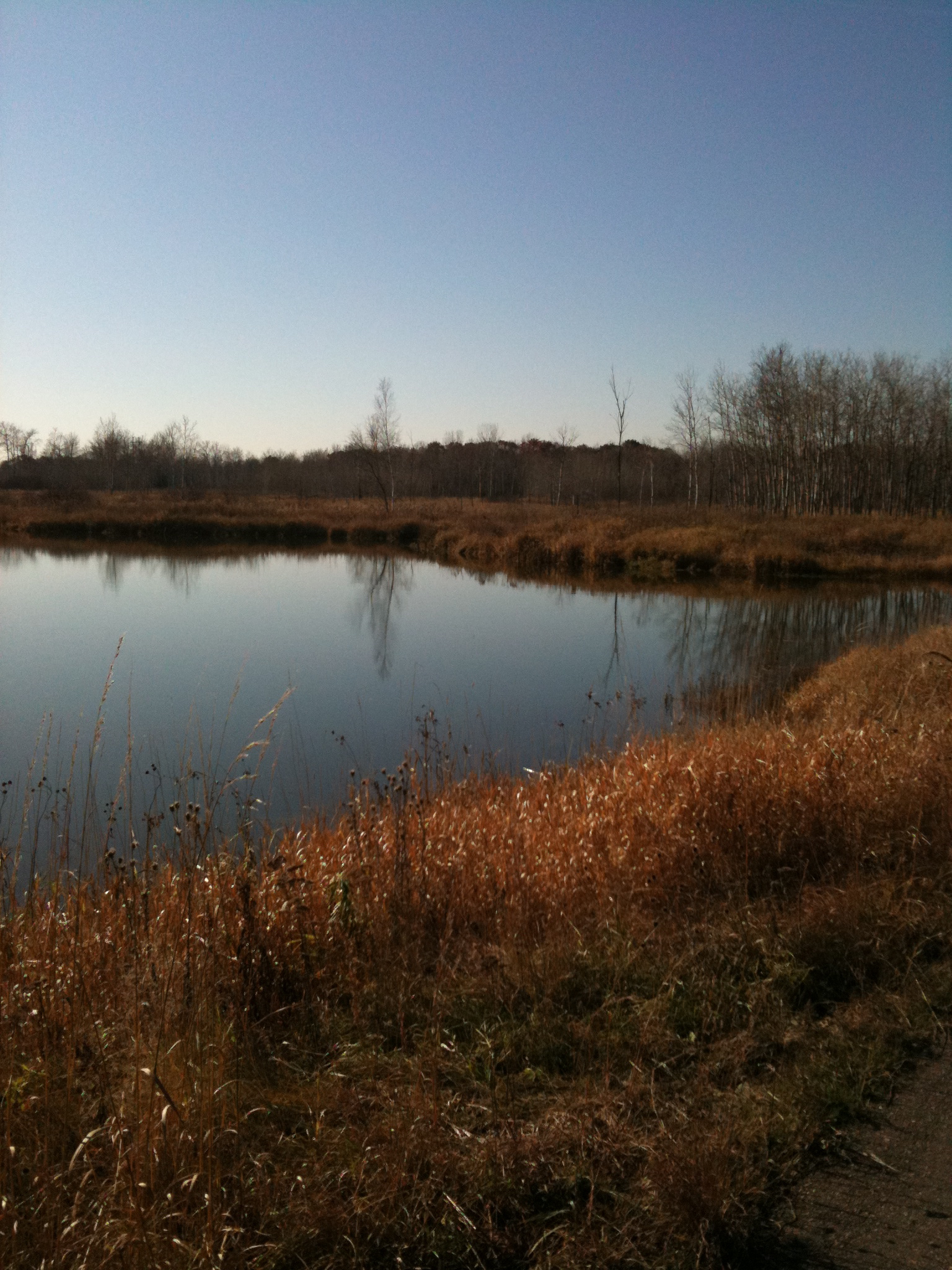 This little guy was quite languid and uninterested in my trespassing on his sun-bathing path. He even let me stroke his leathery skin before he casually twisted his way into the leaves to continue sunning himself.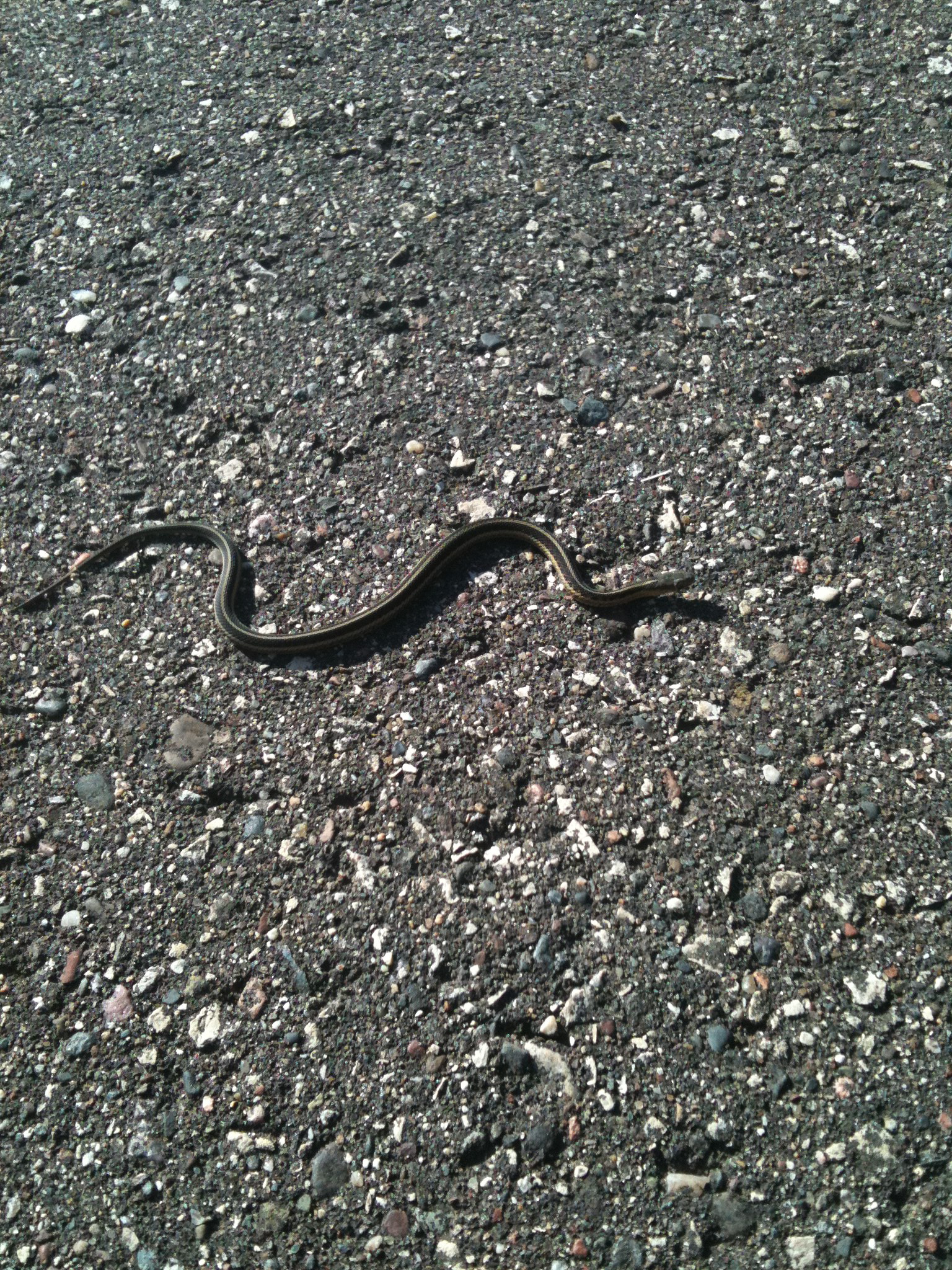 Yet even with these brilliant sunshine-y days, Daylight Savings Time and the calendar both make the late afternoons chilly, and those warm cozy meals are even more appealing.
I'm not one to think that feeling under the weather is all that productive -who does?-  but on a recent day, I found myself feeling uncharacteristically blah and lacking energy to do much, which resulted in a long period of time under a blanket on the couch, a cat curled up contentedly on me while I precariously balanced my computer to occupy myself with recipe searches. An hour and a half later, I did manage, with some appropriate groaning and sighing along with the displacement of one unenthusiastic feline, to pull myself to a sitting position, and there was a stack of papers almost an inch thick on the printer that made all that time worthwhile. That's the kind of down-time productive one can appreciate. And one of those highly anticipated papers, the best kind that float around my kitchen, papers lush with promise and anticipated flavors and not a payment of some type being sought by the outer world, this thick and comforting stew filled that early afternoon darkness with warm and intoxicating smells, a bubbling pot of seductive chunks of squash and flavorful stewed beans that managed to make me feel a lot better, at least in returning some of my energy.
Mike always knows that something wonderful is happening in the kitchen when I haul out this old and beautifully seasoned cast iron stockpot. Just dragging it out of the cupboard is quite the workout. I think if it wasn't on a upper shelf I might not be so fearful of it.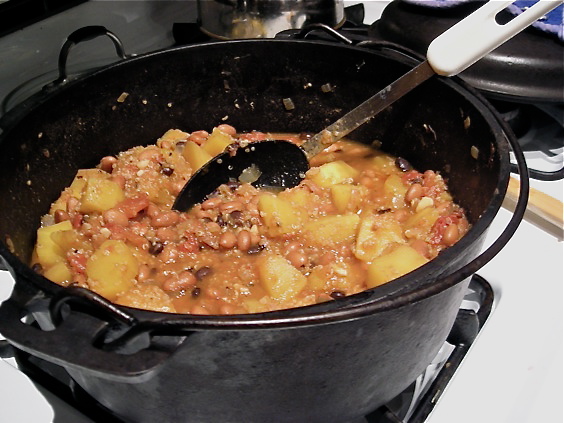 This recipe calls for using dried beans, but rarely do I have enough foresight into my dinner preparations to put a bag of beans to soak the night before, so I used canned pinto beans instead. And although I did have to put myself through that most tedious kitchen task of peeling the acorn squash, I approached it calmly and without the usual hair-pulling hysteria that surround the words "Peel and chop one medium hard squash" Can somebody out there give me an amen? Thanks. I know I'm not the only one who despises certain culinary obligations. That probably includes soaking dried beans, since I hardly ever do it.
This recipe, with it's canned bean option, comes together really fast if you don't count tackling the squash. A quick saute of onion and garlic, then you stir in the rest and let it simmer until the squash is tender. When the quinoa shows you it's adorable little curlicue thread, call out the diners to gather and spoon up a thick and fragrant bowl.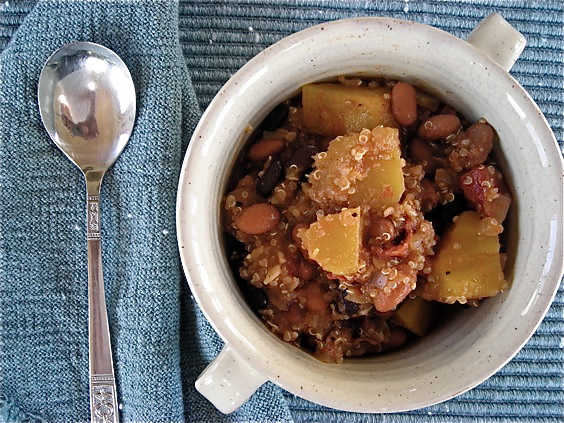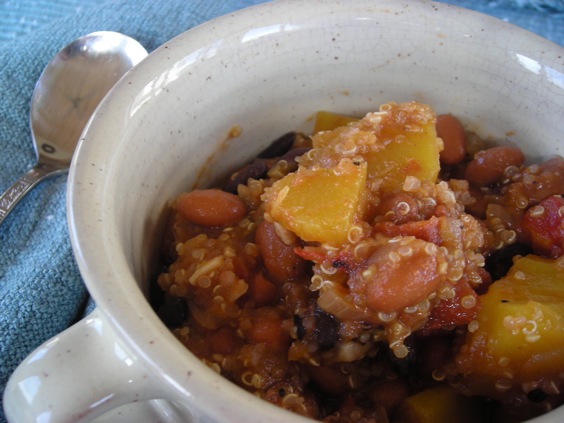 Andean Bean Stew with Winter Squash and Quinoa
from The New York Times, Recipes for Health and Nutrition, Nov. 2008
1 winter squash of choice, peeled and cut into 1/2″ chunks
2 cans pinto beans, drained and rinsed
1 medium onion, chopped
1 T. sweet paprika
4 garlic cloves, minced
1 can fire-roasted tomatoes, with liquid (use regular if you don't have these available)
1/2 c. quinoa, rinsed well
1 bay leaf
3 T. chopped basil or parsley
In a sturdy stockpot, brown the onion in oil of choice, about 10 minutes or so. Add the paprika and stir to coat, cooking for a minute. Add in garlic and stir, cook for 30 seconds or until very fragrant. Add in tomatoes and their juice and cook for a few minutes to combine flavors. Stir in the beans and squash. Fill the tomato can with water and empty into the pot. The solids should be only just covered with liquid. This is a thick stew. Add more if necessary and put the bay leaf in the pot. Bring to a boil and then allow to simmer, covered, until the squash is tender, but not thoroughly cooked- 30 minutes or so. Stir in the quinoa and simmer until the grain is translucent and the tiny thread appears- about 10-15 minutes more. Season to taste with salt and pepper. Serve topped with basil or parsley.
This stew, like many, becomes more flavorful as it sits. It also thickens substantially. Add a little water when reheating.