Beyond the sugar, flour and butter of a good cookie, beyond the proper pan, the parchment or silpat on top and the tried and true recipes, even beyond the cookie jar on the counter, rubbed and worn from decades of hands reaching for it, cookies have become infused as a part of me from as far back as I can remember. Thanks to my mom, for certain.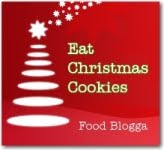 Hey Everyone! You know what time of year it is, right????
Any amount of time in my little obscure corner of the blogging world and you know that my love of baking goes deep. And long. I've eaten all manners of cookie; any and all types have passed these cookie-loving lips, of all shapes and sizes and styles and colors and proportions. I've had chocolate chip a thousand different ways and oatmeal cookies to swoon over. I've had double chocolate rebels and chewy chocolate bites and thumbprints of all manners and madelines that melt in my mouth. I've had cakey chocolate drops covered in mocha frosting that nearly made me faint. Gingersnaps both chewy and crisp, macaroons both airy and dense and cheesecake cookies scented with lemon. I've had exotic varieties from other lands, sugar cookies of all kinds and shapes, cookies with seeds and nuts and sprinkles and colored sugars and tiny hard candy dots, out of bags, boxes and freezer cases. With one bite I know whether you've used butter or not, whether it was built from a recipe or cut from a pre-made log with a brand name on it. I know my cookies. And I think the one item missing from my life, my kitchen and eventually, from my son's memory is a cookie jar standing on the counter, ready for the next best cookie to fall into it's fathomless interior. For whatever reason, we don't have a cookie jar. I love my kitchen, the room where magic occurs and genuine smiles are formed, but my counter does not hold that memorable item.
I'm imbued with the scent of baking cookies, brought on by a lifetime of saturating myself in the process of making them, the rhythmic scooping, the whir of a mixer, the flour covered countertops that result in a hot tray of tiny fragrant orbs that's sole purpose is to coat and soothe an otherwise hectic life down to a manageable roar. I recall days as a child where the call of the cookie jar would pull me forward, the familiar squawk of the metal lid being pulled off our old worn canister as I eagerly plunged my hand in to bring forth Mom's comfort and salve. I would indulge until spent, broken and weary from the sugar high but otherwise calmer than when I entered her kitchen, bent on seeking a balm for what ills I had endured. From my cookie coma, I often wished to simply slip to the floor and lay in the sunshine, brushing the crumbs from my face. Likely I just lay my head down on the formica tabletop. If I thought of anything at all, it was when I would feel ready to eat more. My Mom knew that her cookies were our Achilles heel; she knew what each of us liked and didn't like. She knew how she could draw us to her by simply announcing that she was baking cookies. She just knew. Through chocolate chips and chopped dates and broken nuts and some old worn cookie sheets warped with age and use, she could reach to us across any barriers we tried to put up and give us a piece of her heart. Mom was not so demonstrative with her love, but she made us cookies, and in turn, it gave me the first of many glimpses into the divine dance that occurs when one cooks for someone they love. She taught me to bake cookies and it taught me how to take care of someone's heart. I make cookies for my family, but what I might be trying to do, at least in spirit, is to awaken in me the memory of her, to keep her alive and beside me, along with grasping a moment where my own child runs to my side, eyes gleaming and smiling wide to take in the cooling rows of cookies. To watch him eagerly reach for a handful, to see him dip into the container that holds them, eyes shut in his delight as he takes a bite is to see pure love.
[[All right, want the mother-lode of Cookies?? More than you can imagine?]]
Christmas comes, and in my life there's a cookie exchange each year. I always want to offer something new and different, more to stretch my own concept of a cookie than anything else. There are endless variations to be formed through a bowl and a tiny scoop, or sliced from a chilled log. All manner of ingredients can be used. What's important is the memory and feeling behind pulling out the stand mixer, getting down the ingredients, the smell of the oven and a hot tray of blissful bites on the counter.  This year, just prior to my annual baking frenzy, my tiny cookie scoop was broken and my search for a suitable replacement was futile. These slice and bake cookies saved the day. And opened my eyes. Life's little surprises, in the shape of a sweet morsel in your fingers, continue to roll forward.
Earl Grey Cookies (bottom left in the photo above)
(courtesy of Shannalee at Food Loves Writing, and everyone's friend, Martha Stewart)
2 c. AP flour
2 T. finely ground Earl Grey tea (from about 4 teabags. Can be crushed in a baggie with a rolling pin, or in a blender or coffee grinder)
1/2 t. salt
1 c. (2 sticks) unsalted butter, softened
1/2 c. confectioners sugar
1 T. finely grated orange zest
Whisk flour, tea and salt in a large measuring cup.
Place butter, sugar and orange zest into bowl of a stand mixer. Mix on medium speed until pale and fluffy, about 3 minutes. Scrap the bowl occasionally to insure uniformity. Reduce speed to low and blend in flour, only until incorporated.
Divide dough in half and place each piece on parchment paper. Shape into logs and place in fridge until firm, 2-3 hours. Dough can be chilled overnight too, and frozen for up to a month.
When ready to bake, preheat oven to 350° and line two cookie sheets with parchment paper. Remove dough from refrigerator and slice into 1/4″ slices. Place on cookie sheets and bake for 13-15 minutes, or until browned at the edges. Cool on sheets on wire racks. Store in airtight containers.
KATE'S NOTES: The Stash tea I used came very finely ground already. I did not have to crush it any further. I strongly recommend a good quality tea for this cookie. Don't fear the tea leaves in this cookie; the flavor of these is fresh and lovely, chock full of orange essence. The tea is barely noticeable. I am certifiably crazy about this cookie. As soon as the last one was gone, I wanted to make another batch and I better hurry up and do it quickly before I drink up all the delicious tea.
Vanilla Spice Cookies (top right in the photo above)
(from Shannalee again)
1/2 c. butter, softened
1 c. firmly packed brown sugar
1 egg
2 t. vanilla extract
1-3/4 c. AP flour
1/2 t. baking soda
1/4 t. salt
1/4 t. ground cinnamon
1/4 t. ground cardamom
In the bowl of a stand mixer, beat butter at medium speed and gradually add sugar, beating well. Add egg and vanilla and blend. In a separate bowl, combine flour, soda, salt and spices. Add this to the butter mixture on low speed and blend only until incorporated.
Shape the dough into two rolls, about 12 inches long. Wrap in parchment or wax paper and chill until firm, 2-4 hours or overnight.
When ready to bake, heat oven to 350° and line cookie sheets with parchment. Unwrap rolls and slice into 1/4″ slices. Place on cookie sheets and bake for 10-12 minutes. Cool on wire racks and keep in airtight containers.
KATE'S NOTES: I added extra cinnamon and cardamom to these to amp up the spice flavor. They tasted like Chai tea and were just lovely.