Boursin, people. Boursin cheese. Rich, creamy and speckled with herbs. Melted and mixed with fresh spinach, topped with crunchy bread crumbs and baked to perfection. Ultra-satisfying and delicious. But strangely, I took a bite and swore I'd had it before, sometime far and long ago though. I know it wasn't recently, and I'm pretty sure I was quite young, but the flavor of this was familiar in that misty, distant fashion that reeks of deja vu.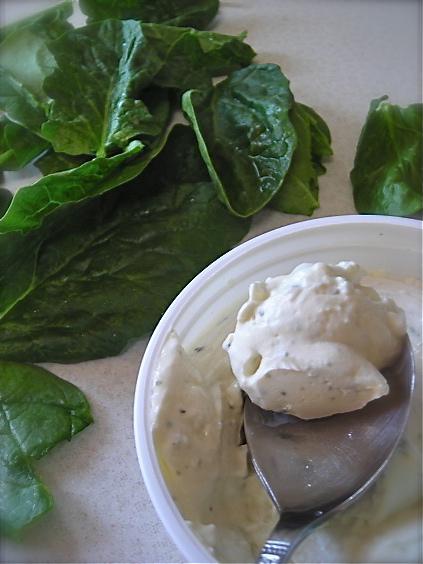 On my birthday in early March, we dined at a restaurant where perfectly cooked rotisserie meats were the star, and along with the meltingly tender chunks of meat that graced our plates, Mike and I selected a side of creamed spinach that was equally blissful. The spinach was tender, perfectly cooked and  in a delicious bath of smooth, lightly seasoned sauce. I remember sighing sadly as the last bite was scraped from the dish, and it was so blissful and perfect that I dreamed about it for days afterwards. Who dreams of creamed spinach? Especially since it was the first time in my life that I've eaten it. Yes. First time. I fell hard I guess. I'd seen numerous recipes for it, chock full of decadent heavy cream that made my arteries cringe away in fright. Not that Boursin cheese is any different; folks, this dish is rich like an oil baron. But given the richness of the added Boursin, I knew I wouldn't need heavy cream to make it. In fact, I think having heavy cream, which the original recipe calls for, would make this dish a bit too much. As it is I could only manage a few mouthfuls, complete with much eye-rolling, and heavily satisfactory sighs. Heavy cream AND Boursin? Sometimes, you can have too much of a good thing.
Of course, any dish where there is delightful browned, butter drenched panko crumbs gets an enthusiastic thumbs-up from this girl. I find myself making up excuses to brown myself a pan of them, fluttering them through my fingers to grace the top of just about anything, then gleefully slurping the rest from my hand. Something about their delicate crispness just makes my mouth happier. With this spinach, they form a nice crust on top of the gratin as it bakes, adding a polar opposite element to the smooth creamy base and lovely al dente spinach.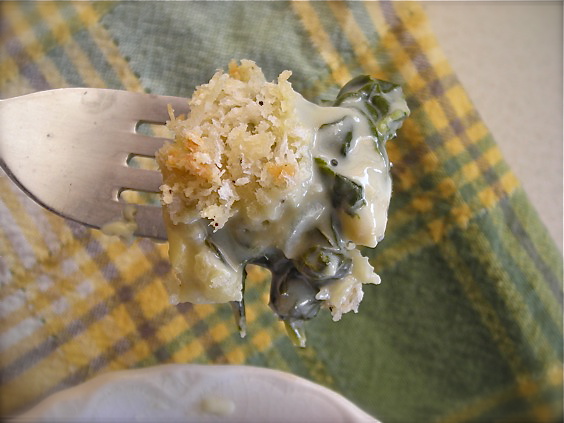 While this isn't exactly the lightest of Spring fare, and I certainly wouldn't want to drench the upcoming fresh spinach crop under such a disguise, I am glad to know that for a cool night I have an option to set my mind dreaming once again.
And maybe more importantly, keep it there for good. Does the idea of Boursin cheese make you swoon too? Tell me how you love to eat it, and to offer you another decadent side dish, please check out Chris' Ultimate Boursin Mashed Potatoes.
Boursin Spinach Gratin
From Spring 2010, At Home with Kowalski's magazine. Heavily adapted by Kate
1 bunch fresh spinach, destemmed, washed well and spun very dry
1 t. unsalted butter
1 small shallot, minced
3 T. AP flour
1-1/2 c. plain soymilk (alternately, use 1 c. skim milk & 1/2 c. heavy cream)
1 pkg Boursin Herb and Garlic cheese,  5.2oz
3 T. fresh shredded parmesan, or other hard cheese of choice
1 t. lemon zest
2/3 c. panko bread crumbs
1 T. melted butter
Salt and pepper to taste
Heat oven to 425°
In a medium oven proof skillet with a cover, melt butter and add shallot, cooking and stirring until soft, about 5 minutes. Stir in flour to coat and then slowly begin whisking in milk until fully incorporated. Stirring constantly, bring sauce to a gentle simmer to thicken, then add in Boursin cheese, a small amount at a time, until all of it is blended into the sauce.
Drop a handful of spinach leaves into sauce and stir to coat. Add more, a handful at a time, until all spinach is mixed well with the sauce. Bring to a simmer, cover and simmer for about 5 minutes. Mix panko, salt and pepper and melted butter, sprinkle over top of spinach and place pan, uncovered, into oven. Bake for 10 minutes, until bubbly and crumbs are browned. Remove from oven, allow to cool slightly (remember that pan handle is HOT!) and serve immediately, sprinkled with parmesan cheese.
Alternately, mixture can be divided among smaller ovenproof ramekins to be baked. Divide spinach into ramekins before topping with bread crumbs. Baking time will be shorter.