I was pretty excited to be on the invite list for Crispin Ciders 'Cider and Sliders' dinner at Firelake Grill House in the downtown Minneapolis Radisson. My experience with hard cider, the one that I'd had anyway was not the best, and I was wary enough of the brew to avoid it for the most part. This dinner was anticipated as a chance for me to learn more and understand hard cider, and by the end of it, hope to be won over fully. Oh who am I to kid? I was a fan with the first sip of the drink handed to me when I walked in the door. I'm such an easy pushover.
My only apprehension for this gig was that I was flying solo. My invite came at a late enough date that finding someone available to go with me was kind of a joke. But the friendly people of Crispin were more than welcoming to me, and I discovered some Twitter friends there to share a table with so I didn't end up dining alone. This was a six-course meal, each paired with a different cider. I expected to be fully on the floor from all the imbibing. Thankfully, that didn't pan out either. Hard cider isn't especially high in alcohol, designed more for enjoyable consumption than sheer, all out drunkery. Thank goodness. The first glass set down in front of me was huge.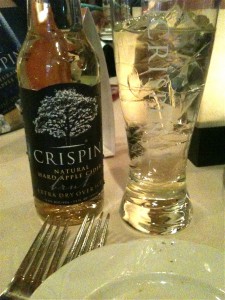 (please pardon the fuzzy shots. It wasn't the cider. I'd forgot my good camera at home)
And the plate that followed took my breath away.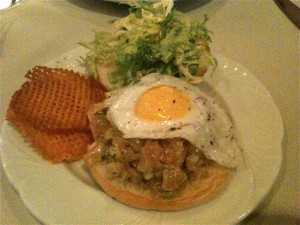 The first course was a cold-smoked lake char tartare, topped with a fried quail egg and frisee on a potato bun spread with a mustard vinaigrette. Two delicate and ultra delicious sweet potato chips accompanied it, but the tender tartare melted in my mouth, as the egg dripped over it leaving a wonderful flavor in my mouth. The bun was super soft and tender as well. Paired with this delicious start was Crispin's Brut Cider served over ice. It was lightly effervescent, crisp and juicy. It was one of those drinks that I know I would deeply enjoy on a hot day, so refreshing and thirst-quenching.
Then our server set down the most gorgeously hued liquid in front of me. Lake char tartare? What? I was so taken with the color that I could hardly remember what I'd just ate.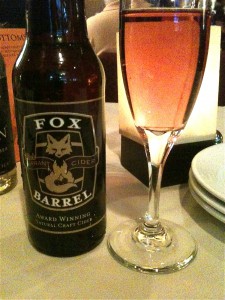 Fox Barrel Ciders, partnered with Crispin, were also presenting some of their beverages, the first being this beautiful Black Current Cider that shimmered in my flute. It was a sight for the eyes and a delight for the tongue, lush with berry flavor and again, light and easy to drink. It was paired with an incredible little plate.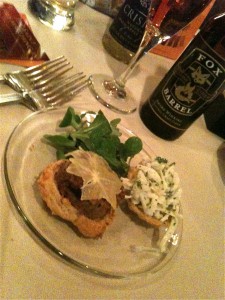 While I did make it through all six courses of the night, I could have stopped with this one and never known any difference. This was a gorgeous duck confit served on a chive gougere spread with spiced alder plum jam and topped with pickled starfruit and an incredible jicama slaw. The gougere was perfect, the confit rich and deeply flavored and the whole combination was perfectly balanced, a lovely dance in the mouth. This easily was the star of the menu, even with four more plates to go.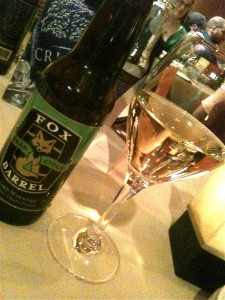 If I had remained a skeptic at this point, the third cider offering would have knocked me over the edge. It was the most beautifully flavored pear cider, rich like a opulent wine, coating the tongue with fruit like you were biting into the ripest pear you've ever tasted. It was gorgeous in color and I could have sipped up the whole bottle. Self-restraint was high, but seriously, I can't imagine a better summer sipper than this light and delicious cider. I was so taken with it, admiring it and sipping it with my slider that I suddenly looked down and gasped.
It wasn't the alcohol that was getting to me, as the pear cider rolled over my tongue with barely a 4% content. I'm pretty sure I was just reveling in how exciting and delicious these beverages were. The third slider was probably my least favorite, but not because the flavors weren't great, but it was unbalanced. An herb focaccia was topped with house-cured pancetta, oven dried oyster mushrooms and a tomato confit, then served with a generous chunk of Bent River Camembert. The focaccia, tender and quite savory, overpowered the pancetta, and the cheese, although rich and delicious, was too much for the thin pancetta. I did like the mushrooms, but they were almost an afterthought. The cider, however, stole the show on this third round.
We moved on to meatloaf.
Yes, meatloaf. The best slab of meat that's passed through this born and bred Minnesotan. This girl knows meatloaf, and Chef Paul Lynch's use of boar, bison and wild turkey made a tiny slab come alive with meaty goodness. Served on a pretzel bun, this meatloaf was topped with Crispin braised sauerkraut and shaved apple, smeared with brown mustard. It was an incredible germanic combination. I am not, nor ever have been a fan of sauerkraut, but I am telling you, if I can learn to make it in this fashion, I actually might be able to call myself a fan. It was sweet, slightly sour and crunchy beyond belief. The pretzel bun was salty and perfect, capping off a perfect little handful of meat-love. It was served with Crispin's basic cider; beautiful, full of flavor and easy across the lips.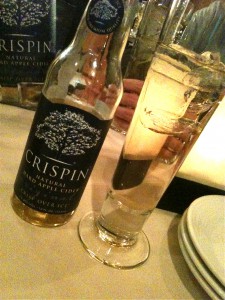 Still two more courses to go, and the fifth cider set down before us was a gorgeous Honey Crispin Artisanal cider that tasted like a stronger version of what any perfect apple cider should be. It was lush and flavorful, making me think of crisp Fall days, the bite and snap of a ripe apple, touched with a tiny hint of honey. When you lift this glass to your nose, the sweet scent of honey reaches you, making you wonder if it's going to be cloying in it's sweetness, but the first sip is just apple and nothing more. The honey hints in the aftertaste, leaving a nice sweet note in the back of your throat. It was served with a lovely lamb burger, thick with feta and coriander, served with escarole and olive mayo, along with a tiny order of perfect fries.
While I am not often a huge fan of lamb, this was quite flavorful, rich with the coriander. The brioche bun was perfect, with a tender crumb and delicate flavor. I loved the fries, so perfectly cooked.
Our last course was a tasty fritter, shaped like a large donut hole, made from Grains of Paradise and scented with cider. It was split and filled with farmers cheese and served atop a thick smear of caramel that took my breath away in it's smoky, dark taste.
It was sweet, with the perfect touch of crunch and rich with the smooth warm cheese. Paired alongside was a new Crispin varietal, The Saint artisanal cider that was brewed with Trappers yeast to give it a light beer-like touch. Sweet and perfectly matched to the rich caramel, it was an amazing end to a very eye-opening night in which I learned so much, and tasted so happily. Call me converted, no longer wary, and actually excited to branch out and experiment a bit more.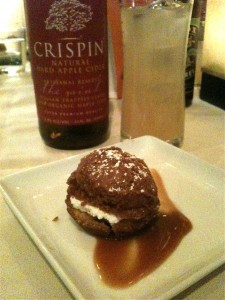 Many thanks to Ben Heinemann at Roepke PR for the gracious invite, and to Joe of Crispin, and Bruce of Fox Barrel for their generosity, information and general conviviality.
{{FDA Disclosure: I received admission to this event free of charge and was not compensated in any way by either Roepke PR, Crispin Cider or Fox Barrel Ciders. I was not paid for my review, nor was it expected.}}