I don't know about you, but I've been having these 'front step moments' lately, where memories are popping up from all ages of my lifetime that occurred on our front staircase. For some reason, the moving picture of my life has many frames that are wrapped around concrete and steps that led to streets, friends houses and adventures. So many of them intertwined with food too.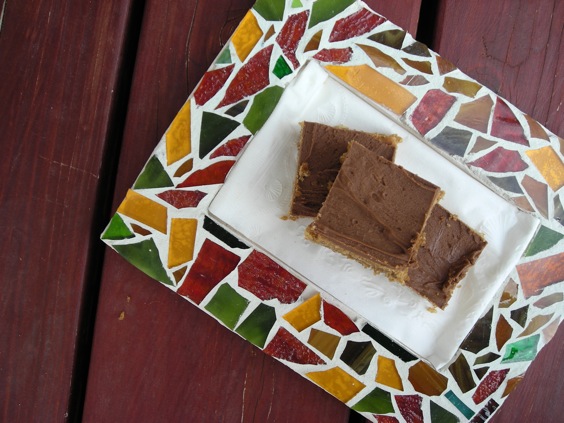 Who didn't take their peanut butter sandwich outside as a child to eat on the back steps? There was your Mom, inside the house just a few feet away and your backyard in front of you, while you nibbled your lunch, sipping milk to wash the peanut butter from your tongue. Maybe the neighbor girl joined you and you shared your meal. Then you always ran off to play, leaving the remains of a sandwich, maybe a carrot stick or lone potato chip as fair game for the dog to snatch up. But only if they were quicker than your Mom.
Blessed or otherwise, I saw a lot of different front steps in my young lifetime. My first memories, ever, occurred at the top of this long flight of stairs in South Minneapolis.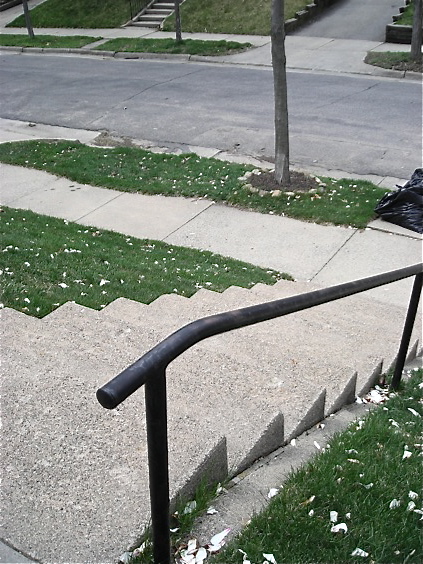 (that's not trash littering the yard; it's petals from a huge Star Magnolia behind me)
Nearly 40 years later, I'm floored to near tears by the fact that the railing pictured is the exact same one we used to slide down as children. My spot to sit and watch my young world go by was on the top step leaning against that railing. It was there, nibbling on my lunch one afternoon that I was jumped from behind by a Black Lab. I was terrified, screaming and wildly thrashing against that surprise assault when our feisty Dachshund, Schnapps came barreling out of nowhere to fling himself at the marauder, then chased that huge dog down the street, barking frantically, nipping at it's heels. Schnapps was my protector. And he sat on those steps a lot with me.
Then we moved, briefly, to this set of front steps.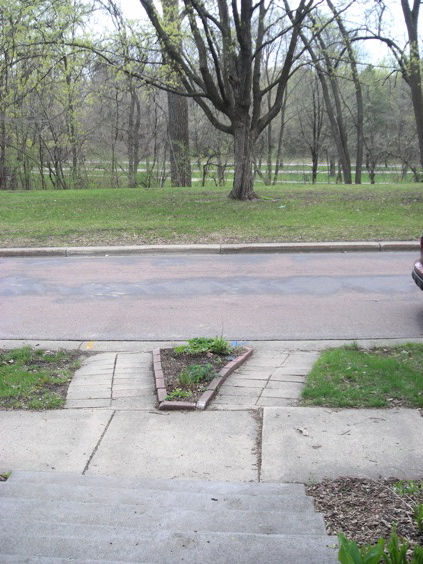 With this playground spread out before us.
This was a fantasy world at our young feet. We knew each trail, each bank of that creek as intimately as our own yard. We caught crawfish, dug worms, watched the current and climbed trees. When tired and thirsty, we'd run into the house and rummage for cookies, sipping Kool-Aid or lemonade, resting and catching our breath before heading back outside to find more beauty, gulp down the air and run until we were worn to the bone. How simple life could be if time was only defined through cold drinks, cookies and the sound of laughter and wind in the trees.
My front steps now aren't that wondrous, but they're tucked back against our house and sort of hidden in their own way. I've always enjoyed sitting outside on them; for the most part, not many people who pass by even know I am there so I can watch and observe and speculate on the world going by without disturbance. Our current neighborhood is made for walking, so there is always a parade of people, of dogs, kids on bikes and rollerblades, young families with strollers that sift through the evening breezes, quietly chatting with each other.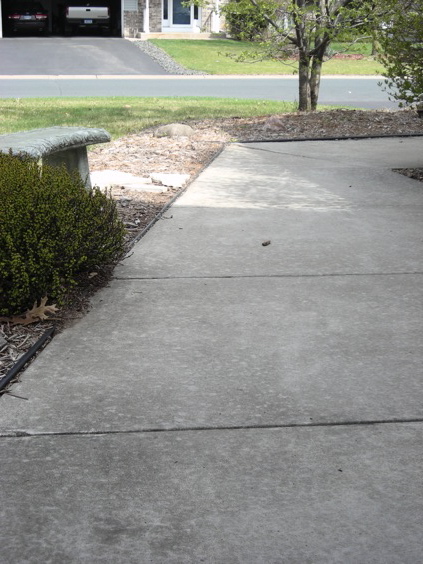 I can enjoy a glass of wine on these steps, chatting with The Teen, or sitting peacefully with a cat. We've been known to sit on these steps while thunder groans overhead and the tree in the yard bends in the furious wind. The storm siren can be going off, barely a block away and we won't be able to hear each other speak, but the joy of watching that storm, the shiver of experiencing nature's blast right in front of us keeps us there until drenching rain chases us both inside. My boy and I love a good thunderstorm.
So much of my days when I was very young were a mix of fresh air, sunshine, neighborhood kids and homemade treats. There were Dreamsicles, Freeze Pops and trying to fall asleep in the summer heat. My childhood, as many others, is full of these memories, and delicious tidbits that slipped between our fingers just as fast as we could lift them to our lips.
One of my most favorite treat as a young girl, and still to this day was my Mom's Peanut Butter Fingers.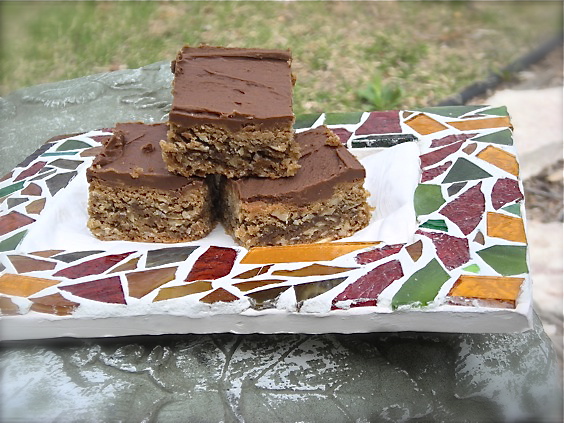 I guess I look to glean some sense of nostalgia whenever I make a beloved childhood cookie. How simple everything was then, the time of life that didn't include numbers in bank account, property taxes, thinking about your child's 16th birthday, insomnia and a host of other adult trappings that leave us longing for a simpler life. I bite into peaceful kid feelings when breaking through the solid chocolate crust of these beauties, and relish the memory of my Mom's smile. Baking was her love language, and we sopped it up daily, never realizing how good we really had it. I still recall the first time at a friends house and she asked if I wanted a cookie. Enthusiastically I said yes, thinking of homemade chocolate chip, maybe a molasses cookie or my utmost favorite sugar cookies. She gave me an Oreo. Admittedly, I did like it -what kid didn't like Oreos?- but it was the first exposure I had to the fact that not everyone had an endless supply of homemade treats at their disposal. I asked this friend what kind of cookies her Mom liked to bake and she looked at me blankly, then back at the Oreos. Oh, now that was a lesson to learn, all right.
Yes. I was blessed. And I continue to honor that upbringing in my own home, especially when the need for comfort and inner soothing become necessary. From what I see in the food blog world, baking is an obsession of many. That's a wondrous thing to see, and indeed, to know in one's lifetime. Fresh scratch treats have no comparison, in taste or in the way that they soothe, calm and bring ease to a often chaotic existence. The preciseness of baking is almost exactly opposite the freewheeling, often uncontrolled way that life has of tossing us around, leaving our souls feeling shaken. Peace to all-  through flour, sugar and a hot oven. Baking brings it's own method of calm.
Today is my Mom's birthday. Happy birthday, Mom. I sure do miss you. It's no surprise to me that these memories are so strong right now.
Anyone want to join me on the steps for some cookies and a good chat??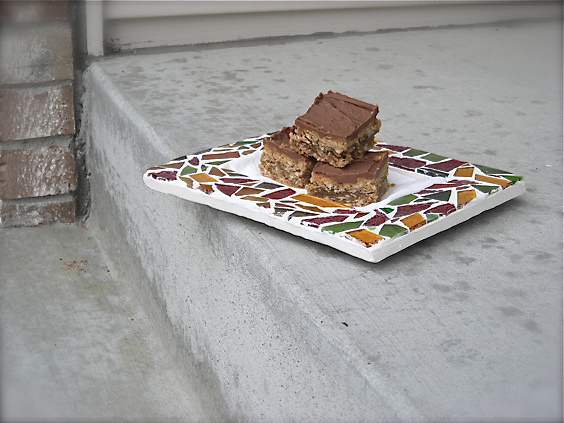 Peanut Butter Fingers
origin unknown- some lifetime ago. This recipe is the first one under the 'Desserts' tab  in my indexed book of favorites. That's how beloved it is.
Spray an 8×8 pan with cooking spray. Heat your oven to 350°.
Cream together:
1/2 c. butter
1/2 c. each brown and white sugar
Blend in:
1 unbeaten egg
1/2 c. smooth peanut butter (chunky is fine too, if it's your thing)
1/2 t. baking soda
1/2 t. sea salt
Stir in:
1 c. flour
1 c. quick cooking oats
Chocolate topping- 1 12-oz bag chocolate chips
Spread batter in prepared pan and bake for approximately 30 minutes, or until toothpick test is clean.  Remove pan from oven and sprinkle chips over the top. Allow to soften and then spread evenly to cover bars. Cool completely before cutting.